Pick up USA Now, SyFy Now and Telemundo Now for Windows Phone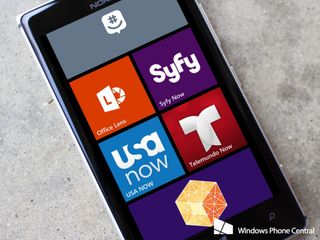 A few days we told you gals and guys about some USA Now, Syfy Now and Telemundo Now apps available for your Surface in the Windows Store. Turns out there are now some Windows Phone apps of those very same apps. They've been in the Windows Phone Store a few days, but slipped under our radar. Let's check out these new apps for Windows Phone to watch some of your favorite television shows.
We don't need to go into detail for every single one of these apps, because they're all basically the same. They of course differ in branding and the content they offer, but functionality they're triplets.
With USA Now, Syfy Now and Telemundo Now you get access to full episodes of programs/shows like Pysch, Suits, Ghost Hunter, Santa Diablo and more. Some content you can watch for free, but the majority of the stuff you'd want to watch will require you to sign in with your TV provider credentials.
You can also get the full TV schedule for the network by going into its respective app.
Sadly these apps are a little like their Windows 8 counterparts in that they're missing some unique features of their respective platform. For example, the Windows 8 versions of these apps have no large Live tiles, no support for multiple window sizes and other Windows 8.1 features.
On Windows Phone you're missing out on doublewide Live tiles or no Lock screen support. Performance is also not the greatest. The apps felt sluggish too. We're always happy to see official apps join the Windows Phone ecosystem, but a little more polish is always appreciated.
USA Now, Syfy Now and Telemundo Now are free to download for Windows Phone users. Just have your account information handy for your television provider to get full use out of these apps. Download links and QR codes listed below. Enjoy!
USA Now – Windows Phone Store
Syfy Now –Windows Phone Store
Telemundo Now – Windows Phone Store
Thanks for the tip Benjamin, Joseph and everyone!
Windows Central Newsletter
Get the best of Windows Central in in your inbox, every day!
Those apps came to the WP Store at the same time as the Windows Store.
They were tipped to WPC, posted in the forums and the comments on the article a few days ago.

That's nice. You should tell that story again.

Those apps came to the WP Store at the same time as the Windows Store.
They were tipped to WPC, posted in the forums and the comments on the article a few days ago.

Why isn't there a TWC login?

Probably because you made an irrelevant reply to a comment just because it was the first.

512 MB devices trolled again.

Does the USA app only show original shows or could I get repeats of Law and Order: SVU on it as well???

Can I pick them later, later, later?

*Off Topic* (Bug?)
On your start screen, tap any tile and back button at the same time... And then tap on screen again, the tile will go straight up..

Sam, shouldn't the first sentence read: "A few days ago we told you..."?

Funny. Last time I checked, I had SyFy on my TV. And I pay for it. Yet, the damn App is, as usual, US only.
Well, guess who'll be unsubscribing from SyFy...

That sucks, but who watches those crappy shows anyway? LOL

I only have it because, over here, it's SyFy that airs "Game of Thrones" (there's no HBO)...

Really?
I don't watch that either, but it's wildly popular.

It's wildly popular because it's wildly awesome ;) You should check it out (unless you're a minor, in which case I wouldn't advise it). SyFy airs all the good shows coming from England and the US. Be them HBO, ShowTime, etc and whatnot.

Ridiculous that a TV subscription is needed for telemundo now. This network is available over the air in a majority of metro areas, it shouldn't be required in those markets. Not everyone can afford it or are willing to pay for it.

Just need them for Xbox One now.

Why is Time Warner Cable always the last to be included with these apps?

they are same like SONY! How SONY is doing latly!

What's with all these cable apps coming without support for Time Warner Cable? Wouldn't complain if it wasn't the only cable company serving my area. TWC really wants me to move don't they? Oh wait, I'll still get the same damn company. Yay saving me money from moving. So that's how cable company saves me money.

Time warner is Comcast now.

Can I use my login already? Lemme check. Edit: No it does not work. Guess why? An acquisition doesn't close that quickly. Let alone integration of services.

I know that, Comcast does own these networks and TW was one of their biggest competitors.

Yeah, Comcast would have it easy since it owns NBC. No wonder xfinity is at the top of the list. I guess Time Warner Cable is partially to blame with these situations e.g. they went as far as dropping CBS to negotiate a rebroadcast deal only to let it backfire upon themselves. Watch ABC doesn't have TWC support either. Either way, I don't like both Comcast and TWC. And these companies wonder why people pirate through BitTorrent or putlocker.

Yay for Syfy :) now if they could add most imp apps to me: HBO GO, Xfinity Stream pix(this covers live tv and almost all of the tv channel shows). rest of them might be optional like ABC, CBS, CW, Discovery, History, NBC etc..


I don't want to sound crazy but the apps been available since y'all announced it to windows 8

I haven't been able to log into my Comcast account in the USA app when it click sign in after entering my name and password nothing happens

Wow, I've always wanted to watch horrible Syfy movies on the go!
Windows Central Newsletter
Thank you for signing up to Windows Central. You will receive a verification email shortly.
There was a problem. Please refresh the page and try again.