PicsArt for Windows 10 adds one-tap photo editing for quick image changes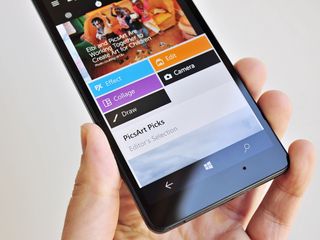 The PicsArts image and photo editor for Windows 10 PC and Mobile has received a pretty big update. It includes a new feature called AutoEdit which allows photos to get a quick change with just one tap of the finger.
In a blog post (opens in new tab), PicsArt describes how AutoEdit, which will be an exclusive feature for the Windows 10 version of the app, works:
PicsArt is also adding another feature to the app called the Square Fit Tool. It allows for regular images to fit in the shape of a square:
Download PicsArt from the Windows Store (opens in new tab)
The last time I tried this app a while ago, there was no way to change the physical size of the photos used in a collage. I guess I will have to see if that's been fixed.

Download button doesn't showing in this article..

Crashes every single time i try to download on mobile 950xl

Download on mine but didn't say Completed, just stuck on the d/l bar. It works but it's bloody laggy applying some fx and crashes quite often.

Slightly related; Download arrow in the WC app has gone again.

Exclusive feature.. Now that's great... But screenshot in this article is older

Wow some of these features are pushing the phone to its limits (takes time till autoenhace loads on my Lumia 950), but cool though.

Still can share a photo to this app. Huge inconvenience having to go to the app first then import photos.

apps are looking good now
Windows Central Newsletter
Thank you for signing up to Windows Central. You will receive a verification email shortly.
There was a problem. Please refresh the page and try again.