Plex Windows 10 app now works on Mobile, adds Continuum support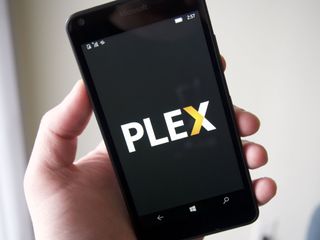 The local media streaming app Plex has updated its Windows 10 app so it now works on Windows 10 Mobile smartphones. It has also added support for Continuum to the app.
Plex began closed beta testing of the Windows 10 Mobile version of the app about a month ago, and now it's ready for prime time. In a blog post (opens in new tab), the company stated:
Thanks to bbraune and Matt for the tips!
Download Plex from the Windows Store (opens in new tab)
Windows Central Newsletter
Get the best of Windows Central in in your inbox, every day!
Xbox one soon i hope :) Posted via the Windows Central App for Android

Plex is on Xbox One already.

He means the Windows 10 UWP version of the app. Since the one on Xbox is a legacy Xbox one app at the mo

Was running the beta for this, got to love the dedication of the Plex team to support so many platforms and to do it so well in 99% of cases

And with such small teams. ​Its an example to companies that claim that supporting windows is to expensive. See how Plex supports all platforms for such a cheap and high quality app with a small team.

It's not a matter of how big is the team. Is a matter of audiance expected !! Less than 1% of smartphones ..

1st of all - that's an untrue statement that you're repeating as if you are the first person to do so. The "less than 1%" was someone's estimate for SALES for quarter, not a number for the userbase. 2. There are still MILLIONS of Windows mobile users. 3. There ARE developers that do develop, like Plex. They don't share your "logic", so can we stop misquoting this number and then assigning an absolute "it's business" faux lessons?

I was doing the same. It is a huge improvement over the previous version

I am impressed by the Plex team.

A great looking app, will be nice to see on continuum

So I already have Plex installed and when I hit the link in this article it sends me to Plex in the store but says i already have it installed. Shouldn't this be a different app? Last update was 9/1.

You have or you will receive-it as an update to your current Plex app.

Mine just updated at 12:15am and it's showing pending as of now. So I guess that's what they're talking about.

I am looking forward to using this app with Continuum.

This can't be! No one is developing apps for Windows 10 Mobile. /s

Indeed! Typical WC fanboi apologism once again! /s

Just noticed this didn't work early this week but am excited to try

Wish it would organize our TV and movies shows store on our phone, just like it does on the pc. I know if you store it there first and sync it over it will do it, but this isn't always the case for many of us.

Amazing, i was wondering when this feature was coming. I was resorting to using edge.

ah never thought of doing that. could have saved me some issues in the past. But now its here. :)

I first had to update the os to .186 before the update for Plex was showing up in the store.

This app looks amazing, but it's pretty useless on my Lumia 950XL because it can't stream any of my shows from my Plex server. Why can VLC do this flawlessly and this Plex app can't?

What do you mean "can't stream" ? Do you get any error? Does it work with other media or other devices? If I was you I would contact Plex on their forum to investigate this issue. For me, it works great and I can watch any movie or tv show I want from my Lumia 950 XL

Ah yes something else, which type of server are you using? For the transcoding to work you need CPU power. If running on a small NAS device, that could explain the behavior and would be expected. You can always try direct play by checking the settings. Adding subtitle will also force transcoding. So basically the best is to run Plex Server on a good Windows 10 PC

Yes, I'm running Plex Server on a Netgear ReadyNAS, which doesn't support transcoding. And that's the error I'm getting: no transcoding server available. But that's exactly my question: the UWP VLC app, plays my TV-Shows and Movies flawlessly from my NAS. Why can't the Plex app do this?

Sorry I didn't see your response and edited my previous comment. Try direct play and disable any subtitle. To have the best experience I highly recommend you to install Plex Server on a good Windows 10 Machine. You can keep all your movies on the NAS and mount a network drive. I recently moved my Plex server from a Synology Nas to a regular Windows 10 PC and I'm very glad I did it.

You can if you disable some non native features (like subtitles) and stream in original quality (providing thats to to high for your network) than Plex streams without transcoding. But the buety of Plex is how it transforms and optimizes the streams for all your client devices so they work on all clients without loading the client. But you need a beefy Plex server for that. VLC does more on your client device, so if your client device is beefy enough that will work. So its a design choice, and based on your desires one or the other choice is better.

It is because the plex team used microsoft build in media playback capabilities in uwp.. VLC created their own player from scratch and therefore has awesome codec support.. I really hope plex in the future will do the same, so that the transcoding features only kick in if you change the streaming resolution.. But time will tell, in the mean time this is really a top quality media app! And so glad that they actually created it to begin with.. Go plex!

Sorry to hear this. Please post over on our forums and we'll get this sorted.

It works flawlessly from my PC to my other devices. Both locally and abroad.

Great app and awesome developer. The Continuum feature for Plex is just mindblowing... Windows 10 Mobile & UWP apps are the next big thing if Microsoft understands this "new age" of computing and personal/business environment...

Holy crap this is a beautiful app! This must be a showcase on future Microsoft developer gatherings!

I had used PLEX with the old app and it was clunky, this upgrade is awesome! Love it!
Windows Central Newsletter
Thank you for signing up to Windows Central. You will receive a verification email shortly.
There was a problem. Please refresh the page and try again.