Plex app for Xbox One nearing completion, currently in testing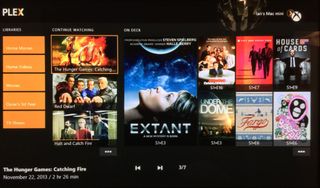 Plex is currently in testing for Xbox One. The popular media streaming app is already available on Windows Phone and Windows 8.1, but not yet for the Microsoft tech in your living room. That's about to change.
Plex? Install Plex on your PC to share music, videos, photos and more to a variety of devices through official apps. You can get similar functionality with the new DLNA support in Xbox One, but Plex provides a few extra features likes movie trailers, ratings, beautiful UI, and much more. Learn more at the Plex website (opens in new tab).
Screenshots of the app have been discovered on the Xbox servers. It's currently in testing and hopefully comes out sooner rather than later. We first reported on the development of an Xbox One app for Plex back in April and we're happy to see the team nearing completion.
Plex on Xbox One would certainly help to make it the ultimate entertainment device. Looking forward to Plex on your Xbox One?
Source: Reddit
Windows Central Newsletter
Get the best of Windows Central in your inbox, every day!
Plex might just destroy Netflix.

Considering it is a media server / client program that is doubtful.

Probably not destroy, but definitely loosing a lot of customers to Plex.

Dude, Colgate is about to kick Goodyear's ass

You can't just let shit like that out of the bag.

The new Netflix app for Xbox one is just awful. It is now almost completely unusable without a controller. I don't see how they can keep releasing an app that is worse than the previous one, each and every single time.

Hopefully the MediaBrowser3 app comes to XB1 soon too. But then again we are still waiting for apps that were announced (and are on xbox360) like Crunchyroll, HBO, etc.

Preach, MB³ OVER Plex any and everyday!!!

I've been using Media Browser for years and love it :) I'm also very much looking forward to MB3 for the Xbox One!

Very much looking forward to this :) by the end of this year I won't need any other device under my TV!

I just tried Plex on WP for the first time yesterday. What an awesome app! Works great in the browser alone too, don't even really need the app. Wish Microsoft had put out an app to work as a WMC client instead though (in order to not have to transcode recorded TV and be able to watch it live), but Plex is a first rate media server solution at least.


There are ways around that media browser, Hauppauge wintv, hd homerun

Can you explain what you mean by that? I use HD Homerun Prime. Are you saying there is a way to watch live TV on my phone? If there is I'd be thrilled but I haven't found any.

If you're using the Prime, you probably have CableCard, and most of your channels are probably flagged with copy protection. If that's the case, you cannot do so.

I also have an HD Homerun Dual (OTA). Plus the non-HD channel on the Prime are not copy protected I believe. So how can I stream those live?

Add your Recorded TV folder as a Home Movies library. I don't know why this works, but it works.

There's many more options if you've got unprotected content, you can pretty much do anything with it then. If you're in the Xbox Dashboard Preview, you can use the new Media Player app to watch TV on your Xbox as the HDHomerun shows up as a DLNA server. With Plex, you can do as mentioned and add the wtv files to a folder that it scans as well. If you use MediaBrowser3, there's also a ServerWMC plugin that lets you stream live TV to the browser and their apps.

I currently use win 7 media center to record TV. Then streamed to my 360. I know the big Microsoft has killed media center which leaves me hurting on the Xbox one. Question ... If I switch to plex on the Xbox one, is there anything to use on the PC side to record TV with my Hauppauge cards?

You use WMC to record TV, so I don't understand your question?

What I meant by it was ... I want to get off of Windows 7 at some point in time. I dont have Media Center for Windows 8 and Definately not Win 9 in the future, so once I finally reimage my PC to a newer OS, what software out there can record live tv through my tuner card? I wouldnt mind using plex, if the plex app on the PC allowed me to record tv ... or even if there is another app on the PC that records the TV that I could stream.

When I last checked, there wasn't any way to easily record or stream TV in plex with a TV tuner. Might have changed since, there is plenty of 3rd party plugins available!

thats what I figured ... do you know if there is any other software that would use the tuner card to record tv?

Just wait until the Xbox one supports record through one guide. It wont be far away

I'm not sure this would work for me as I dont have a cable box that would pass through the xbox one. I use a tuner card in my PC. I need a replacement for Media Center on the PC to record the TV coming in through the Tuner Card. I would even PAY for it (crazy I know).

if you record on your wmc then the file will be in a media format... use your pc as a plex media center and all your recorded files and video and music can just show up in your xbox liberary through the your network. i do that on windows 8 without putting much effort

I've never ever heard of Plex. What does it bring that other apps/services don't already bring?

In terms of a media server it is bar none one of the very best. The client is alright but I find it not as robust as say XBMC.

Plex is based off of XBMC. Think of Plex as a really awesome Skinned XBMC premium service that simplifies XBMC for the consumer.

What plex does better than all the other media streamers is make the whole thing seamless and easy. If you client doesn't support all the codecs plex knows and will transcode the file on the fly. Also has automatic metadata integration, etc. Once you start using plex you won't want to use anything else. With the plugins like sickbeard and other things it really is quite capable of replacing yout dvr too. Go watch some youtube videos or read some articles about what all is possible with plex. It really is quite amazing.

It's the best media center App you can find.... Have a look at their website. They have huge list of features Posted via Windows Phone Central App

http://www.hanselman.com/blog/PlexIsTheMediaCenterSoftwareEcosystemIveBe...

Been waiting for a Plex app for my LG TV for ages, I think this news has made my mind up on whether to buy an Xbox One :)

Pretty sure Samsung has a timed exclusive on Plex Smart TV apps, dunno when that expires though.

What LG TV do you have? Mine had it pre-installed.

Definitely Posted via Windows Phone Central App

Ive had their tv upgrader box for 2 years & they havent bothered doing any major Netflix updates

Yes!!!! With this app, the One will pretty much be my ultimate living room media machine.

Oh yeaaahhhh!!!! Entertainment system all in one will be complete with this, woohoo!

Would like a pkex app for 360, would provide for better media streaming from my htpc than using the built in media browser

This will be huge once released. I'm still using MCE on Xbox360. If plex would ever get a live tv option, then I could leave MCE for good. Not putting MCE down or nothing. It's still the best option out there for cable cutters and people who don't want to pay cable companies high costs for set top boxes. MCE for Xbox is still king.

Their are numerous solutions media browser, Hauppauge's wintv, hd homerun

Xbox 360 still better somehow xD I'll get a Xbox one when its more useful and can offer more and better games . Till then staying with ps4 ^^ just because of destiny

What??? Your sticking to ps4 for a multi platform game. You make no sense.

The way Plex app, and others such as Movie Premier, is how Xbox Video (Phone, PC, Tablet, etc) should handle your personal movies and TV Shows. The look and all. TV shows all together and each show broken down into seasons, then episodes. Let you know what episodes you have watched, etc. Zune did this. Now we have this Mickey mouse set up. And yes I know it is a server client, but the way it handles and displays your media is how Xbox Video should handle your local libraries.

Love this is actually happening on Xbox One. I use Plex almost everyday but the LG Smart TV app crashes at times and gives me subtitle issues. So looking forward to seeing if this new experience is better overall.

I am a long time and current user of Windows Media Center Extender. I've been trying Plex some (still can't get the darn port to work for making it as server over the internet)...Plex is pretty darn good but since I can't stream it to my 360, I stick with Media Center...just sure wish Media Center got the attention it so deserved. And side note...the XBOX One not at least coming with the extender or having much in the way of local media management was a shame. Glad to see it starting to come around.

are you just using the built in WMC for extender or have you tried Media Browser? That's a real nice app. Better than plex in my eyes.

Absolutely, MB³ is way better.

I stream to my Xbox 360 with Media Browser. Like others are saying here, ck out MB3 also.

Looking forward to see that coming to our favorite living room machine Posted via Windows Phone Central App

But what about HBO GO? that was supposed to be a Launch App and I haven't heard a word about that since they annouced it... Ok PLEX yah! but HBO GO Needs to be on Next Gen Now

Awesome! I just dumped xbmc in favor of Plex :)

It's possible to Spotify lands on Xbox One?

Perfect timing. My Rasp Pi B stopped working and I can't get it working for networking Ethernet nor WiFi anymore so it is a dead box no matter how much I fiddle (I am not a Linux expert by any stretch of the imagination) and having to remote into my WHS and do "play to Xbox One" for my dvd/blu ray collection is a tad annoying.

I love Plex. I love how they really do want to get it across many platforms for all to use.

I live how simple it is to get multiple devices to see your media collection just by signing in on them...even externally as it automatically checks its accessible externally. Hell you can just log onto plex.tv and play all your media in any web browser.. Its epic

Plex is awesome! I use it on my Roku to stream HD videos from my PC. Works great.

Yes, instant install when available.

I love Plex. So excited for this.

Yes, can't wait! Just need to buy my Netgear NAS device and a new 4k 70" TV to complete my home theater.

This should help sell a few Xbox One's!! LOVE PLEX

I'm hoping that MediaBrowser gets the same loving that they gave plex and issue them with a pass to develop.

Xbox One is becoming more appealing to me by the day. Once its price drops down to $100.00 I'll definitely be... waiting for the Xbox Two to come out. Posted via the WPC App for Android!

I have been looking forward to this since it was announced, you post is right in time as I was just about to search for updates. I agree with the other posters that this will complete my home media integration. Wondering if it will handle mkv diles

Plex, TuneIn Radio and HBO Go.. Those apps along with what the Xbox One already has and I am done.. In fact, when that combo arrives I will purchase a 2nd Xbox One for the livingroom.

OH MY GOSH PLEASE RELEASE THIS SOOOOON!! SO AWESOME!!!

yes, lets get this out to the world. I have been waiting for this to so long.

My Mac Mini running Plex Media Center is starting to get old, this will definitely be my replacement!

Hopefully it will be soon available. Can't wait