Poki, a beautiful Pocket client, picks up first update on Windows Phone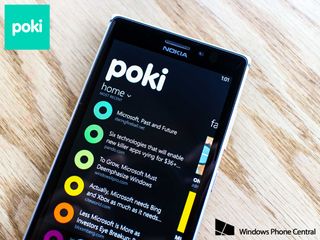 Earlier this month we highlighted a brand new Pocket client in the Windows Phone Store called Poki. It's the first app from Austrian developer @artistandsocial and it's absolutely stunning. It's probably our favorite Pocket app available for Windows Phone. We're not alone in that sentiment. The app currently holds a 5 star rating in the U.S. and is globally averaging 200-500 downloads a day. Let's just out the recent update for Poki.
Head into the Windows Phone Store and you'll now see Poki sitting at version 1.1. Like most updates you'll find performance and bug fixes packaged in the update. There's a new registration process that corrected some bugs at launch. Items update faster and Poki won't show a blank page when resuming from tombstone. Page animations have increased, download speed for articles & images has increased, and much more.
However, we're really interested in the new features available in v1.1. Here they are:
Auto-completion for tag editing and add dialog
New Live tiles + ability to use accent color as background
Show link dialog when clicking links in articles
Video (Vimeo/Youtube) support in reading view
Added Videos to the list filter
Support for websites with multiple pages
Ability to report faulty articles
Help view for login/registration problems
Toggle for auto-refresh on startup
Select for voice gender
Not a bad update at all. We're heavy users of tags in Pocket, so we're glad to see auto-complete for tags added in Poki. When an article has a YouTube video embedded you'll be able to open it in your favorite YouTube apps (like myTube or Metrotube).
Want to pick up Poki for Windows Phone? Then go ahead and download it from the Windows Phone Store. ($1.99/Trial)
Via: Poki App
Windows Central Newsletter
Get the best of Windows Central in in your inbox, every day!
Poki is thoughtfully made. I bought it right away. It's functional and beautiful.

Wpcentral update? Want smileys for comments!!!!

Love how this is the first WP app on Verge's Best Apps section.

I'm hoping for a Windows 8 version of it

I will wait for BUILD and decide afterwards whether to build it or not!

Beautiful app. Bought it right away.

How is this better than Pouch? Pouch is available for Windows Phone and Windows 8.1. This isn't available for Windows 8.1. I prefer apps that are available on both Windows Phone and Windows 8.1.

I've bought both so I can compare. Pouch is unstable and it loses first pargraphs in some cases, Poki doesn't. Also, those colorful rings are awseome! B)

Look above for the dev's response regarding Windows. Makes total sense to wait until BUILD.

Since these are all Pocket apps it doesn't matter which one you use on your phone or tablet or PC. Everything syncs!

I would kinda live too see an RSS reader in the poki style

Why not try phonly? I think it's gorgeous! :-) And please don't wait for a Poki RSS :P

Phonly is a great rss reader and the dev mentioned that he is working on offline reading

I can also vouch for Phonly as a great RSS reader for WP. It doesn't look like Poki (which is just amazing IMO) but it's still stylish, functional, and just great. Poki and Phonly have become two of my most-used apps in recent weeks.

Personally prefer pock8, although poki looks really nice

Yea, that is a horrible job by someone. I can't believe no one said, "Hey, should we rethink shortening bath & body works to BBW?"

Or maybe they knew exactly what they were doing?

Beautiful and very functional app.

I love this app. It has quickly become one of my most-used apps in just the past few weeks.
Windows Central Newsletter
Thank you for signing up to Windows Central. You will receive a verification email shortly.
There was a problem. Please refresh the page and try again.