Poki is a stunning, feature packed Pocket app for Windows Phone that you need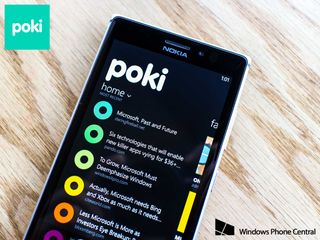 Pocket is one of our favorite web services. However there's no official Pocket app on either Windows Phone or Windows 8. The best way to experience Pocket on these platforms is through third-party clients. Poki is a brand new Pocket app for Windows Phone. It just launched and it just might become your favorite. Let's check it out.
Pocket (www.getpocket.com)? It's that awesome service that allows you to save articles for offline reading at a later time. No longer do you need to send yourself URLs to articles you want to read, just add them to your Pocket and they follow you wherever you go.
We've had the pleasure of playing with Poki for a few weeks now. The app was developed by Tobias Klika from Austria. It's his first Windows Phone app and he really hit it out of the park. We've seen Poki grow from screenshots to Windows Phone Store application and have really loved using it every step of the way. Here's what you can do with Poki for Windows Phone.
Completely customizable reading view
Offline capability with detailed storage overview
Listen (pause/resume/stop) to articles with automatic language detection
Reading and listening position are stored for each article
3 themes available (white, dark, black)
Integrated filter for the list view
Gain achievements for reading articles
Search articles by title, URL and/or tags
The first thing you'll notice about Poki after you download is the design. It's one of the most beautiful apps you'll find in the Windows Phone Store. This is Metro.
Not only is Poki a beautiful Windows Phone app, but its feature packed and does everything (and more) for a Pocket app. The obvious Pocket features like tag support, offline reading, and more are all there. But the app takes those components and improves them. It also throws in a few things that are fairly unique to Poki that we really like. For example, achievements.
It's a really minor thing when you think about it, but we love the achievements built into Poki. You'll unlock little badges for doing regular Pocket things like tagging items or reading an article with over 5,000 words. It's a small feature, but we can't help but smile every time we unlock one.
Little things like achievements aside, Poki is a serious Pocket app and will definitely be useful for power readers. You can sort your home view articles by unread, favorites, and archived. You can also reverse the sorting by most recent or least recent.
You can search articles by tag, title, or URL. The app has three themes so you can select whichever one looks most pleasing to you. Although the developer Tobi personally prefers the dark theme, which is why it's the default.
The reading view is also beautiful. You can change the size of the font, the alignment and font color. You also have a huge number of options for articles when reading them. Mark it as read, favorite it, edit the tags or trash it. You can share articles, listen to them, download, open them in IE, pin them to your Start screen or get info like word count.
Bonus feature of Poki? It uses the PocketWP standard that Squirrel and Pouch both use. So you can open and save articles from the Windows Phone Central app to Poki as well.
Poki is a beautiful, fast, and feature packed Pocket app for Windows Phone and it's already our favorite. You can download it from the Windows Phone Store for $1.99. There is a free trial that limits you to 50 requests to Pocket. But trust us, if you're a heavy Pocket user the $1.99 is worth it.
Get the Windows Central Newsletter
All the latest news, reviews, and guides for Windows and Xbox diehards.