Hunt down the Zodiac Killer with Watch Dogs 2's pre-order bonus
Pre-ordering Watch Dogs 2 will give you access to a bonus mission, based on the mystery of the Zodiac Killer.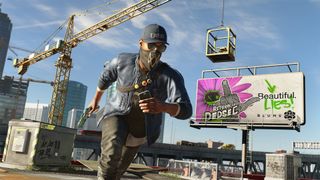 Watch Dogs 2 will be released on November 15. Set in the San Francisco's Bay Area, players will assume the role of Marcus Holloway, a hacker extraordinaire. The Watch Dogs games are open world, action adventure games which focus on being able to hack into any electronic device. Watch Dogs 2 sees Marcus working with hacker team Deadsec to take down the city's security surveillance. Pre-ordering the game now will net you the Zodiac Killer mission, as detailed in the below trailer.
The Zodiac Killer is a real-life murder suspect, who spent the late 60's and early 70's killing people and terrorizing the police and new papers with coded messages. To date, only one of the killer's coded messages has been partially deciphered, and his identity still remains unknown, even fifty years later.
Marcus Holloway joins forces with Deadsec, a notorious hacker group. This bonus mission sees a killer in their midst, who is staging the bodies of his victims all over Oakland, just like the real Zodiac's victims. This new threat is also sending encoded messages to the police. Will Marcus be able to crack them and discover the copycat? It's down to you.
Watch Dogs 2 lands on November 15th, 2016 for Xbox One, PS4 and PC.
See on the Xbox Store (opens in new tab)
Windows Central Newsletter
Get the best of Windows Central in in your inbox, every day!
Lauren Relph is a games writer, focusing on Xbox. She doesn't like piña coladas but loves getting caught in the rain. Follow her on Twitter!
I'm always against people being negative against a publisher etc but this time I'll be the one to say I'm NEVER preordering another game from Ubi. As much as I want For Honor and the upcoming Ghost recon.. Might have to preorder one of those BUT I'll stay true to my word on Watch Dogs! I'm either way not that interested. Maybe on a sale and when the third one comes out its different enough to be worth it :) Still remember the excitement when they first showed off the first one.. Even till today if you find the original gameplay reveal It's mouth watering.

What is it that is putting you off? I didn't play the first one but this mission alone has me tempted. I know the reaction to Watch Dogs ended up being quite mixed

Why do I feel like this site is turning into a gaming site with dashes of windows here and there.

A sizeable portion of our audience own Windows-powered Xbox consoles and gaming PCs, you don't have to look at the content you're not interested in. There's an avalanche of Razer stuff you could be reading right now. :)

An observation not a complaint.

We hope you like the gaming content as well. With Windows becoming a universal platform across many devices, we aim to cover all Microsoft and Windows bases :)

I certainly appreciate the Xbox content. Even the Windows gaming content even though my PC can't play them. As a Microsoft services user, I feel that the Xbox is just as much a part of the ecosystem as my phone or PC ,and that's the point of the universal vision.

But wasn't Ted Cruz already stopped?

He didn't return all of the delegates it seems.

I'm going to wait for this one Watch Dogs was good, but only because I paid 15 bucks for it.

Wow! I'm proud of Ted Cruz for taking the initiative to become the voice actor for the enemy in the game.

Well I wasn't expecting much so I wasn't that disappointed. I walk realistically into an open world game option simply cause I find them boring easily. Buy most of them but enjoy a few. Watch Dogs was hollower than I expected. Was so different yet so empty. Don't know if you get what I mean. Don't expect everything to be Witcher or anything. Don't get me wrong. So now they made him into a hipster taking pics to get followers? The mechanics they added just don't interest me to commend a better enough experience. I do hope I'm wrong and it's badass. I just highly doubt it. Also I agree. I feel more interested in the Zodiac dlc. ( Movie with Brand was awesome )
Windows Central Newsletter
Thank you for signing up to Windows Central. You will receive a verification email shortly.
There was a problem. Please refresh the page and try again.