President of Windows Phone division Andy Lees is being replaced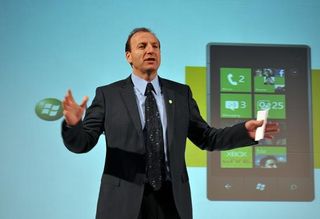 Interesting news coming out of All Things D--Andy Lees, who's the Windows Phone division President is being replaced by Terry Myerson (opens in new tab), Corporate Vice President of Windows Phone Engineering, but alas he won't be retaining the President title. From an internal memo from Steve Ballmer on the matter:
The move is suspected to be in response to the slow adoption rate of Windows Phone in the consumer market, despite recent critical approval of the OS. As expected when things aren't going the way they should, corporate shake-ups are necessary. Lets just hope Myerson can take the Windows Phone division to new heights, whcih it certainly deserves.
Source: All Things D
Windows Central Newsletter
Get the best of Windows Central in in your inbox, every day!
Daniel Rubino is the Editor-in-chief of Windows Central, head reviewer, podcast co-host, and analyst. He has been covering Microsoft since 2007 when this site was called WMExperts (and later Windows Phone Central). His interests include Windows, laptops, next-gen computing, and for some reason, watches. Before all this tech stuff, he worked on a Ph.D. in linguistics, watched people sleep (for medical purposes!), and ran the projectors at movie theaters because it was fun.
Based on the title it had me worried that Lees was leaving the company. That would have made a worrisome amount of higher-ups who have left the Mobile division in the last couple years.

Daniel, I don't know how you came to that conclusion. I tend to believe what Steve said there, our company goes through a similar process, gathering the best people from several teams for a very important task (strategic and time-critical). It looks to me like he's just going full speed on W8/WP8... WP7 is already gathering momentum, IMO.

Just in case you haven't noticed, WPCentral has a tendency to jump to conclusions sometimes, especially when it involves creating eyebrow raising headlines such as this one. =)

I disagree. You don't pull out your #1 guy if he's doing a bang up job and you need him there. That's not saying Lees doens't have talent or is not valuable to the company--he clearly does but replacing the President of a division is not exactly a vote of endorsement on the job he was doing. Combined with the fact that WP is just not catching on (sorry, it's not..there is no momemntum) and it seems clear to me at least, that MS is looking for a slightly different direction. This is a lot like the Robbie Bach situation last year with him "retiring".

I think there is momentum with Nokia, based on what I've read here. If Nokia fails in the USA then WP is in trouble. However, it's unlikely MS will give up until WP8 is released along with Win8. If they're not in double digits by Jan 2013 some towel throwing might be in order.

Nokia has never been big in the USA. WP might fail in the USA, but the rest of the world doesnt care. Nokia is big everywhere except the USA. Dont try to make USA an important country, cause it isnt.

He didn't say Nokia was big in the USA. And you say that it shouldn't be considered a big country, but being successful in the USA might very well double Nokia's market, which is... significant.

Nokia was huge in the USA in the early 1990's. The big players were Nokia, Motorola, and Erricson (sp?) as I remember. Anyway, I am pretty sure Microsoft shareholders care if WP succeeds in the USA. I am pretty sure that Ballmer cares also. That's not to diminish the importance of the rest of the world by any means, but the USA is an important market. If it weren't then it's reasonable to think that Nokia wouldn't bother with it in the first place.
And by double digits I meant WP world-wide marketshare for smartphones. By throwing in the towel I meant the WP platform.

If Ballmer wanted to "replace" Andy Lees, he would have moved him over to something less critical than Windows 8. Essentially it's a promotion for him, and this happens all the time at all sorts of companies even when things are going well.


He is not replacing him. You should read your stuff. He still keeps his President role. He will just do something else for the time being. Damn, dont jump to conclusions that fast.
I dont know about the USA, but Windows Phone is getting bigger in Europe the last weeks thanks to Nokia. There is a momentum and it will be really popular in no time.
Yes you do pull your #1 guy to do some more important work like integration of W8 with Windows Phone. He is not going anywhere. He gets a special role where he can work both on Windows Phone as Windows 8.
Compared to the other blogs you are the only person who reads this differently.

He's not replacing him? Even ATD's headline is "Microsoft Replaces Lees as Head of Windows Phone Business"! I couldn't have been more true to the source and yet you're claming how I read it is different? Thurrot is saying "Lees Out In Windows Phone Division Shakeup" and "Sources tell me that Myerson will, however, take control of the Windows Phone Division, and that Microsoft isn't bringing anyone else in to replace Lees." Not jumping to conclusions, just reading between the lines. Come off it, man.

Ok, I now understand your statement. This doesn't mean I agree with you, I still think the W8/WP8 thing is more important for them at the moment. Let's not forget that W8 is in a major revamp right now, and they don't want it to fail, so why not bring someone that already proved himself?
But hey, we both have the right to our opinions. I guess only time will tell. :)

I think this was a case of them needing Lees for something else and Ballmer wanting a someone else in charge--consider it a convienent change for everyone ;-)

So you're seeing this as a Jon Rubenstein like move??

Similar, but I really think Rubenstein was sidelined at HP. Here, I think Lees is still very valuable--it was a convenient move for everyone.

I hope you're right. Getting Nokia was a huge win and possibly saved the platform. Then again, I'm assuming Lees was involved with that.

Nice Title, even Thurrott is resorting to headlines like that.
Uh, promoted would probably be a more accurate headline...
JF


Keeping your job title, while moving to a new un-named/undefined position while someone else takes over your previous division is a promotion? And the title comes from the source of the story, so sorry, you're not convincing anyone here.

When you read the entire email it does sound like a promotion. However, at the executive level you never really know. They keep things hush-hush so as not to scare investors.

The thing is even if Lees was let go, Ballmer's email would still read like that--you don't throw your division president's under the bus publiclly like that. They "retire" or "move on", etc. Bach and Allard are good examples of that. Beta News debates this in a longer piece: "Did Steve Ballmer just promote or demote Windows Phone chief?"

The Beta News is a good read. Thx. Ars posted their analysis today as well: http://arstechnica.com/microsoft/news/2011/12/leadership-change-could-he...

The Verge has better details today. Some interesting inside info. http://mobile.theverge.com/2011/12/14/2632983/andy-lees-windows-phone-po...
Windows Central Newsletter
Thank you for signing up to Windows Central. You will receive a verification email shortly.
There was a problem. Please refresh the page and try again.