Sneak peek of Ring Video Doorbell 2.0 for Windows 10 and Mobile
"Smart home" company Ring is doing a complete overhaul of its app for Windows 10. Here is an exclusive first look at what's coming!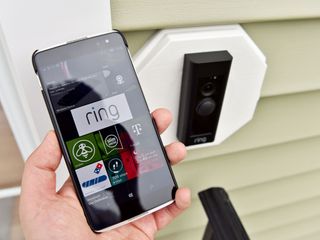 We recently reviewed the Ring Video Doorbell Pro – a smart doorbell with full HD video and security support – including how well it worked with Windows 10 and Mobile. While the app works just fine the lack of significant updates was a little worrying.
In that review, I was concerned that Ring may not be 100 percent committed to Windows 10 for future Ring products. Looks like my fears were unfounded. Ring has an update in testing that's a complete overhaul and rewrite for Windows 10 and I got an early look. Here is the forthcoming Ring Video Doorbell 2.0 app for Windows 10.
Ring Video Doorbell 2.0 for Windows 10
The updated Ring app for Windows 10 is a complete rewrite using more native, and modern Universal Windows Platform (UWP) controls. The app works on Mobile and PC too, and best of all it is significantly faster to launch and jump into your recorded videos or live view.
Most of the changes so far are in the redesign for streamlined access to your Ring accessories and device management. There are five main sections including:
Dashboard – A quick overview of Ring activity like rings, motion, live view, and starred.
Devices - Manage your Ring devices and accessories.
Setup - Setup and add new Ring devices.
Help - Help and support.
Feedback - Leverages the new Windows 10 feedback hub to leave comments/requests.
Interestingly, the "setup" area currently states "To set up a Ring device, please use the Ring app on iOS or Android." While that seems like a bad sign, I'm assuming it's just a placeholder until that section is rewritten for the new app.
Update 8/28: Ring has updated the app and the "add" device section now states that the company is working on a new "add device" experience for Windows 10 and Mobile.
There are not a ton of new features yet as it appears that various components are still being worked on, but there are a few already live including a new "health" area for your doorbell. Health, which is already found on iOS and Android, simply gives a status of your Ring device like battery life (if applicable), voltage, network, signal strength, firmware, etc.
Image 1 of 4
Not yet visible are sharing, new neighborhood feature or security zone management.
The app even has a new icon for when minimized that is more in line with Windows 10.
When is it coming?
Unfortunately, I don't have an estimate when Ring Video Doorbell 2.0 for Windows 10 will be coming, but the beta I'm currently using is very stable with no crashes or red flags in the first 24 hours of usage. I'm hoping we'll see newer Ring features ported to the 2.0 Windows 10 app to keep it feature parity with iOS and Android.
Either way, it's exciting to see that the company is actively developing a new re-written app for Windows 10 and Mobile users. The faster performance, smarter redesign, and updated graphics should be worth the wait.
Ring Video Doorbell Pro review: A smart doorbell for Windows 10
If you were thinking of buying a Ring smart device, hopefully, this peek will reassure you that the company is still committed to Microsoft. I hope that also means we'll see some Cortana and connected devices support native to Windows 10 in the future as well.
We'll, of course, keep you posted on any further developments and when the app goes live for the general public.
See Ring at Amazon (opens in new tab)
Thanks, Windows Central member emigrating, for the Ring app info!
Windows Central Newsletter
Get the best of Windows Central in in your inbox, every day!
Daniel Rubino is the Editor-in-chief of Windows Central, head reviewer, podcast co-host, and analyst. He has been covering Microsoft since 2007 when this site was called WMExperts (and later Windows Phone Central). His interests include Windows, laptops, next-gen computing, and for some reason, watches. Before all this tech stuff, he worked on a Ph.D. in linguistics, watched people sleep (for medical purposes!), and ran the projectors at movie theaters because it was fun.
Most pressing issue for me: will the new app allow for EASY deleting of multiple recorded events? It's a nightmare trying to delete recorded motion events, because they have to be checked manually one by one instead of allowing for a listbox-style multiselect (using shift key). really poor design on their part, and I hope it's redone.

a listbox-style multiselect

Agree and yes, a listbox-style multiselect is in this new app. You can see the icon for it in the Dashboard screenshot (checkbox, upper right corner area).

I was wondering if you guys could research some Cortana behavior around smart home. Example say "hey Cortana turn off the bedroom lamp". Her reply takes you to a new area. The responce states i wasn't able to find your device? It works on mobile and w10proper not on android and ios from the devices I can test. Is this rememants of alljoyn or something new for home hub

What are you trying to use her with? There is a fairly limmited set of devices that are supported. See under Connected Home in Cortana's Notebook. I don't think that has been there for long, and it is a bit flaky for me and my Insteon setup at this point.

I can't quite reveal publicly but expect some good news around Cortana/smart home services for the fall ;)

Yea! Perhaps I will go ahead and make the plunge with their devices. Is app available as a public beta, or by invitation only?

Honestly, no idea. I checked on a new PC not logged in and it's the old app from the Store. I just got it without notification on my logged in devices, but George Ponder does not have it. Someone on twitter says they have it, so it's either a/b testing, slow rollout, or MS ID beta list of users.

Personally, I have found the Ring app "adequate", but I am excited that they are updating the app for Windows 10 (and mobile!)

This is great news. I'm a fan of Ring because I had outstanding tech support the one and only time I needed it and the products are high quality. I'd love to have the new app on my Surface Pro with the Neighborhoods feature and much faster start-up. I only found out the Neighborhoods feature existed when my employer forced me onto Android for my phone needs and I discovered it on the Ring app for Android.

Part of the reason I got an s8+ was this app, glad I still have my 950xl.

Currently I don't even find the W10 app adequate. Granted I am on fast ring, but typically the notification comes in on my Surface, I tap it, see the RING splash, then a totally white screen, then a crash. At that point I can run the app from the tile, but it is as if I just ran it, not responding to an alert. Normally this takes long enough to work through I can just review the recording at that point. Generally it is a false alarm and nothing that would have warranted an alert was captured. Not even worth trying to respond to an alert on my WP (950XL release OS). Once I get past the slow unlocking, the app is generally locked up on a screen that appears it might be the camera view if it weren't blurry with a frozen wait circle. The iOS and Android apps sem to work reasonably well. Been messing with RING for a month, trying to find a balance between seeing every car that passes by and people actually coming to the door. It's a RING II BTW, different than what Daniel has.

This is welcome news as I was humming and harring about buying the pro due to the inevitable drop of support. I do not use many apps but if I purchased this it would be an app I would need to rely on so this is welcome timing.

Good Article. Thank you. I have been considering adding the Ring Pro to my "Insteon" based home but not all the reviews on Amazon are glowing. This may have sealed the deal for me to give it a try. We have the Lumia 950, Lumia 950XL, and three SurfacePro tablet computers that are running Windows 10. I'll wait until I see that the new app has been released to the general population. I'll check back to read this article's forums again to see if there are more comments about real life experiences. Best Wishes

Ring has provided great customer service when I've had to interact with them. I've even participated in their Ring Explorer program in an attempt to get more neighbors using their stuff. The old app was a little bothersome and slow. I'm using a Ring Doorbell Pro and their Ring Floodlight. Next up will be their Spotlight and Stick-Up cams. I'm now using an iOS device, but I was happy they provided a Windows 10 Mobile at all. If and when the next Windows mobile device surfaces... I'll be ready. In the meantime, I hope they keep up the good work. Thanks for the review and update!

Looking forword to the new version. If it really solves my biggest pain point (launching speed on mobile), I will definitely upgrade / buy more products from ring.

I'm honestly suprised at this considering how low Windows Phone market is right now.

I would buy 2, one for the front and one for the back door if this will support xbox ... i would love to see who is at the door when watching TV... does anyone know if that is in the plans ?

It's a great idea in theory; wonder if Xbox is fast enough to process it all. Would likely need Kinect for mic.

That's great news, and good enough for me to invest in Ring. My bank had a great Win Mobile app, and now they are getting rid of it. That's stupid. Fitbit, OnStar, and now Ring continue to support Windows 10 Mobile, so I will too.

Awesome!!! We have the Ring Doorbell Pro along with a Stick-up Camera, so this update will be much welcomed. I share in all of your pros/cons of the existing Windows app, along with the excitement for Ring's continued support of the platform. Appreciate you staying on top of this developing story, Daniel!

I bought a couple of Ring Doorbell Pros yesterday, and the W10 desktop app is 2.0.86, while the W10 mobile app is still 1.3.810. That said, I am not able to manage the motion zones on the desktop app, but I can on the mobile app. The mobile app takes quite a while to open initially, but doesn't have to be open to receive notifications.
Windows Central Newsletter
Thank you for signing up to Windows Central. You will receive a verification email shortly.
There was a problem. Please refresh the page and try again.