Ring Video Doorbell Pro review: A smart doorbell for Windows 10
By Daniel Rubino last updated
Is the Ring video doorbell system still worth it in 2017? I take a look at the latest Ring Video Doorbell Pro and how well it works with Windows 10.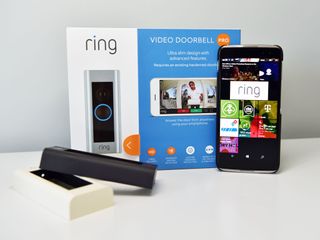 In early 2016, I took a close look at the Ring Video Doorbell app for Windows 10 PCs and Mobile. A lot has changed on the Ring front with some new hardware including its Stick Up Cam which we recently reviewed.
In setting up a new house with the latest smart home accessories, I picked up the Ring Video Doorbell Pro during Amazon's Prime Day. So, nearly a year and a half later is the Ring video system still worth the investment? Let's find out.
What is Ring Video Doorbell Pro?
Ring – like Nest, Insteon, SmartThings, Wink, and Philips Hue – is carving out a substantial, but niche space in the smart home world.
The basic concept behind Ring products is simple: replace your doorbell with a connected one that features a security camera, speaker, and microphone. That may sound a bit odd, but it's a super easy installation and a well-done security camera for the front of your home or apartment.
The Ring Video Doorbell Pro has a speaker, microphone, camera, IR lights, and a physical button to ring. If someone rings your bell, you get an alert on your Windows 10 PC, Windows 10 Mobile phone, Android or iOS device. You can then answer the door remotely while seeing and even talking to the person at your door.
If someone doesn't ring your bell but approaches it motion sensors can also alert you to their presence. In fact, you can set up custom "zones" for your entire front yard of where you want Ring to watch for motion. The Ring Video Doorbell Pro also has advanced "human detection" to avoid motion from cars or small animals.
All activity is recorded to the Ring cloud and can be accessed from any smart device. The videos can be deleted, saved directly (downloaded), or shared.
The optional Ring cloud comes with a free 30-day trial. Afterward, it is $3 a month or $30 a year for each device. You do not need the cloud service as Ring still operates with "real-time notifications and live streaming video of events without saving a video of the event."
Since my initial review, Ring is expanding its portfolio with newer products like the Stick Up Cam. The company now has five standalone non-doorbell security cameras with power sources ranging from wired, to a battery, to even solar. Those last two are not out yet but are due sometime in Fall 2017 (I'll likely review at least one of those for my backyard).
Compared to my original Ring Video Doorbell, the newer Ring Video Doorbell Pro is a step up in design and functionality, which is why I grabbed it. Here is how they compare:
Ring Video Doorbell vs. Video Doorbell PRO
Category
Doorbell
Doorbell Pro
Wi-Fi
2.4GHz
2.4GHz + 5GHz
Video quality
720p
1080p
Motion detection
Basic
Advanced
IR Method
Infrared heat
Pixel mappings (faster)
Human detection
No
Yes
2-Way Talk
Yes
Yes
Echo cancellation
Encryption
Yes
Yes
Night Vision IR
Yes
Yes
Included face plates
No
Yes
Power Source
Battery or Hardwired
Hardwired-only
Field of View
130 degrees
160 degrees
Besides refreshed features, the Pro version is significantly leaner and sleeker with a more modern slim design.
The original video doorbell chimes in at $179 versus the $248 Pro model. There is also an in-between model with the Ring Video Doorbell 2 ($199) and a crazy professional edition dubbed Video Doorbell Elite for businesses, or I suppose rich people – that runs for an eye-watering $499.
See at Amazon (opens in new tab)
Ring Video Doorbell Pro setup
One significant difference between the Pro and non-Pro Ring Video Doorbell is the required hardwired setup. At our Windows Central office, we use the battery-operated Ring Video Doorbell as it's ideal for indoor usage like in an apartment building.
Ring Video Doorbell Pro, however, requires two wires for power making it more suitable for a house with an existing regular doorbell setup. Presumably, the reason for the hard-wired requirement is the new Full HD 1080p color camera and night vision that the Pro has compared to the lower quality 720p in the battery-operated version. The Pro is also smaller than the original Ring and Ring 2, so there's less space for a long-lasting battery. The specific requirement for Pro is a standard 16-24 VAC doorbell and transformer.
In the Ring Video Doorbell Pro kit, you get the following components:
Ring Video Doorbell Pro.
Pro Power Kit.
Four interchangeable faceplates.
Screws, screw driver, wire clips, instructions.
Ring security window sticker.
As someone still getting familiar with electricity and wires, I found connecting the Ring Video Doorbell Pro very easy.
The Pro Power Kit is an easy-to-install relay harness system that attaches to your current doorbell's chime. A basic doorbell is just a circuit that you're closing when you push the button to trigger the chime. The Pro Power Kit both ensures that there's constant power to the doorbell so the Ring camera and radio will work and sends the appropriate signal to the chime itself when the doorbell button is pressed.
I won't belabor the instructions as Ring has some outstanding how-to videos that demonstrate how it all works. Of course, you'll want to turn off the power breaker before you do any electrical work.
Next, you replace your existing doorbell in the front of your house. Most traditional existing doorbells are easy enough to remove (just two screws on mine) with just two wires that run to the chime. Take the old one off, hook up the Ring and mount it back on the wall.
I should caution that every house is different. Mine has vinyl siding that is too thin to mount the Ring Video Doorbell Pro directly, so I had to pick up a $12 Builders Edge Surface Block (opens in new tab), which creates a larger mounting area for the Ring Video Doorbell Pro. It was simple enough to install with a pair of wood screws, and I may add some clear silicone to seal the edges, but the install is secure and solid.
Ring includes four faceplates with assorted colors including magnesium, black, off-white, and a brownish-black. The plate just clips on to the doorbell, and it is secured with a single screw on the bottom.
The whole installation took about 40 minutes mostly because I dry-ran the entire process a few times. Drilling into one's house is not something to be taken lightly!
Ring Video Doorbell Pro Windows 10
Once connected, the Ring Video Doorbell Pro's button has a circular light that begins pulsing. Audio comes on through the speaker letting you know that the setup process is initiated.
From here you can launch the Ring app for Windows 10 on your PC or Mobile device – likewise if you have an Android or iPhone.
The app is very straight forward where you create an account and then relay your Wi-Fi network to the Ring Video Doorbell Pro.
Once connected you can proceed to tweak your Ring Video Doorbell Pro including:
Set up zones to monitor including custom schedules e.g. "only monitor between 1 am, and 8 am every weekday".
Live view – Turn on the camera and get live video and audio anywhere, anytime.
Manage other Ring devices including call and motion alerts.
Manage account and billing for optional cloud service.
Add more devices or sub-users.
See device activity, manage videos.
So far, so good. The Ring Windows 10 app admittedly doesn't get as many updates as I would like, but it does work with its latest products. The company is also advertising Windows Store support on its site and the product packaging as well.
The only issue I faced is with the Surface Studio in Fast Ring. For some reason, the live video feed does not work initially, but it turned out to be a weird network issue that was eventually resolved on my end. That stream, however, did work on the Surface Laptop, and all my other Windows 10 PCs. Likewise, for the Alcatel Idol 4S/Pro, HP Elite x3, and my Android/iOS smartphones.
There are also some advanced features for the Ring Video Doorbell Pro that are missing in the Windows 10 app, such as:
Device health.
Motion sensitivity and schedule.
Floodlight and Spotlight Cam integration.
Those missing features or support for the latest security cameras give me pause if you are 100 percent a Windows 10 user without access to an Android smartphone or iPhone.
Alert notifications arrive instantly on all my devices with specific information. Clicking the alert takes me to the app where I can watch the event replay.
The 1080p video quality was excellent, and it worked quite well in the middle of the night with the IR lights. Audio is simply OK. It works, but the speaker on the Ring and the transmitted audio is tinny.
Ring Video Doorbell Pro is a (mostly) a winner
Committing to a smart home setup is a daunting task. Customers today have almost too many choices, many of which are not interoperable.
Ring stands out as one of those companies that not only are doing well, but are actually flourishing. While not cheap, I feel the products are of high quality, and I'm frankly just happy that its Windows 10 apps for Mobile and PC still work and get the job done even if most users will be on iPhones or a Samsung.
I should mention that the Ring Video Doorbell Pro also supports Amazon Alexa including its new Echo Show (opens in new tab) for video monitoring. It remains to be seen if Microsoft will add support through Cortana for its forthcoming connected speaker made by Harmon Kardon but Microsoft is making progress in that space with announcements coming soon.
While it may seem weird to have a video doorbell the Ring system is more about security and peace of mind. There's nothing neater than being away from your house and flipping open a live camera stream of your front yard, or getting an alert that someone is on your property.
I found the zone monitoring to be accurate with nary a false report. The Windows 10 app, while not exciting looking, worked well with alerts and the ability to monitor my doorbells, users, and more.
I am concerned with some missing features with the Pro doorbell and future support for Ring's security cameras. I hope the company has an update planned for Windows 10 to keep it on par with iOS and Android. I've reached out to the company for comment.
Ring Stick Up Cam helps you keep an eye on the great outdoors
If, however, you have access to an iPhone or Android-enabled device the Ring system is on more solid footing. The Windows 10 app for PC, in that case, works more like a bonus live-streaming app that also gets notifications, which is very useful when working.
I plan to continue to use Ring and can recommend them for your smartphone setup. The one feature that would be nice is for local-recording of Ring's video files, but that is something I do not see coming soon.
Let's see how the company fares this fall with its new security cameras and whether Windows 10 is still its plans.
See at Amazon (opens in new tab)
Pros:
Excellent 1080p video quality.
Easy setup and support.
Works with Windows 10, iOS, and Android.
Well-made hardware and kit.
Cons:
Smart home gear is still expensive.
Requires hardwired setup and Wi-Fi.
Windows 10 app could use an update with new features.
Daniel Rubino is the Executive Editor of Windows Central, head reviewer, podcast co-host, and analyst. He has been covering Microsoft here since 2007, back when this site was called WMExperts (and later Windows Phone Central). His interests include Windows, Microsoft Surface, laptops, next-gen computing, and arguing with people on the internet.
I have one of the originals, and it's great. (And it supports my Win 10 Mobile!) The only grievances I have are: my doorbell faces sideways towards a neighbor's house, and if they leave their porch lights on, it's enough to deactivate the night vision mode; and, even with the motion detection range turned way down, large trucks on the street (like the garbage truck) will set it off. Sounds like the Pro's "human detection" might mitigate that second problem. Still, not quite enough to get me to upgrade.

Yeah, so the human detection works great for that instance. Without it on, turning on my front light sets off an alert or my flag waving. But, with human-only enabled, no false alarms. Agree though, pricey upgrade. I do like the 1080p video though and the slimmer look. They also makes Ring "wedges" that slip between the doorbell and you wall to angle the device. You can even stack 'em to get the right angle.

Hmm on my two adresses the ring doorbell pro is still recording events that are not human... Every night when cars drive by, the lights hit my porch for a second and then my ring pro starts recording it...even With settings set to only record people on... I contacted support many times before for this but they won't improve detection...I find it odd that it is not able to distinguish humans from a momentary increase of brightness. My cloud is filled with empty videos In contrast my netatmo is always right, it even detects faces so that it didn't alarm when the owners are home The app also sometimes get stuck and the WiFi is unreliable I think I I'm gonna upgrade to the wired version and hope they will introduce face detection, so that I don't get motion alarms when I the owner am detected

For the life of me I can't find where to turn on "human detection"? I have searched the app, Ring support and google. Some how I'm missing it. I ask because it's another windy day and every time the trees blow and the shadow moves, I get false alarm after false alarm until I turn off the alerts. https://ring.com/share/6465681279645773877 Other than that, excellent article and thanks for the review.

I already have one and ordered a new one yesterday for my secondary door (the pro). Great product, highly recommend. The only downside is that you "need" to purchase cloud storage which gets expensive for multiple cameras. And it's compatible with Home Assistant (see https://home-assistant.io/), which is a big plus. And indeed the Windows 10 UWP proves it's usability here. I can sit on my computer and don't have to pick up my phone to see who's at my front door, which is awesome (and the power of this is underestimated).

My front door design leaves no room for the Doorbell Cam but I've got two Stick-up Cams and plan on getting Ring's new Spotlight Cam. Fantastic products and some of the best customer support out there. The W10M app is not as refined as the iOS or Android versions but does the job. I share Dan's hope that Ring updates the W10M app soon.

I use mine (non pro) on battery power, and my biggest complaint is the motion detection is too slow. If someone walks past my front door, it may trigger it but by the time it starts recording the person is out of the frame. Not sure if it was wired to power if that delay goes away, can anyone confirm?

I asked for the difference between pro and doorbell (2) yesterday when choosing which one to pick. The regular doorbells use infrared heat for motion detection, the pro uses pixel mappings (and thus can be more precise). Whenever I click the notification in windows 10 (I have a ring pro), I sometimes miss the person (they walk by too fast), but then I can always find it back in my cloud recordings.

Ah, very interesting. I may add that to compare chart. Thanks.

Hardwiring it does not make the lag between motion tripping and it starting to record. That's my biggest disappointment with the doorbell when it comes to security. If the USPS or UPS or FedEx drops off a package, I get a motion alert, but I never see the person because they're in and out so fast.

For what it's worth, Pro picks up my mailman just walking to my house imgur.com/a/aKSux; always been great at ID'ing people.

So, the Pro (as well as all later model devices) has some onboard storage to alleviate the issues the original RVD and Stickup Cams had (I.e. you'd see the back of a delivery guy only). I've found my Pro's starts recording around 1.3 seconds before the sensed motion. The Spotlight cam seems to be slightly less, say 1 second, but as long as it starts before motion it doesn't really matter how long now does it.

Still, the only issue for me is the app starts extremely slow on 950xl (30 seconds assumming it's not already running background), and that lag means I missed all the ring bells on my phone (someone said it's fast if open from notification, that's not true; that's may only because when he tested the app was already running background). However, if the motion detection get improved with new version (I lost a basket in front of my door and the motion dection of the old version was too slow that captured nobody), I would like to upgrade.

Does anybody know how the camera works on a western facing door? I.e. will direct afternoon sun (blinding light, and the associated 110°-120° F wall surface temperature) damage the sensor? And we are an all Win10 family (me, wife, kids) on all PCs and phones, so hopefully their app will be supported into the future.

Thanks Dan! I had no idea that Ring supported Windows. As a Windows user I usually don't even acknowledge these things exist during their ads because we usually arent supported. It's time I started looking into these. Hopefully they continue support

I love my Ring doorbell which I've had since it came out of Beta and still works well. I will probably upgrade to the Pro because I still have too many false motion detection notices (flags, sprinklers, trucks going by). I love that it works on Windows and have the app on all my devices. The issues I had on my 950XL with the app lagging at startup are not present on my Android phone (which my employer made me switch to). The other thing I love about Ring: install instructions are great, they include a USB cord if you do need to charge the battery (mine is hardwired), it uses a propitary mounting screw and the included screwdriver is uniquely marked so you don't confuse it (just don't lose it), and the warranty is great: if someone steals your Ring, they will replace it free as long as you file a police report. I had one guy at my door who spotted the Ring, clearly knew what it was, and suddenly had somewhere else to go

Now, a working Ring App for Xbox One would be nice!

There is a new Win10 app on the way (currently in limited beta) which is a lot better than the existing app. It includes device health and almost all the other stuff currently missing. Also it supports the latest Ring products such as the Spotlight camera. I can probably get you on the list Daniel, just shoot me a pm with your Ring registered email.

Whoa! Very exciting to hear! Will send you a message, thx

Just curious, have you heard about an ETA on a release of the new Win10 app and will it work with Mobile? I just picked up the Doorbell 2 yesterday and got it installed today. I don't have any major complaints about the Win10 app on PC/Tablet, but would love the video to connect and display a bit faster on my Lumia 950.

Love my Ring Pro. I was able to listen to a relator work out the offer they made on my house. They never paid any attention to my ring cam which recorded the whole conversation. Ssetting it up now on new house.

Wish there was an xbox UWA for it.

I have a Ring II and am not exceptionally pleased with it. I get way to many false positives, mostly trucks but a lot of cars as well. I have adjusted stuff in discussion with support. I can get it to avoid the vehicles, but then it misses people. I can forgive UPS and FEDEX, those guys are like lightning. The Win 10 app on my Surface is relatively useless. The notification comes in, I hit it, get a white screen and crash. If I start it again I can view the scene or the recording. On my 950XL I have yet to have it work right, reacting to the alert, unlocking the phone, and having the app start. iOS and Android work fairly well. Different people, different experiences, different product too. Im not sure I'd recommend it to a full Windows household. iOS and Android apps seem fine, but get the same false positives.

The windows 10 mobile app is tragic

Unfortunately I don't even have a doorbell currently so not sure how I would even set this up.

@ enzom09 Actually this can work for you, with a little extra outlay. The unit can be completely self contained, with an internal batterry, and it uses WiFi to connect. They sell a chime module you plug in, inside, and associate with your RING. In it's basic form, you do get the alerts on your phone or PC, but with the chime, you will get a 'ring' inside when someone pushes the button. So you get the security, plus a wireless doorbell. I was not complementary about my setup earlier, but I got it based on my office getting one. We need to keep our front door secured, and are at the top of an interior stairway. The set up gave us a security camera, which works well, and a doorbell where none existed. We have a couple of chimes so we can hear a ring. That works well. There isn't vehicle traffic to contend with, and people comming up the stairs are caught fairly early.

I've been thinking about picking up a Ring doorbell for quite a while and this post convinced me to give one a try. I ran out and picked up a Ring Doorbell 2 yesterday and got it set up with relative ease this morning. Gotta say, I am impressed with the setup and install instructions and equipment (they even provided a drill bit for drilling into brick/mortar!). The Windows 10 app seems to be working flawlessly on my Surface Studio and SP4. The app on my Lumia 950 isn't exactly terrific, but it sends me Toast notifications and audio alerts instantly; the launching of live video on the Lumia 950 seems to leave a bit to be desired. I'd love to see an improvement to that. I haven't had much of a chance to test out the motion detection to see if the cars and frequent walkers on my city street set off a lot more detection alerts than I would like. So far though, I am pretty impressed. I had been thinking about going with the Doorbell Pro, but my 100-year-old brick bungalow doesn't have power running to the front door, so I thought I'd give the Doorbell 2 a shot and see how it goes to save myself a visit from an electritian. So far so good though!

The problem with this device is it is reachable and can easily be yanked by a thief from the doorway! The other issue is the device looses its functionality during your internet service (wifi) interruption!

Sure, a thief could yank it from the doorway, but they would be caught on video while doing so. Also, Ring replaces any stolen devices (or at least the doorbells) for free, so if it is stolen, you'll be able to get yourself a new one at no cost. Your second point is a valid one. Part of me wonders if the doorbell would still operate in any way (thinking a traditional "dumb" doorbell) if Internet service is lost. If your wifi network remains operational I am curious if you have one of the chime units on the network also and your connected PCs/Phones maybe the signal could still pass a notification to them if the doorbell is rung. I'm too lazy at the moment to test that out...

Put your WiFi and internet gateway on battery backup (UPS), problem is solved.

NoFlames2: talking about internet not power interruption... bellyer: a thief with a hood cannot be caught!

You must have AT$T DSL. I know the experience.

I'm debating between a Ring Elite and a DoorBird video doorbell. Both support PoE (a must for me), and while the Ring looks nicer and supports Windows 10, the DoorBird has better integration with home automation systems (supports ONVIF, for a start) and can use my Synology for recordings (therefore no monthly fee).
Windows Central Newsletter
Get the best of Windows Central in in your inbox, every day!
Thank you for signing up to Windows Central. You will receive a verification email shortly.
There was a problem. Please refresh the page and try again.