Prism Bill Pay reaffirms their support for Microsoft with a highly-rated Windows 10 Mobile app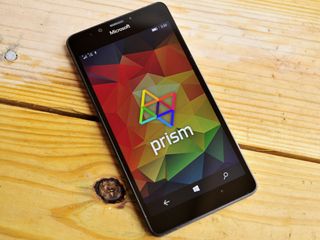 Apps that let you monitor and manage your financial status are critical for many users. With Mint infamously exiting the Microsoft ecosystem last year Prism stepped up to the plate and continued support.
Now, the company has updated their app for Windows 10 Mobile with a revamped design and new features. The company is rightfully proud of their ability to service customers across all platforms, and the new app is garnering strong reviews from users with a 4.7 (out of 5) Store rating.
For those not familiar, Prism lets you "check your balances, track your pay days and pay all of your bills" right from your Windows 10 Mobile device. The company still maintains their app for Windows 8.1 one as well, which, of course, runs on Windows 10 for PC and tablets as well.
Prism has no monthly fee and can access "thousands of banks" including every major US one. The app comes with numerous features as well, including:
Reminder notifications for when bills are due
Pay bills with credit card, debit card, or bank account
Check account balances
See when bills are due and how much you owe
You can also see your bills from AT&T, Verizon Wireless, Sprint, Sallie Mae Student Loads, State Farm and hundreds more.
How they did it
In an interesting bit of extra information, the company detailed how they made the app on their blog:
The app update to Windows 10 Mobile also brings parity with the iOS and Android apps. No word if and when the PC app will go to Windows 10 as a proper universal app, but hopefully it won't be long. For now, you can still use the separate Windows 8.1 in Windows 10 for PC.
All of that sounds fantastic, which reminds us, we need to sign up for Prism right now to get started. You should too. And if you like the app remember to leave a review in the Store!
Windows Central Newsletter
Get the best of Windows Central in in your inbox, every day!
Daniel Rubino is the Editor-in-chief of Windows Central, head reviewer, podcast co-host, and analyst. He has been covering Microsoft since 2007 when this site was called WMExperts (and later Windows Phone Central). His interests include Windows, laptops, next-gen computing, and for some reason, watches. Before all this tech stuff, he worked on a Ph.D. in linguistics, watched people sleep (for medical purposes!), and ran the projectors at movie theaters because it was fun.
Wow, I didn't know there are other ways to port iOS apps to UWP other than islandwood.

They didn't port anything. They're using the same framework for their iOS and Android apps, and they were able to get that same framework to cooperate with the UWP. It is technically a new app written just for Windows.

Oh ok, that's impressive work by them from my point of view.

So honestly, why are so many other developers saying it's so hard to write apps for WP? In not being rude, just an honest question. I'd it the monetary split Microsoft wants?

I don't think there is any developer saying that its hard to develop for Windows. It is basically as hard as writing an Android App. In fact C# is a rather beautiful language with alot of flexibility. Java developers coming from Android won't have a hard time understanding it, at all.
​The problem is Windows mobile marketshare. Most developers have neither the resources nor the finacial safety to invest in yet another mobile platform. This is why it is so damn important to support developers such as these guys right here. Regarding the monetary split, this is actially common practice. Apple does it, Valve's Steam does it, too.

The overuse of "marketshare" is actually the problem. This is a rudimentary tool for making a decision. The number of real users of Windows devices is still in the millions with a less crowded app store, meaning that a developer can gain quite a bit of visibility on Windows and if the old KiK analysis is true, it has a residual effect of increasing adoption on the other platforms. Only short sighted developers rely on market share numbers of the mobile landscape. Mac developers can certainly make a good living...as can Windows (even on Mobile) developers. The old KiK loves Windows Phone 7 article with data:
http://techcrunch.com/2011/08/30/why-kik-loves-windows-phone-7-spoiler-i...

There is no denying that and you are absolutely correct, but there are still many developers out there who target iOS and Android exclusively just because they cover over 90% of all smartphone users. ​Funny thing is, it doesn't matter which platform you target nowadays as developing for iOS and Android comes with its own fair share of problems, namely App visbility, heavy competition and piracy (on Android at least). Apart from that, there are quiet a number of developers who target the platform based on the device they already own. This is where Microsofts acquisition of Xamarin comes into play and why it was a strategically brilliant decision that everybody has seen coming. It only needs to be available for free now.

I'd say it's much and much easier to write Windows apps in C#.NET. It has somewhat strict MVVM paradigm that keeps you from making common mistakes while simplifying scalability. And naming is not confusing as in Android, e.g. View/Page opposed to Activity. Sure, Java and C# as any C-based language are quite similar, and devs can learn them in no time. But .NET and XAML are really what make Windows development shine. From zero knowledge about the platform (yet extensive PHP background) to a fully working complex app in just three months? It sure is possible!

I don't think you understand what the deeloper said. They made the choice to get their framework to work with UWP and code the app from scratch. They decided to do it the right way instead of shoehorning an existing app into another platform. An app coded for a platform is always bettter than a port.

It raining apps all day baby!!!

Sounds like they just built the app from scratch using the same look as their apps on other platforms. Just build the boxes, listviews, etc. And apply code behind.

I've been using Prism since WP8.0.

Looks like an interesting app but can't install. The Store says the app is not available. US only ? Posted from Windows Central for Windows 10

Yeah, US only. This is the reason I miss Mint.

So do I. When they dropped support I cancelled everything with them. The day I hear about them coming back, if ever, I'll sign right back up, even pay for the app.

I really was upset about losing Mint. I still use it on the iPhone (gotta keep an eye on that empty bank account, just in case it fills up miraculously!). I've been using Prism for a long time. They have supported Windows for agreat deal of time too, but they don't really count as a full-on money management tool.

It's just few large names who hold this ecosystem at ransom

Yep...and then the fake MBA types around here shout "It's because of the market share"! This, of course, assumes that NO ONE is making any money on Windows and that ALL who do develop are inherently stupid because they can't understand market share numbers. Sigh

Let them apps keep coming. Is it me or is the app situation getting better? Only a bit more local apps. And Cortana in my local language and there is no reason to switch anymore.

Seems like a great alternative to Mint since it looks like they're gone for good.

Mint wasn't very good. Didn't even like using it on their web-site. Would rather have the Quicken companion app to go with the full desktop version of Quicken.

Mint's website is pretty terrible, and I hate their Android app. I like their Windows 8.1 app, which I still have and use on my Surface 3, just with some bugs that will never be fixed now. As for Prism, I hate their Windows 8.1 app, but I love the new design of their W10M app. I only wish I could use it to track expenses and budgets alongside tracking bills.

I downloaded it, it's a great app and seems well written.

Not really, it's not an alternative to Mint at all. Apples and oranges Prism is an excellent app for keeping track and even paying bills (if you want) It's closest competition would be Mint Bills which is a separate app, site, concept, etc.

Existing? ~~~~~~~~~~~~~~~~~~~~~~~~~~~~~
ROJO > ARLINGTON, TX > LUMIA 1520 ≥ 950... WAITING FOR 6.2" SURFACE PHONE

I'm rocking the 1520 and waiting on the surface phone too! Let hope we get it.

Let's hope it's not a tiny 5.5" screen like was predicted.

Just keep saying its really 6 inches... most cannot tell the difference

Are you cluckin nuts?....
.....
How the hell could you not tell the difference between 5.5" & 6.0" if you can DEFINITELY tell the difference between 5.7" & 6.0"? All, your comment says is that you (in particular) haven't had a Note 5 next to a 1520, or a iPhone6+ next to a 1520... We need 6.2" with our Surface Phones! I could really do work on that, especially if it had an X86 chip.. SMDH

That joke just went over your head and into the stratosphere.

Just tried download too, guess it is US only guys ??

I was going to try it out, but it doesn't work in Canada :( Posted via Universal Windows App on W10

This seems like an awesome app for keeping up with your bills. I wish there was something like this geared more for budgeting and finance tracking - both desktop and mobile (account sync, etc.). I would really like a Quicken mobile app or for Microsoft to bring back Microsoft Money - Windows 10 universal app would be perfect for this.

Yea, Microsoft closed all their financial applications. My company used Microsoft Accounting for a long time.

I miss Money. I agree that they should build it again.

Lol even Encarta was ahead of its time

Now all they need to do it's expand to a few more countries

Didn't know about this app...awesome! Posted from my 1520 running Windows 10

Been using Prism for a couple years now. Started back when it was called Mobilligy. Amazing app for paying bills. In fact, I pay all my bills through it.

I do too, just can't pay my city utilities yet because not enough people have requested it.

We've been using this for a long time. Nice to see we can count on them to keep supporting us. The new app is great! Posted from Windows Central for Windows 10

I've been using their app since their Mobilligy days (kinda liked that name better). Anyway, the app is full-featured and the design is great. My only negative comment at this time is that performance is a bit sluggish at this time, which was not the case with their Widnows 8.1 app. I hope performance will improve in subsequent updates (as I know they have updated already a few times since their Windows 10 Mobile app release already).

Hello. Is anyone getting further than adding phone provider? I added mine and can't select any other things to pay for.

I can add pretty much everything, from credit cards, phone, internet, electricity provider... If the biller is not available, they will add that biller very quickly. If you want to add something to pay for, add new payment accounts. This app has been working pretty well for me since day 1.

swipe away your nav bar at the bottom..... you won't see "next" if it's in the way

I have to remember to do this a lot!

A convenience turned inconvenient

Big Question: does this have NFC support so you can pay at the register as per Samsung Pay and Apple Pay?

It is not a mobile wallet app Posted via Universal Windows App on W10

I love Prism. Very helpful and is FREE!!! Posted via the Windows Central App for Android

too bad it's a bit sluggish on my 950... on either internal memory or sd card.

It's that way on my 950xl too. I was thinking it's just my fast ring build.

That's awesome that Prism worked very hard to support the Windows platform. I will definitely consider supporting them in return. I'll admit that I'm a bit chicken using this type of app because of the risk of hacking.

I'm giving some thought to this app. I would love to ditch Mint, but haven't found anything with the functionality of it that I use. Here's my routine - pay bills using BillPay through my bank (this is free, where some billers charge if you pay them online, as I think is the method of Prism). When I pay those bills, I enter the pending transactions in Mint, so I can see easily what my available balance is. Can I do this in Prism, or do you have to use their payment method to have pending transactions deducted to show the balance that is available after those pending transactions clear?

I feel like supporting these guys just cause they are awesome Posted from Windows Central for Windows 10

I wonder if they could work with banks to get the account monitoring features that Mint had. This is great for bill paying and I'm installing it now, but I'd love for this to be real replacement for Mint on Win10 and an alternative I could push to my iDroid peeps. Mint has lost its freshness and needs to be discarded. :)

Need five more people to add Red Pocket Mobile to enable the full support. Otherwise, really great app until now. Thank you Prism for supporting us. :)

I've been using Prism since day one on Windows...back when they were still Mobilligy. It's always been a great app for helping me keep track of my bills (not to mention, paying them!)...and it's nice to see their support in Windows 10. Now, if only we could get a little more reassurance from other developers, and Microsoft themselves, we'd be in good shape. Posted from Windows Central for Windows 10

And here I was thinking it was a tap to pay option for Winodws Phone...I guess I was just kidding myself...

I downloaded Prism on my PC and Windows Phone, signed up, waited for those morons to send me the verification code, and I waited, and waited, even asked that a new code be sent, I waited and wait, after waiting didn't help. I deleted the trash. How can you expect Prism to handle your financial affairs when they can't even send a damn verification code. I'll stick to the fool proof system I have in place now ... ME!

Is it really, really laggy for anyone else? Using a 950XL. Sent from Narnia

Oh never mind prism has confirmed the issue. Sent from Narnia

1. I updated photo apps to the latest version but still could not found"print" option in more options (.....). I am using Lumia 525 with latest preview build. 2. I am also facing a serious issue with last 2 preview build in my Lumia 525 is at least once in a day my phone get hang up. Screen, hard key is not working that time. That time I require to remove my battery. Plz help.
Windows Central Newsletter
Thank you for signing up to Windows Central. You will receive a verification email shortly.
There was a problem. Please refresh the page and try again.