Problems with the the Nokia Lumia 800 for early adopters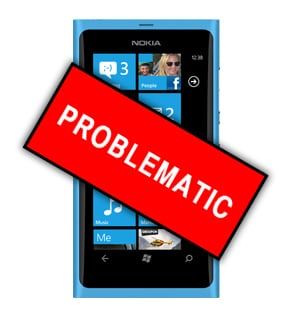 Ah, problems! We detest problems! The Nokia Lumia 800 has been marketed more than anything else, with an upcoming 4D promotion in London, but as it's early days, some issues are to be expected. The handset has been anticipated for months now since it was unveiled earlier this year. We've had some threads being created on our Windows Phone forum regarding battery life, touch calibration, sound issues, loose buttons and more.
I've personally witnessed some of the problems being reported by consumers, especially calibration and sound issues. For sound; when using headphones (or a speaker system) with the Lumia 800, I'll hear a burst of white noise when a track ends and before a track begins. As well as our forums, the official Nokia support forum is being bombarded with questions surrounding problems users are having.
Are you an early adopter of Nokia's first Windows Phone? If so, have you noticed any issues with the handset? On a positive note, the amount of reports being published could signal how many handsets have been sold. Head on over to our forum and join in the conversation should you be having trouble with the 800.
Thanks Nick for the links and roundup!
Windows Central Newsletter
Get the best of Windows Central in in your inbox, every day!
Rich Edmonds was formerly a Senior Editor of PC hardware at Windows Central, covering everything related to PC components and NAS. He's been involved in technology for more than a decade and knows a thing or two about the magic inside a PC chassis. You can follow him on Twitter at @RichEdmonds.
so much for phone of the year, lol well at lease its putting numbers on the board for WP :)

Hey Rich can you try something for me on your Lumia as I want to see if you get the same behaviour. On the start screen scroll up or down a little and leave your finger on the screen after a couple of second mine will jolt up and down on its own without me moving my finger. Does this happen on yours?? This carries through to any vertical scrolling menu and the browser for me :(
Still i do love this phone.

Unfortunately I couldn't reproduce your issue, sounds annoying. I'll pass it onto the boys in blue along with every other reported problem.

my samsung focus s also has white noise between tracks! it is very annoying!!!

Yeah I just noticed the same thing with my Focus S the other day.

Never happened on my focus. Still not sure, if this is a hardware or software issue.

The white noise has never happened on my Quantum.

Very odd, I've been using the Lumia 800 since Nov 4 and I did not have any of the problems mentioned. The touch screen is hyper sensitive, that takes some getting used to coming from a HTC 7 Pro but apart from that it's a very stable phone.

This is why they're not launching yet in the USA. Their European fans will be forgiving, while this would have spelled disaster for them in the USA.

The sams USA that accepted the faulty iphone antenna, and various droid phone glitches?

you cant compare Iphone that people would buy even if you broke it before selling it to them. to a NOKIA that alredy has a HORRIBLE reputation in North America and is trying to come back from it with a NEW un-know OS . wich would be MUCh harder to do. thats why its ALLOT mroe Importent for NOKIA`s first phone to be perfect in NA then any other phone.

actually nokia has a pretty good reputation worldwide and even if your statement is true that people would buy an iphone that u broke before selling it to them that shows you how stupid the consumer is...iphone is just like any other smartphone it does not set the bar though many people seem to think it does and thats the real truth in the matter

NOKAI has a good reputation WORLD WIDE , but NA *( USA + Canada [2 out of 260 countrys) ) = HORRIBLE!!!! HORRIBLE HORRIBLE!!!! and its simple why:
1. we always got the bad models and the good once went to Europe(bad business decision from nokia )
2. they have one of the BIGGES repair rates of ALL other phones. (in my company any ways )
3. ive never sold a NOKIA phone that a client ditn come back to see me to complain about issues.
again this wasn`t a WP , but the fact that its a WP people are gona be EVEN MORE skeptical (i think any ways, i know i am , and it seem i was right to be according to this article..)

Their customer satisfaction rate is actually very low everywhere. Mostly do to symbian though. Sad that they are introducing these issues now with Windows Phone, it sounds like the Dell Venue Pro all over again.

Not a valid argument. iSheep will purchase any iProduct no matter what the cost and no matter what the defect. Apple could say sell an iPhone 5 with the disclaimer that the phone feature doesn't quite work yet and people would still stand in line for hours waiting to purchase one.

I had to take mine back to get a replacement because it turned off and refused to turn back on. All going smoothly so far with the new one :-)

Mine did very similar but after 40 minutes decided it was gonna switch back on... Weird...

No problems with mine. Battery lasts more than 24 hours, the way I use a smartphone. Tracks play fine. Screen responds great.
However, the volume, power and camera buttons rattle a bit, when you shake the device or run your finger over them. They work as they should, but don't match the overall superb design and build quality.

I have an N9 and the buttons were fine out of the box. But now, the power button has developed a rattle. It's as if its loose or disconnected or not seated right. There appears to be no way to adjust this at all. When I run my finger over the volume button, it feels solid and it rocks as expected. The power button sort of jiggles - you can press it to turn on/off/lock. I was wondering if any of the Nokia Lumia 800's would have this problem... I suspect it's a design flaw now that I know some of them are.
\

Yup I have a loose power button on my Lumia. I notice demo sets in their stores sometimes have wobbly power or camera buttons too. It doesn't sound like a big deal but it's rather annoying to feel it rattle under your finger during a call. Here in Singapore there is also an ongoing problem with battery life on cyan and magenta Lumias, while the black ones seem to be fine.

A camera update sure is needed; I'm fed up with that bluish-greenish tint on all my photos. And yeah, tethering would be sweet!
My other gripes are directed towards MS for WP 7.5 tweeks like making the keyboard go to the edges on landscape view, have predictive text like SwiftKey does on Android, and being able to reorder apps to our liking.

i have lumia 800 and it was stuck so i switched it off and its not opening now i have tried everything but i think its gone :(

Quiero explicar algo. Tengo un Lumia 800, me ha salido estupendo y muy estable. Al principio tuve que cambiar su sofware ya que viene de fabrica con muchos bloqueos. Pero al instalar en la Pc el programa ZUNE se hacen todas las mejoras. Mi Lumia 800 es una potente maquina de Wifi, cuando estoy fuera de mi casa me puedo conectar por el wifi del LUMIA, es super rápido con una velocidad de 2gigabay; también se conecta a todas las red wifi por donde vas pasando, evitando tu consumo de internet.. En cuanto a la variación de la pantalla no es un error lo que algunos dicen. Es un telefono con mucha sensibilidad el cual puede ser graduada, solo deben leer el manual e investigar las mejoras tecnológicas. La conección a internet es super rápida y las fotografías parecen de estudio. El sonido es super ajustable, y pueden incorporar un par de cornetas logitech con el plus que traen y le sirve al telefono, teniendo gran sonido en sus en sus habitaciones. Incorporen la red radial Tuneln y tendrán todas las emisoras del mundo.
El último sofware es el SO 7.10.8862144 - Es la Super tecnología y lo bajan directo por el ZUNE en la sección que dice actualizar.
El lumia el el telefono mas espectacular y por algo fue prohibido en los paises árabes y en un tanto de paises comunistas por considerarlo un telefono espía. Ya que se puede pegar a casi todos los satelites por la red de WIFI satelital.
Cuiden su lujosa maquina y denle buen uso. Es un Gran Telefono.
Windows Central Newsletter
Thank you for signing up to Windows Central. You will receive a verification email shortly.
There was a problem. Please refresh the page and try again.