Program NFC tags from your Windows Phone with NFC Launchit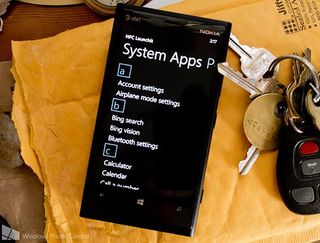 Near Field Communications or NFC is relatively new to our Windows Phones with the technology having enormous potential. With NFC Launchit, you can program NFC tags with a variety of actions to make life a little easier. All from your Windows Phone.
You'll need a supply of unprogrammed NFC tags and with NFC Launchit you can program two types of actions based on System Apps and Popular Apps. If you only use your Bluetooth when in your car, program a NFC Tag to launch your Bluetooth and stick it to your car visor.
The layout on NFC Launchit is rather direct. The System Apps page lists actions specific to your Windows Phone. They range from making a call, launching text messaging or even pull up directions to a specific address. The Popular Apps page basically gives you options to launch any installed app or game.
To create the tag, just choose your action, fine tune it if necessary (e.g. find the number you want the tag to call), hold the unprogrammed tag close to the back of the phone and let the app do it's thing. If you need tags, NFC Launchit also includes a link to an Ebay sale for the tags (3 for $10). You can find NFC tags from other sources as well such as keychain tags here at Amazon.com (opens in new tab).
NFC Launchit is a neat app for your Windows Phone to help you expand the potential NFC has. You can program a NFC tag to launch directions home to place in your teenager's car, program one for Airplane mode that you can place on your carry on luggage, or just program one to launch a favorite app.
You will need an NFC compatible Windows Phone and unprogammed NFC tags for NFC Launchit to work. It's a free Windows Phone app and you can find NFC Launchit here at the (opens in new tab) Windows Phone Store.
Windows Central Newsletter
Get the best of Windows Central in your inbox, every day!
George is the Reviews Editor at Windows Central, concentrating on Windows 10 PC and Mobile apps. He's been a supporter of the platform since the days of Windows CE and uses his current Windows 10 Mobile phone daily to keep up with life and enjoy a game during down time.
This is awesome. Could you program a tag to a website with your windows phone and have it work with NFC enabled android phones?

YES! I just emailed them about this app and they reviewed it yay thanks! its amazing and i hope everyone will like

(App developer here) Thank you :)

your welcome! good job and cheers! seen this first on reddit

Could you please explain why "Owner Identity" is required?

Love the app...keep up the good work.

Could the tag be reprogramed? I have one come with the box.

Tags can be reprogrammed. However the one that comes with Nokia 920 is readonly and can not be reused.

Wait, what NFC that came with the 920??? I dont think there was one in mine (Rogers-Canada) and I got mine ahead of almost everybody (October 30th)!

It was just a sample tag to show off the technology. it just went to something like Nokia.com.

You mean the one that took you to a non-useable (due to lack of JavaScript) website?

That's the one. I don't even remember what the site was for. Let's hear it for marketing...
I'm so excited to put NFC to some real use!!!

Perfect! I can now program a tag to put my phone into airplane mode for when I go to the movies, and I'll just carry it around with me in my pocket, right next... to... my phone.

Since it won't let me download from the store at the moment... does it let you create a shortcut to Internet Sharing? I haven't found a single app that has done given me a shortcut for that yet, and it's such a hassle every time I have to tether my Surface.

(App developer here) This version does not support a shortcut for internet sharing. I will investigate if this is possible (a number of things in the phone are locked down) and add it in the next version of the app.

I'm also interested in a link to Battery Saver, if possible. :)

Does the "System Apps" actual modify the settings you program in? To turn blutooth on and off for example; will it toggle it or just take you to that screen where you have to switch it yourself?

"➕1000"...
Been looking for one myself. Hard to believe it can't be done but surely someone would have an internet sharing shortcut by now.

Just tried this app...works great. I had some tags, but did not take the time to figure out some of the other apps that were out there...they were not user friendly.
This app just works easily.

silly question, but all nfc tags are universal..right?

No. You will see the reality of that very quickly when you go to buy some as the Nexus line doesn't work with some older tags and many will be listed as such. That is one thing I find VERY confusing...there are multiple formats and different generations of those individual formats also.

This has probably been covered before, but I think it would be topical here. There are a variety of tag "types", right? How do we know which ones will work with our devices? Where do we buy them? AT&T store didn't have any.

The app has a link to buy tags that are guaranteed to work. (The tags need to be pre-formatted to work with any Windows Phone or Symbian phones)

I meant to buy locally...like today. I know the article mentions eBay and Amazon.

Samsung TecTiles from your local store work.

Store is down for me, anyone else? I get error code c101a006

Same here. I also got c101a007 for downloading Paper Shuffle.

Store error on phone and web.

Yes, they can be re programmed very easily. However the one that comes with Nokia 920 is readonly and can not be reused.

Are NFC tags rewriteable? Also, once an action is programmed, is there any other user input required?

If any devs are reading this thread, It would be awesome to have tile to quickly toggle NFC on/off. I keep it off as I've heard that it might contribute to the battery drain issues, but I'd like to quickly be able to turn it on as NFC tags become mmore popular.

I remember reading that the NFC feature on Nokia phones uses hardly any power while idle, and you shouldn't need to worry about whether it's on or off. I think that was in an article on Nokia's site.

Where can I buy these? Link please.

Read the article. We give you links. The app itself also gives you links.

I have read that the tags have to be preformatted to NDEF. Is it true? The tagsfordroid mentioned on amazon don't seem to be preformatted. Also, they have two types of tags: MIFARE and N203 Are the two types compatible with the lumia 920?
Thanks

The app has a link where you can buy pre-formatted tags that are guaranteed to be compatible with Windows Phone 8. Formatted Mifare tags are compatible, I am not sure about N203.

NTAG203 is compatible, as near as I can tell. I got a 10 pack + key fob from Amazon. Worked fine. Need to be able to do more than just open general app. I suspect that the URL based ones are OK. Wireless Sharing gets me closer. Would be nice if it would be able to toggle it on/off in one tap.


Great idea to program a tag on my carry-on bag to activate airplane mode. Could the same tag be programmed to do the reverse? For example, tap once to turn airplane mode on. Tap again to turn it on?
Also, can a tag set the ring volume? When I go to bed, I like to make sure the ring volume is up about mid-way so I get woke up if I get a call.

I like the extensive list of system apps. I know some things are limited by the OS, but if Internet Sharing and Battery Saver can be added, that would be awesome. Also, it would be excellent if it can show a list of installed apps and not just the "popular" ones. Lastly, it would be awesome if your buy tags link could offer a link on Amazon in addition to or instead of Ebay.

Very, VERY cool app. I'm really excited to get some tags and put this to use. Thanks!!

great. i shall be having a go tomorrow on this. i have some nfc tags and was messing with the trial of nfc interactor.
Holy Grail for me would be the toggle of bluetooth so i could put a tag on the car to turn in on as its the only place i need it.
good work


Would be nice to see some NFC tags with the new Windows logo on them.

Would any NFC tag work? I don't want Android-labeled ones... what about the Samsung TecTiles? It says it's for the Galaxy, but NFC is NFC right? http://www.amazon.com/Samsung-TecTiles-Programmable-Communication-Enabled/dp/B0089VO7RY/ref=pd_sim_e_1?tag=wpcentralb-20

The app has a link where you can buy unbranded compatible tags.

Would like to see a video of this in action.

Interested in the clarification of the on/off use such as blue tooth versus just opening the settings?

Just the settings, sorry (its a platform limitation)

finally, now i'm gonna pick up a few nfc tags and this should work very well.

Vin apps; "The tags need to be pre-formatted to work with any Windows Phone"
This is most important for Windows 8 users. Troubles with a tag? Use an nfc enabled android phone for an NDEF format.
Dalydose; "How do we know which ones will work with our devices?"
One of the four NFC-forum types are always o.k.. Tectiles and other mifare classic tags are not an nfc-forum type. To date, most phones have an NXP nfc controller chip, and support the classic type.
Other chip suppliers have (announced) nfc controller chips, more and more devices will not support the classic type.
If you want to read more about this.

Does this app allow the NFC tag to be Locked so that it cannot be reprogrammed?

Sorry, the App can not lock tags (WIndows Phone 8 restriction)

ok wait, I know this is a dumb question but does nfc work if the phone is locked?

For NFC to work, the phone can be locked but the screen has to be on.

I think NFC on Windows Phone is kind of useless. Since you cannot actual change any setting and can only launch apps after confirmation I do not see the point. On Andriod you can do a whole lote more. Microsoft needs to change this allow users to toggle Bluetooth on or off, change volume.

tested with friends - they can program a series of actions and change system settings
I can´t with WP8 on a Nokia 920.
And you have to confirm "using NFC" - which is a bit beside the point.
Too bad... just starting things is not that... interesting, to be honest


yep I with you here NFC on Windows Phone is kinda useless, cannot actually do anything other than launch settings or apps. 920 with 8.1 here.

Hey everyone. There is a feature request on the WP uservoice forum that would provide better Android-like NFC functionality. Please vote for it, and maybe this can be included in the next update.
http://windowsphone.uservoice.com/forums/101801-feature-suggestions/sugg...

Please program the app to actually change settings on your phone, not just open them. Its pointless and a real letdown. With update 8.1 coming out, its even more pointless. NFC is a great feature and can be really useful if the app has more functions.

http://windowsphone.com/s?appId=124e5117-b8ed-40d2-84f4-1034749b1b7f -this one for storing fast notes in tags. And also current location.