Project Tripod now available for download, Windows Phone exclusive for 90 days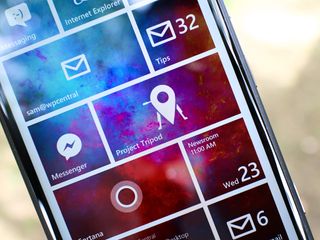 It was last June that we first talked about Project Tripod, an upcoming photography app with a lot of potential. This is an app that is coming out of the AppCampus program. That means the Project Tripod team received funding and help from Microsoft, Nokia and Aalto University in Espoo, Finland. In exchange, apps from AppCampus are exclusive on Windows Phone for 90 days before they're allowed to join competing platforms. Project Tripod is an app with so much potential we can't wait to see it go multi-platform, but in the meantime we'll very much enjoy this Windows Phone exclusive.
Project Tripod (projecttripod.com) is an app that is full of so much potential. Not just for you and me, but future generations. With Project Tripod you're able to create virtual timelapses of a location. The best part is you don't have to do all the work yourself, the community can join in as well. It's so simple to take photos of all those things that can change over time. It can be the skyline of a city from your local viewpoint, a flower, or anything you can think of.
Here's all that's featured in version 1.0 of Project Tripod:
Ability to take perfectly aligned snaps over time – be it seconds, weeks, months or years – without needing a physical tripod!
Anyone with the app can add to these Virtual Tripods
Which means they are adding to and viewing a living history – an endless book with endless chapters
You can Chronicle milestones – man made (buildings, dams, infrastructure) or natural (flora and ecosystems)
With the images that are collected, you can create beautiful art using the in app tools
And use the social Sharing aspects to share your creations & tripods with the world.
Project Tripod is really, really cool. Just take a photo of something that you expect to change over time, like the skyline of your favorite city. Go back from time to time to take that same photo from the same spot. Project Tripod will allow you to blend those images or view a timelapse animation.
You can find Virtual Tripods near you if you want to contribute to them or just check them out. You can view them on maps, in a list view by how close they are to you or by the most popular ones.
Project Tripod is available for free for those with Windows Phone 8 and Windows Phone 8.1. The app is supported by a subscription model, so head into the settings to see if you want to remain at the free tier which gives you three tripods and 500 uploads. Or you can pay $1.49 per year to reach the Hobbyist level for ten tripods and 1,500 uploads. There are additional tiers available to you as well.
Anyone planning on starting some Virtual Tripods of a cool spot near you? Sound off below!
Download Project Tripod from the Windows Phone Store.
Windows Central Newsletter
Get the best of Windows Central in your inbox, every day!
I'm going to use this for panoramas of the waterfront in Portland!

Like Fleet Week would be awesome

YES! They were not here last year because of budget cuts, but they are back this year thankfully!

I'm in Portland this week. Maybe I'll do it too! :)

Go down to the waterfront at Skidmore Fountain Max stop, then continue to walk to the waterfront. That is a great spot! Overlooks the Burnside Bridge.

Watch out for the Grim ;)

Haha. Fellow Portlandian here too. Waterfront is definitely a pretty sweet place to take some nice pics.

I have an idea for eforest. Thanks for this.

No problem. What's eforest?

Sam thank you! Been looking for a new photo app!

Electric Forest is a 4 day music festival.

All I got from this article is that this app is FULL OF POTENTIAL

And for future generations. That's all you need to know.

Come back in 10years and look at old stuff.

Sam.....can I have the link of ur start screen wall?????

Yes me also please thank you very much sir.

@PhilR8 uploaded this background few days ago so thank him, not me :)
Here is the link...
http://i.imgur.com/1hSjN4a.jpg

Many thanks, it's a beaut.

Looking nice on start screen :)

I have been waiting for this app ever since I heard about it. I just hope there are some other WP users around me to take full advantage of it.

Where did you get that background image!!?

Can we get a link to the start screen wallpaper shown on that phone?

Sure. Knock yourself out http://t.co/HrN59BQ6Mv

Is there any potential for this app? I don't think I saw any mention of potential in the article.

What does that even mean? There's potential if a lot of people use it, otherwise no.

I think the joke went over your head. Its because Sam seems ecstatic about this app and talks about how cool this app is or how much potential it has in every other paragraph.

Haha yes... I wondered what that whooshing sound over my head was :)

Super app. Been playing with it as a beta tester for months and the potential is big, its just my fantasy that stops:) worth downloading. And its a big plus that its exclusive so Wp devices can start new tripods at good locations.

Maybe it's just me, but the app feels REALLY slow on my device. Takes about five seconds to load up the 'new tripod' screen... another five if I want to switch cameras... about three for the image to capture (and this is on a 920, not even the 1020 with all of ITS processing). It really just seems like it could use a lot more optimization. Edit: Also, any private tripods (if you don't want to share with the entirety of users on the service) require a subscription. Neat idea, but deleted already.

Hey there, The slowness is unfortunately a platform thing with loading cameras in side an app. That said, it's a huge amount quicker in our testing on WP 8.1 which will be available soon enough. Jordan (@jakkaj) PT dev lead.

For those asking about the background wallpaper, @PhilR8 uploaded it here. Thanks to him, it is my favourite background now... http://i.imgur.com/1hSjN4a.jpg

Yes, it was. I shall edit my original post to reflect same. Thanks..!

From the way the app looks I think the devs are busy working on the iOS and Android apps and do not really care about getting the WP app cleaned up and/or actually conform general (UI) programming guidelines. Oh and we have not been using 'Windows Live ID' for quite some time now.. Seems someone in the 'support group' for app campus (MICROSOFT AND NOKIA THAT IS YOU) were not really paying attention.

Hey there, As mentioned in uservoice, the app has actually been through the Nokia/MS design review process which is hugely stringent (took us a couple of goes!). The "Windows Live ID" text is from Azure Access Control Services, it's not actually written in our app (so we could add more auth methods later without a rebuild etc). Maybe it will change later. Perhaps you can give some pointers to documentation on the bits you'd like to highlight. Our uservoice is a perfect spot to do that :) Jordan (@jakkaj) PT dev lead.

Cool idea, but i wouldn't pay that much personally.

Interesting....... I wonder what it Does????? NAH Just Download and see LOL

http://m.youtube.com/watch?v=ExrYD66L0kA

HERE IS WHAT PROJECT TRIPOD CAN DO http://m.youtube.com/watch?v=ExrYD66L0kA (big letters so u stopped at my answer to read it :))

i liked the background picture, can you share it plz :D

Can any one attempt to explain me why it needed to access my browser and my phone dialer? It's turning into Android with apps going rogue in terms of asking for permissions!!

I mostly like Windows Phone only cos of WPCentral crew being so cool and these awesome apps.

Just downloaded, the app looks promising and has a niceclean interface. I am going to use it creata time lapse of the Central Park.. am thinking of a good spot to get the images. Anyone with suggestions?

Don't sit next to me. Got my thing going.

Cool! There is a spot where I take a pic almost every day. Will try it there!

I will surely try this out! I hope there are many people using this around my city.

Sam... Did you man "dams"? Cool app and right up.

I have been using project Tripod beta since day one and its a nice app but I deleted it for one huge reason: It does not generate high resolution images, the final quality is just lame. As an architect I would even pay for a montly fee if it did. I hope it has changed...

Hey there, Nope, still not high res allowed back to device yet. But... we're storing in high res and will enable the option soon enough! The berauty is that you can snap now and get the full res versions when when allow it. We decided on lower res as we're supporing low memory devices and we need to do a lot more testing. Eventually we'll have higher res imagery available. Jordan (@jakkaj) PT dev lead.

Hello Jordan that's great news! I am really looking forward for future updates, in the meantime I will start some tripods. Thank you for your reply!

I'm going to show it off to my buddies who doesn't own a WP. ;)

Needs Phone Dialer permission. SERIOUSLY! devs need to rein back or wonder why apps are not being installed

Hey there, Phone dialier is a MS requiement when an app uses Advertising. http://msdn.microsoft.com/en-us/library/advertising-mobile-windows-phone...(v=msads.20).aspx Jordan (@jakkaj) PT dev lead.

Share that Start Wallpaper!!!

Why do you use the light theme, I'm really sure that it's not good for your battery life time

Depends on the type of screen you have. Sometimes black is still "lit" consuming power. On other screens black means it's off and yes you will have better battery.

I've uninstalled quite a few apps which demand access to libraries on my phone when there is no need. Unfortunately so does this. Off it goes no matter how good it is unless they remove some those access.

Hey There, We need access to libraries so that we can upload imagery taken and also save imagery that has been downloaded. The phone dialier requirement is needed for any app the uses in app Advertising from MS. http://msdn.microsoft.com/en-us/library/advertising-mobile-windows-phone...(v=msads.20).aspx Is there a particualar requirement you have a big issue with? I'm the same as you, I don't like using things that use too much, so maybe we can look to reduce the capabilitues we request! Jordan (@jakkaj) PT dev lead.

It was meant to be exclusive, now it is a timed exclusive. But that is ok and understandable. It's is a nice and well designed app and it could have better luck on multiple platforms. However, and it is important for an app that aspires to capture the world, localization is not implemented properly. It is unfortunatelly a common mistake small teams lacking certain background make. The app doesn't conform to the language of the phone, but either that of the region you are in, or the shop you downloaded it from, which is a mistake, especially when you do not give the option to the user to pick the language they want later. Especially in Europe where people from any country can live and work in any country speaking so many different languages, this becomes even more important. I hope it is fixed in a future version.

Hey there, We put a lot of effort in to the language capabilities and will be adding more languages later and we want it perfect! Can you please provide series of reproduction steps for you issue on our user voice site? https://projecttripod.uservoice.com/ If we can figure out how to reproduce your issue we can patch it nice and quickly! Jordan (@jakkaj) PT dev lead.

I believe you did, but the devil is in the details!
It is not a bug to reproduce. Simply an oversimplified generalized UX assumption that since someone downloads the app from the French store therefore is a French speaker. While in general that assumption is correct, there are many expats across Europe, and the world in general. About 20% or more in many countries. Therefore the user should be able to select which of the available languages they prefer. Many localized apps fail at that; they make that desision for the user in advance. The easiest and the most thoughtful way to know what a user prefers, is by detecting the default language on the phone.

Hmm, would this be able to do the timelapse of a person over time, i.e. losing weight?

It's more suited to outdoor use in its current configuration. It could do people, but you'd have ot have the phone close to the same place every time, when the same background etc (the system uses various features to align). The issue with indoors use is that persepctive shifts are more noticeable when the subject is closer to the camera... Jordan.

I'm alone!!! https://onedrive.live.com/redir?resid=8AEB8ADE9F9FFC8!11815&authkey=!AK5...

Brilliant app. But battery drains very, very quickly.

Who's going to be the first to time lapse a boner?

How is this any cooler than any other virtual tourism site/app? Photosynth for example.

As someone who is about to build a home in June, this will be awesome.