ProShot set to receive a huge update - New user interface, front facing camera support and more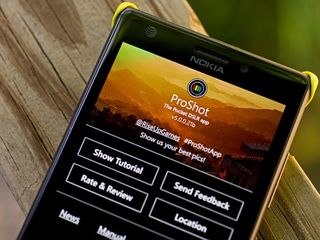 ProShot is a well-received Windows Phone photography app that delivers a DSLR range of controls to your camera. ProShot allows you to control settings such as ISO, White Balance, Shutter Speed, Focus and more. You can shoot in full-auto or take the reins and shoot manual, tweaking the camera's settings to suit your tastes.
Proshot is due to receive a major update over the next few days that will bring a completely redesigned user interface, front facing camera support and more to the Windows Phone app. There is also a noticeable boost in ProShot's performance that increases the burst rate and gives capturing images a little more pep.
We've been tinkering with the updated version over the past few days and it adds to the appeal of what was already a fantastic Windows Phone photography app. If you like the current version of ProShot, you'll really enjoy version 5.0.
App Renovation
With the version 5.0 update, ProShot's viewfinder receives a major overhaul in appearance. At first glance, the changes may appear subtle but as you dig into the app you will begin to see the design changes. Menus at the top of the screen and sides have been reduced in size and some are now hidden. The design changes gives the app a cleaner appearance and opens up more of the viewfinder (the old viewfinder is the first image, the updated image is the second).
Where you could choose you camera mode from options that ran across the top of the viewfinder, you now have hidden dials in the upper and lower right corners of the viewfinder (in landscape mode). Tap the button and pin wheel dials appear to control shutter speed and camera modes (Auto, Program, Manual and Custom).
Speaking of shutter speeds, the update increases the maximum burst to 8 frames per second with an image buffer that can now handle 30 images. The developer reports that ProShot is now 25% faster than Nokia Camera with regards to burst rates. I'm not sure as to the 25% but the updated version of ProShot had considerably more zip to it.
The side menu continues to pull up your camera settings, flash options and image settings. Camera settings cover display options such as grid lines, on-screen level, histogram and options to tap the screen to focus or tap to focus + take the picture.
Flash options are your customary on/off/auto/focus light only and image settings includes resolution, aspect ratio, creative filters and adjustments for contrast, saturation and sharpness. The updated version has seven filters that includes:
Black and White
Vintage
Moment
Pop
Lavender
HDR Lite
Sin City
While the updated version lacks a photo editor feature where you can apply these filters after the fact, you still have the filter editor where you can create your own effects filters. It is our understanding that the developer is working on a new editor that will make its way to ProShot in the future. Until then, you can import images from ProShot to other Windows Phone photo editors such as Fhotoroom, Instagram, etc.
Wrapping up the new layout, you have your exposure compensation wheel at the bottom of the viewfinder and three controls rests adjacent to the side menu to toggle between preset modes (auto, night, etc.), a shutter button and a toggle button to shift between the front and rear facing cameras.
Front camera controls are scaled back slightly. It appears the front facing camera lacks the shutter and camera mode controls. You have control over exposure compensation, the creative filters and the contrast/saturation/sharpness controls. And no, I didn't break the camera!
Additional features to version 5.0 of ProShot include:
Added front-facing camera support
Add Image Manager - view, manage, batch export, and delete your original and hi-res photos (internal ProShot images only. Camera roll management coming in a future update)
Added file size and color / luma histograms to EXIF viewer
Improved shadow recovery algorithm, built-in filters
Optimized to run on 512 MB devices
Can now zoom 50% more into images in the preview roll
New field guide quick-reference (found in the About panel)
Overall Thoughts
All totaled the update brings over 100 tweaks, fixes, and improvements to ProShot. It's still a daunting task to choose just one photography app as the best. There are so many quality options in the Windows Phone Store as well as the native camera app and Nokia Camera.
ProShot considers itself the fastest shooting experience on Windows Phone - new dynamic buffer system allows for uninterrupted shooting at the maximum speed possible. The update does give the app a boost in speed and noticeably improves the overall performance of the app.
ProShot ranked amongst the best options available before the version 5.0 update and remains firmly rooted after the update. If you are looking for DSLR like control for your Windows Phone camera, you'd be foolish not to try ProShot.
Barring any unforeseen problems, look for the version 5.0 update for ProShot to be available in the next day or so. As an added bonus, in celebration of the update, Proshot's price will be slashed in half to $.99 until July 1, 2014 ( a steal of a deal).
ProShot - Windows Phone 8 - Trial / $1.99 - Store Link
Windows Central Newsletter
Get the best of Windows Central in your inbox, every day!
George is the Reviews Editor at Windows Central, concentrating on Windows 10 PC and Mobile apps. He's been a supporter of the platform since the days of Windows CE and uses his current Windows 10 Mobile phone daily to keep up with life and enjoy a game during down time.
M desperately waiting its the only camera app dat makes my 720 feel of dslr

The new twin-dials UI is meant to mimic the feel of those dials on your DSLR. Hope you like it! :)

Can you tell me the performance for my Lumia 1320 ;) will the camera be better when used by this app ?

While I don't have a 1320 to test, I can say that pretty much everything that is possible to customize about your camera is possible in ProShot, and it can be saved and pinned to your start screen for quick access. It also has contrast, saturation, shadow recovery, real-time filters, and (new to 5.0) sharpness settings, which means you can shoot using your favorite image profiles, and spend less time editing :)

A big thanks to you still man ;) just appreciated ur great work by buying ur app ;)

Cool you guys keep a check on our comments..!! When will the update be live on store ..??? Hey riseupgames can slo mo video be possible in future ...?

I believe sometime Saturday evening / night (USA time). It depends on how fast Microsoft will certify it. I haven't looked much at the new WP 8.1 APIs, but from what I saw it doesn't look like slow mo video is possible yet. I don't think any current WP devices have the hardware / firmware for it, either :/

Why the ProShot in my WpDevice force closing Every time i open it ? .. is it a bug or its on the app ? .. thanks ! sorry for poor english ..

i really like the camera of L720..it's much better than the L820

Excellent! Really looking forward to this update!

Wish I could set this as default camera

Please vote here if you'd like to have this feature! http://windowsphone.uservoice.com/forums/101801-feature-suggestions/sugg...

just voted, this is the best app i have on my 8X but this futere would help so much, i always take pictures but sometimes you an miss things if you have to unlock your device and then go to app. Pretty please implement this futere and ill pay extra for the app :)

Can we add proshot as default camera and launch it from camera button?

read the comment above yours, and then go to the website and vote (3 votes exaclty not less :) ), thats the futere im waiting for.

Love that camera apps in WP are waaaaay ahead in order platforms, my guess it's the Nokia photo SDK
Whatever it is it's beautiful

It's mainly down to the manufacture to use hardware supporting manual shutter speed selection etc. but these abilities are actually available in the normal Windows Phone libraries. No Nokia IMaging SDK needed.

So it's more of a hardware thing ! My"Android"friends are frustrated that they can't find any app like mine in their big ol'store :D

Well, Apple has recently announced they are opening up the camera for full manual controls like on WP. So WP will no longer be the only ones when iOS8 comes out. Strangely, this was soon after Apple poached one of Nokia's camera leads. Coincidence? I think not!

Speaking of sdk support anyone with an icon having issues using it at high resolution?

Tops out at I think 8mp on my icon. Which is the same res it used on my 928

If you want free then you can use Nokia Camera. The developer of ProShot has put a massive amount of work into this app, I know because I've had it since it was first released. It's worth every penny.

There's always one. Get a job! Heck, you don't even need a job to buy a 99 cents app!

Use some Bing Rewards points to buy apps.

Plz , When I will get windowsphone 8.1 ???????????????????????????????

Wait for it and stop asking it'll come out when it comes out

Can I set it as the default camera? Does it start when pressing the camera button ? is it fast ?

Currently you can't unless this update allows doing so

Wow! Can't wait. The developer is always hard at work and always gets back to user requests in the forums. Amazing app. Always have my support.

Waiting for price update ..

Which goes up? Really, You should grab it now man!

Waiting for price update to $0.99, still showing as $1.99 in the store

I've just now updated the price to $0.99 ahead of the release for you early birds :)

Thank you! The app rocks! Wanted to buy it since WP7, though only now i can do it.

I wish that hdr option would be in nokia camera.

True... Only can use free standalone app for that now

Yup me too waiting for the price update :P will download then only...
Had tried once b4 but didn't buy :)

Nokia camera already does all that, I'm not sure why this would be any better.

ProShot has a smoother flow to it than Nokia Camera in my opinion. I like that it remembers my settings when I open up the camera and the ability to make custom filters is not available in Nokia Camera.

I like how they're jumping from version 3.7.2.0 all the way to 5.0. Did I miss 4.0 somewhere? Also, it would be HUGE if they could make this a default camera option rather than a lens option. Or both...that would be fine.

Haha, the update was so huge I skipped 4.0 all together. It's a complete overhaul of ProShot, inside and out :)

Great!!!! Thanks for all of the amazing work you do. I've owned the app since day1, so you have my full support.

MS should allow any app that can be a lens be the default camera. Would generate a ton more options.

RiseUpGames has put a ton work into this app. Been using it has well since it became available. I use this my main photo taking app. Party, events, get togthers with friends, or just taking random pic. I always use this no matter where I am at. Well worth it and then some. Can't wait for update once again.

I was reading this with so much interest, I wanted to download it.. Until.... I realized that it's a paid one...

Paying 55 Rs aint a big deal ...!!! Even I did so a long ago nd its worth it ...!!!

No one cares. If you are too cheap for 99 cents, then use something else.

Some people don't have access to a credit card to use with the store.

Why to using this app instead of Nokia camera??

Few more tidbits? I won't buy this though... No Nokia Camera is more than enough... I'm digging for the new update in Cyan now!

Features over Nokia Camera: 1) A, P, M, C1, C2, HDR modes, (Nokia only has Auto and M)
2) Hi-speed burst (Nokia only has a slow, full-res burst)
3) Real-time filters plus a filter editor
4) Timelapse
5) 3D Level
6) Manual focus assist The list goes on and on, but most importantly, it's about the UI and UX. ProShot is all about quick access to camera settings, so you can take your pic how you want, and then get on with your day. The entire UI was designed to be used with a quick swipe of your thumb. Give the new version a try and see how you like it :)

Wonder if they will finally support the full resolution of the 1520

what ? why they dont support the full resolution of those high MP Pureview phones?

It always has, but as an export option. Once you take a pic in ProShot, swipe to the preview roll. Open the menu and tap the "export original" option. This will export the 20 / 41MP image to your saved pictures roll for easy editing. In the new version, there will be an image manager built-in, that will allow you to individually manage your original and hi-res photos. I'm sorry that things were a bit confusing in the old version, it should all be a bit more clear in the new one!

I am using 920 and I would buy this app for $10-$15 if it has an option in settings that can "Turn off JPEG Processing" or "Turn off yellowish/soft processing" On/Off.

pop is there??? thats what i always seek!!!! :) Great app i hope it will stand on my expectations!!

When will the price be cut off?

Always been a supporter of this App. I bought this app with 2 different Microsoft accounts. I really appreciate the hardwork that the developer has put into, but I'm really not digging the "slanted" design in V5.

I think the new UI will make more sense when seen in motion. I wanted to create this feeling that the user was piloting a jet or a Mech, while not making things too intrusive. I hope you'll end up liking it :)

Of course it would make sense, why would anyone implement something if it doesn't? :) However, personally, the design doesn't go well with the whole WP design language? Maybe it's just me. No matter what, though, I will still continue to support your work. Thank you for your contribution to WP! :)

Redeem some Bing Rewards points to get apps for free! 290 points gets $3, and 465 points gets $5 to buy apps/games in the Windows Store.

Thank you for the review George!! Hi everyone, I'm the developer of ProShot. While I put the finishing touches on the app, I've already reduced the price in the store to $0.99 so you early birds can jump on it :) I expect it to be available sometime tomorrow, depending on how long it takes to certify. Can't wait for you all to try it! As for the 25% faster stat, ProShot's shot-to-shot times are considerably faster on the Lumia 1020 when compared to Nokia Camera. On other devices, shot-to-shot times are either on par, or slightly faster than any other app out there, including Microsoft's default camera app, and this is with a full EXIF viewer, as well as RGBY histograms. A *ton* of work has gone into making this the best shooting experience possible, and I really want to thank the community for their support. It is because of you that I am able to create apps that push the capabilities of your phones to their max!

It is still showing as $1.99 for me. :/

Check back in an hour or two, it may take a bit for the servers to update the prices

+1020 downloading right away

Downloaded.... But on my 1020 its heating up the phone too much... I just took may be 5 or 6 shots only.... And couldn't find tap to focus ...it automatically clicks the pic when tapping...

It'll be there in the v5.0 update. As for the heat, the update should help with that as well, it's a *lot* more efficient. Specifically, I cut video memory usage by more than half, along with a 25-40% increase in FPS (depending on hardware), and that is even with real-time filters enabled.

Great !!! Then waiting for the update to arrive.

Proshot FTW! I have this app almost as long as my Windows Phone :)
Looking forward to the update!

Sounds great, now give me voice command option, and 24mp images and I will dump OneShot. BTW I do own proshot and I only use 3 photo capturing Apps. Nokia Camera Beta, Oneshot, and Proshot. Each is set up for different resolutions and aspect ratios.

I love me some updates! Keep em comin.

How long i can get that ? Now it's still v3.7.2

Proshot has the option of HiRes Pictures (12MP+38MP). I assume that there are 2 pictures saved: 1x 12MP JPG and 1x "RAW" 38MP DNG like the Nokia Pro Cam. The test version don't allow savingany pictures so I needed to buy the app to figure out, that there's only one jpg-picture saved. I couldn't find any Raw-file. That's a big dissapointment for me because I am only using Raw-pictures for post-processing. Can you confirm that there won't be any DNG saved?