PSA: Join Nokia for a Twitter chat about HERE Maps #AskNokia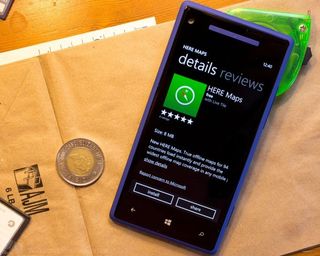 What are you doing right now? Do you have any pressing questions about Nokia's mapping platform – HERE? If you do, head on over to Twitter where you can participate in an hour long dialogue with Nokia about their HERE platform.
HERE, as you know, is Nokia's new-ish brand for their location services. Things like maps, transportation data, and more are all under the HERE umbrella.
Starting today at 9 AM Pacific Time/12PM Eastern (-7GMT) and lasting an hour, you can engage Nokia's Pino Bonetti, social lead for HERE maps. He'll be taking charge of the @HEREMaps and interacting with users using the #AskNokia hashtag. All you've got to do is send a Tweet with the #AskNokia hashtag in it to participate. It'll be a good forum to ask any questions you have about HERE Maps present and future.
We'll of course be watching from the sideline and share with you any interesting tweets or interactions. You have one hour to prepare, go!
Source: Nokia Conversations
Windows Central Newsletter
Get the best of Windows Central in in your inbox, every day!
Umm.....no there maps i think i got it . Very simple to use nokia good job

My only problem is that when you view satellite map the resolution is horrible. Even Bing maps was better.

Hi, I'm Pino from @heremaps.
I answered this question during the chat: https://twitter.com/heremaps/status/314052603342368770

My only question is why did they go with "here maps" I mean really? Nokia maps sounded better...

Read this - http://conversations.nokia.com/2012/11/13/here-the-next-generation-of-location-services/ they have bigger plans

Question numero uno: Why is it taking so long to add list view to Drive?
Question 2: Why not show/speak the address when you have reached the destination? It would be great if it announced what side of the road to look at but let's just get the basics in there.

question 2 I tweeted to them last week. Agreed!

Hi guys, of course we are listening to all your suggestions. Right now we are busy removing the beta label from HERE Drive and include My Commute.

My only question is what's the policy used to update the production maps with the community ones? The community maps for my region is up to date. Should be possible to choose witch one to use. Like for offline mode user thr production one, for online mode let the user choose.

I believe I answered to your question on Twitter.
Basically, we have to validate the community edits before we make them available to everyone.

I just wish that Nokia Maps was as fluid and smooth panning around as Bing maps was on WP7. I was shocked how sluggish Nokia maps was when I first got my 920.

I cant do it now but anybody can ask about the 3d map like here.com and if they have plans to make it work with IE10 for surface rt tables.

IE does not support WebGL due to security concerns (direct access granted to your graphics card through a webpage, which could potentially abuse bugs in video card drivers), so they cannot make it work without a plug-in.
With that said, I hope that they add it to the Maps on at least WP8 because it is impressive: I just tweeted the very same question (late though).

Nokia could do it using Silverlight easy

I don't use Twitter, but can someone ask them when it'll be possible to add your own POI. It's the main thing I find lacking in comparison to Google Maps.

Someone should cheekily write some program to pull every POI from Google Maps and insert it into Nokia once the feature is available. Instant win! (not instagram)

Add your own POI? What do you mean? You can do it today...

How? I'm not familiar with being able to do this...

Maybe you can from the desktop, tbh I rarely use that, but I don't see an option from the phone.
Ok, I just tried from here.com in IE, kept telling me to "click the black tag", which did nothing. Tried in Firefox and there's not even a "add a place" option.
But they need need it on the phone.

And they need to populate it from somewhere...

There's a section called map creator beta on their desktop site. Use it to edit or add places roads etc. But it will take a while to see implemented changes in the actual map (as explained in their FAQs)

It isn't available in the UK (or most of Europe for that matter).
Just had a good idea for an app though. Augmented reality. Point the phone camera at a street, it displays the shops it knows about and the missing ones it can scan in the name of the store and automatigally created POIs which you can then further edit.
Would also create a user-populated street view.
Anyway, that aside it's not enough, Nokia Maps are much nicer to use and look at than Google Maps, but they need to boost their POIs from both the desktop and mobile clients. They have the pieces they just need to start putting them together.

The Here Maps support section lists the link below for reporting/editing through Navteq, which is of course owned by Nokia. You don't have to register or log in to edit.
http://mapreporter.navteq.com/

I want to know if the latest here maps and drive as well as more updates will be heading to wp7 lumias. Someone pls put forward this ques for me...

Hi, I answered this question during the chat: https://twitter.com/heremaps/status/314049359148900352

You can read the full chat at http://storify.com/here/asknokia-chat-with-nokiaus

Too slow :( I want to know when I can put the maps on the SD card. Since they now make a lot of phones with just 8gb onboard that has to do for apps and games I hope they already came up with this to fix. Plus it worked on my old Nokia.

I want to know why my location is out by almost 100 meters while navigating
Windows Central Newsletter
Thank you for signing up to Windows Central. You will receive a verification email shortly.
There was a problem. Please refresh the page and try again.