New screenshots prove that Pure Pool is almost ready for Xbox One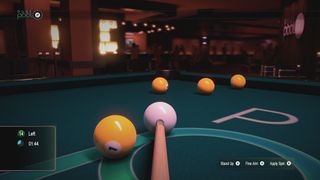 Earlier this summer, UK-based developer VooFoo Studios and Ripstone (who also published Stick it to the Man) announced That Pure Pool would be coming to Xbox One as part of the ID@Xbox program. Pure Pool is set to be the first pool game (and I don't mean the kind of pools that The Sims 4 lacks) on Microsoft's latest console. The Playstation 4 and PC versions landed in July, but the Xbox One version has seemingly been stuck outside of the pool hall, waiting for the bouncer to let it in.
It looks like the line has been moving for Pure Pool after all, because we just got some fresh Xbox One screenshots in today. The creators even promise that a release date will be announced within the coming weeks. I'm betting mid-late November. That's prime pool game season, if you ask me. Especially because it'll be too cold to hop in the pool outside by then. Keep reading to check out the new screens and details!
Play a mean game of pool
Developer VooFoo Studios knows a thing or two about the game of pool; they previously released a pool title called Hustle Kings for Playstation 3 and Vita. They also created a game called Pure Chess on pretty much everything but Microsoft platforms, and consider Pure Pool as a continuation of that series. At long last, VooFoo will show Microsoft systems some love with Pure Pool on Xbox One!
Besides the obvious graphical improvements that new-gen consoles make possible, Pure Pool will also tout even better pool physics than its predecessor. Still, it does look nice! Just look at those shiny balls. The developers describe the environment as a living, breathing pool hall. You can see people standing around at the bar and such as you play, although they're out of focus. Got to keep players concentrating on the table!
As a single player game, Pure Pool offers an expansive career mode. Players can earn up to three stars from each match – one simply for beating it, and others for completing side goals such as making specific shots during the game. Challenge games take place between regular tournament matches, requiring different tactics such as speed runs and precision tests.
Real-time and asynchronous multiplayer
Pure Pool will bring some classy multiplayer features to the pool table. For one, you get head-to-head online play against another player. You can also participate in pool leagues, battling it out against a wider variety of competition.
The game also offers asynchronous multiplayer. It will build an AI profile based on your play style, which friends can then match up against it when you're not around. Kind of like the Drivatars in Forza Horizon 2. If my profile plays anything like I do in real life, expect the ball to go flying from the table more often than it makes it into the pocket.
The AI profiles actually make real-time online multiplayer better as well. If an opponent drops out during an online game, the game won't just end. Instead, that jerk's online profile will automatically take his or her place. There's no avoiding the whoopings of your opponents in Pure Pool.
As we mentioned earlier, Pure Pool doesn't have a specific release date just yet. Hopefully pool fans won't have to wait too much longer, The Xbox One version doesn't have an official price either, but it's safe to assume it will sell for $12.99 like its Playstation 4 brother.
Do we have any videogame pool fans in the house? Hopefully some of you guys are better at it than I am. I never was much of a swimmer.
Windows Central Newsletter
Get the best of Windows Central in your inbox, every day!
Paul Acevedo is the Games Editor at Windows Central. A lifelong gamer, he has written about videogames for over 15 years and reviewed over 350 games for our site. Follow him on Twitter @PaulRAcevedo. Don't hate. Appreciate!
At last an Xbox One game with no violence! I have been yearning for some time.

Opera Mini Beta was updated this morning :v (off topic)

If there is no snooker in it, I'm not interested.

Mr. Picky! I think the game types are 8-ball, 9-ball, and UK 8-ball. Plus two original game types, Killer and Accumulator.

Thanks for the information! And yeah, after having played the official snooker games in the past, I really can't match the experience with something else. I guess I like my games hard and intelligent.

I'm a big snooker fan myself, but it has extremely limited appeal Stateside, consequently Snooker games do not sell very well. So I can see why a developer with a limited budget would choose to not include it. After all, it's more than just a matter of programming a new set of rules in. The table size, geometry and cloth are all different. Not to mention smaller balls and different cues. It'd require a lot more work to include Snooker, and a large proportion of potential players wouldn't want it anyway. I'm fine with a good pool game.

If they advertise properly I think its worth a shot haha did you get it? Shot !

I don't want to rail at you, but that pun was balls. Rail? Balls? ;)

Plz this game for windows phone 8.1 !

Awesome looking game...it's a getter.. :-)

Kinnect integration with this might be interesting...

Real pool is a great way to hang out over some beer and talk. I don't think this will be the same but it might be useful to mentally practice angles n shots.

Yeah, angles are a big part of both the real-life game and videogame versions. Also, you could chill and drink with an online friend - not as good as being in person, but still fun.

Are there any good pool games for windows phone?

I love online pool games...going back to Dreamcast. It's great every once in a while to get away from the yelling, hating, screaming obnoxiousness of fraggin da noobs doood online.

Jimmy Whites 2: Cueball, anyone? That was beast.

Most INTENSE GAME EVER!!!!!AHHHHHHHHH!!!

And with this i will definitely lost my sleep.

I wonder how this will compete with Pool Nation that's on PC. I just picked that up a few weeks ago and this looks to be real similar as far as graphics and features go.

I always want a pool game, but they never really deliver on the real experience. Not sure they ever can.