Tip: Getting 'Search Server' to work with Gmail on Windows Phone 8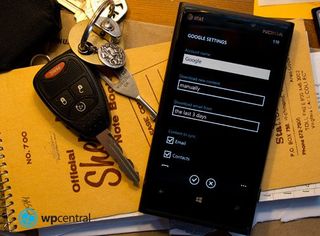 Google and Windows Phone haven't always had the rosiest of relationships. Head to the Marketplace and you'll find a whopping single app from the Mountain View tech giant. Whatever, we can do without them and their 1st party support when we have developers picking up the slack. However, a lot of you still rely on Gmail as your web email and have no plans to switch to Outlook anytime soon. So here is a super simple trick to make your experience a bit better on your new Lumia 920 or 8X.
No Search on Server for Gmail?
Most likely you don't want to keep your entire inbox on your phone, I personally have most accounts to only keep one week worth of content for any given account. What happens when you search for a term and the email you want is outside that timeframe? You'll get no results. Some have reported that Microsoft removed the search-on-server feature from Windows Phone 8, though that's not entirely accurate.
The issue? How you initially set up that Gmail account. When selecting what content to sync did you chose email only or include contacts and calendar? Check out the image below and you'll see where we're going with this.
So the quick tip is when setting up a Google account and wishing to search for more results on the email server, you need to select "Email, Contacts, and Calendar" for your syncing choice. You can also just update the settings to include contacts and calendar in any particular account after you've added it.
That little trick, making sure you sync contact and calendar will let you Windows Phone connect to their Google's servers and search all your emails. You can see the option to search Google in the screenshot below.
A nifty trick that should improve your experience. If you have any other tricks you've found over the past few weeks feel free to share them below in the comment section! Maybe we can pull the best ones and do another post.
Source: Windows Phone Italy
Windows Central Newsletter
Get the best of Windows Central in in your inbox, every day!
Looks like you can just select calendar also...

It's the same in Windows 8 as well - set up a gmail account initially without selecting contacts/calendars and there's no option to add them later.

THIS IS ESSENTIAL. I activated it myself on accident..i almost returned the phone because I thought it wasn't possible to search on server.

I'd also add that it's worth investigating the Google Sync page when your browser is in mobile mode to all actual deletes for e-mail as well as syncing multiple calendars. I'd love a combination of move/delete/archive options that actually works well with gmail, but at least actual deleting works. Even Android's mail app doesn't seem to do that very well. :P

When viewing m.google.com/sync on WP8, I don't get a calendar option for my WP8 device, only for mu iOS device. Any thoughts?

it won't allow you to change those settings on any device other than an iphone, ipad, or ipod touch...
If you want, and you use firefox, there's a workaround you can use. Go search for addons, and download User Agent Switcher. One you have this downloaded, you can view the website w/ iOS 3.0, and then of course you can change the settings.
I used this to change the settings so that when you hit delete in the wp8 / wp7 mail app it actually deletes the message rather than just removing all labels (same as archiving). Absolutely no reason I should be archiving messages from fandango, dilbert, and my chase account balance daily. Very annoying, and very stupid of google.

I so want to get an 8X or 920. What I'm wondering is I know in Outlook in office on the pc If I want my Google calendar along with email I have to download a third app to do this. From what I've seen here does the outlook app on WP8 connect to calendar to? If so that would be a help since at the moment I'm all Google (GV, Gmail ect.)

If I understand your question: on the phone, from the Calendar, you will see your Outlook and Google calendar entries on the same screen. They show in different colors, but in a single place

That's cool it would at least give me the notice in one place.

Great tip. I needed to search the other day and had to go to the mobile site. Thanks!

No problem. Figured it could be worthwhile if even only one person finds it helpful :)

Can you set up the account initially choosing Email, contacts and calendar, and then removing the contacts and calendar afterwards while keeping search server active? I want search server but don't want contacts or calendar to sync (I don't yet have a WP8 device so I can't test this myself).
Search server works in WP7 without any need for contacts or calendar so I'm not sure why Microsoft added that extra step when setting up a Google account in WP8.

You can even setup Gmail pretending it to be an "Outlook" account type;
Once asked for domain parameter,enter Gmail.com and, for the server,type m.google.com .
You'll have all the features from a real Exchange account...server search included.

SAVIOR Igoran. Sam's trick unfortauntely didnt work for the Samsung ATIV, but yours did. I even did a hard reboot trying to reset figuring it out. Awesome!

This worked. The tutorial didn't.

The search always worked if u set it up as an Exchange account (using it on my Lumia 900 and used it on Radar for more than a year), takes 2 mins to set it up and it syncs your calendar, contacts, search works and push email works fabulously!

Here's a trick: Use Outlook.com. :-P

Is there a similar trick for a Yahoo account? I've got years of email on here...no way am I downloading all of that! (Don't worry, I use outlook email now, but still lots of places use my old email address)

I set it up using ActiveSync and server search does not work :(

I set it up as an Outlook/Exchange account for as well but it doesn't let me server search like it did on WP7. These are the same settings I have currently on my Focus and it works there.

I just get an error: "Can't Connect - We weren't able to connect to the network. If you have good reception, the problem may be on the other end. Wait a little while and try again."

I get that error too on my account that's set up through Exchange. The other one's that set up as regular Gmail works with this trick, even after turning the Contacts/Calendar sync back off.

A lil off topic, but can we view Google Calendar entry on Windows Phone 8 after selecting Calendar to sync on WP8? I was trying on a demo phone recently and did not find such setting available.

Is anyone here able to do the contact search on google server? I always get No Results. My N9 and N8 never had this issue. Setting up gmail via the posted method fixed my gmail email server side search as long as I had calendars syncing (which is fine and I got working the way I want). Last thing I need is contacts searching :)

I am unable to get http://m.google.com/sync to load using either my 920 or Firefox (with iOS 3 enabled in User Agent Switcher). Either way, it appears to redirect to http://www.google.com/sync/index.html, which is just a page of information that links to their Help files, which in true Google style aren't much help at all. I would LOVE to set the Delete When I Say Delete, Dammit settiing, as this has always driven me INSANE. Can someone help?
EDIT: Found the issue: Google's got their redirecting screwed up. Until it's fixed, you can go straight to https://m.google.com/sync/settings/iconfig/welcome to get it to work.

clemon79, OMG, thank you so much! I just began to give up... How did you find this link? Thank you thank you thank you! ))

This does not work any more.. after updating or even starting from scratch it wont sync and it says "attention required" and then asks for "domain" settings.
Please help !

I was able to search more in google mail prior to the Amber update. But now I just can't and contacts and calendar are already checked as content to sync. Any suggestions?

Same issue here. Does it have to do with Google dropping EAS support?

It probably does. Adding my gmail as an outlook account solved the issue for me.

http://www.neowin.net/news/how-to-use-google-services-in-windows-phone-8

Tried all this, but still cant search gmail servers. able to search on outlook only, tried removing outlook and adding gmail only but it still doesnt work. any tip would be greatly appreciated


Choose "other email account" or something (last option after gmail, hotmail etc.) and use Active Sync. Use these settings: Gmail Exchange ActiveSync server address: m.google.com Gmail Exchange ActiveSync domain: google Gmail Exchange ActiveSync user name: Your full Gmail address (me@gmail.com, e.g.) Gmail Exchange ActiveSync password: Your Gmail password Gmail Exchange ActiveSync TLS/SSL required: yes Source of settings: http://email.about.com/od/accessinggmail/f/Gmail_Exchange_ActiveSync_Set...

Wow that actually worked thanks. However you tap advanced setup and not other account.

Awesome! This was the only solution that worked!!! Thanks so much. Lumia Black update messed up my sound, so had to reset the phone. Upon reloading it didn't search server. Adding as Exchange Active Sync did the trick!

Thanks that worked great for me !!!

http://www.neowin.net/news/how-to-use-google-services-in-windows-phone-8

Tried all above but no longer get the search on server option. I used to have that option until recently but something went wrong with my gmail acct on the WP8 (nokia Lumia 520) and i had to delete the acct from my phone & then add it again - ever since then its not worked. I've seen all the stuff about EAS & the fight with Google & MS but appears they are still supporting EAS till end of 2013 so I dont understand why this feature has apparently been disabled...
Windows Central Newsletter
Thank you for signing up to Windows Central. You will receive a verification email shortly.
There was a problem. Please refresh the page and try again.