Tip: Getting 'Search Server' to work with Gmail on Windows Phone 8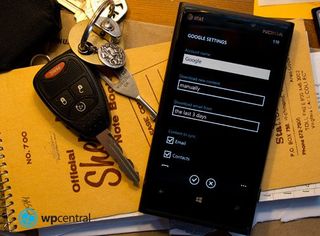 Google and Windows Phone haven't always had the rosiest of relationships. Head to the Marketplace and you'll find a whopping single app from the Mountain View tech giant. Whatever, we can do without them and their 1st party support when we have developers picking up the slack. However, a lot of you still rely on Gmail as your web email and have no plans to switch to Outlook anytime soon. So here is a super simple trick to make your experience a bit better on your new Lumia 920 or 8X.
No Search on Server for Gmail?
Most likely you don't want to keep your entire inbox on your phone, I personally have most accounts to only keep one week worth of content for any given account. What happens when you search for a term and the email you want is outside that timeframe? You'll get no results. Some have reported that Microsoft removed the search-on-server feature from Windows Phone 8, though that's not entirely accurate.
The issue? How you initially set up that Gmail account. When selecting what content to sync did you chose email only or include contacts and calendar? Check out the image below and you'll see where we're going with this.
So the quick tip is when setting up a Google account and wishing to search for more results on the email server, you need to select "Email, Contacts, and Calendar" for your syncing choice. You can also just update the settings to include contacts and calendar in any particular account after you've added it.
That little trick, making sure you sync contact and calendar will let you Windows Phone connect to their Google's servers and search all your emails. You can see the option to search Google in the screenshot below.
A nifty trick that should improve your experience. If you have any other tricks you've found over the past few weeks feel free to share them below in the comment section! Maybe we can pull the best ones and do another post.
Source: Windows Phone Italy
Get the Windows Central Newsletter
All the latest news, reviews, and guides for Windows and Xbox diehards.