Rainbow Six Siege Operation Steel Wave: Everything we know
Rainbow Six Siege melds water and metal in Operation Steel Wave, coupled with a return to home sweet home.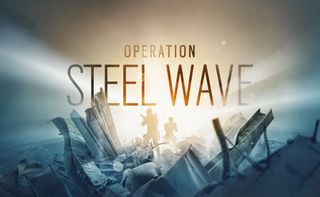 (Image credit: Ubisoft)
Tom Clancy's Rainbow Six Siege has vast changes planned throughout Year 5, reworking its approach to updates, and introducing anticipated features to the hit tactical shooter. With over 60 million players and preparations for next-generation consoles underway, Ubisoft readies the grounds for over a decade of further post-launch support.
Operation Steel Wave is the latest seasonal refresh, scheduled to include two new Operators, a full House rework, topped with a variety of balancing changes. And while the next update sits around the corner, we've wrapped up what you need to know.
Hands-On Review: Rainbow Six Siege Steel Wave brings glory and frustration
Rainbow Six Siege Operation Steel Wave release date
Updated June 15, 2020: Ubisoft has announced its Steel Wave release schedule, headed to Xbox One, PlayStation 4, and PC on June 16, 2020. The usual staggered approach to deployment occurs, starting with Xbox One, and followed by PlayStation 4 and PC.
Following Rainbow Six Siege's Year 5 kick-off, consistent scheduling provides an estimate of its next release. Ubisoft rarely talks firm availability until hours from deployment, with changes often developed in response to community feedback. For Operation Steel Wave, expect estimated early June availability on PlayStation 4, Xbox One, and PC.
In response to current world events, Ubisoft canceled the Pro League Season XI Finals in São Paulo, Brazil, opting for a reveal stream on May 18, 2020. While Ubisoft developers currently work from home, and the release of Year 5 Season 2 appears on schedule, delays aren't out of question. However, with the usual three-week period of Test Server (TS) trials coupled with plans for an extra week of testing — we're expecting a June 16 or 17, 2020 release date.
Rainbow Six Siege Steel Wave Operators: Ace and Melusi
Ubisoft's approach to Rainbow Six Siege post-launch content is set to undergo some sizeable shakeups throughout Year 5, amid an evolving long-term strategy for the future of the hit shooter. While retaining the signatures of recent updates, it consolidates offerings to one Operator per season and instead investing in wider-reaching core gameplay features. With that shifting strategy underway, Operation Steel Wave acts as the final update under the established template.
For those with the upcoming Year 5 Pass or Uplay+ membership, both Operators will be available at no additional cost with the launch of the latest season. The recruits will later open to the public using Renown or R6 Credits, seven days after release.
Håvard 'Ace' Haugland
Operation Steel Wave debuts a versatile new hard-breacher, a seasoned search and rescue expert of Forsvarets Spesialkommando, and now under the Nighthaven private military organization. The latest recruit within Rainbow brings the S.E.L.M.A. Aqua Breach, using metal-bending hydraulics to open reinforced walls and hatches.
Ace packs the fourth hard-breaching tool the Rainbow Six roster, while still distinct from the existing trio of Thermite, Hibana, and Maverick. The S.E.L.M.A. comes boxed in a handheld, throwable canister, and working its way down walls. The detonation splits across three stages, first creating an opening sized like Mira's windows, and subsequent blasts expanding to a fully navigable hole. And while also effective on horizontal surfaces like hatches, it creates a single, clean strip.
Ace faces the usual counters of any hard breacher, vulnerable to Bandit and Kaid's electrification, and also Mute jammers. A well-placed impact grenade can also stop the detonation after the first, exploiting the first hole created.
We also receive a powerful arsenal to match, led by the returning AK-12, among the best weapons in the game. While previously overlooked when attached to Fuze, the assault rifle instantly positions Ace among the top Operators in the game. The M1014 provides a close-quarters alternative, with the P9 handgun in the holster, too.
Thandiwe 'Melusi' Ndlovu
Rainbow Six Siege's new defender keeps attackers in their place, wielding a trio of devices geared toward slowing enemies and exposing their positions. From early years combatting poachers, to her time in the South African National Defence Force, Melusi is an expert in tracking and intercepting attackers pushing the objective.
The pride of her loadout is the Banshee Sonic Defense, with three deployable sensors capable of tracking foes and slowing them in mid-step. Passing attackers are slowed via waves emitted from the bulletproof casing, in tandem with a low-frequency drone sound alerting those nearby. And her three-speed, one-armor composition allows her to pounce on trapped prey.
With similarities to Maestro's Evil Eye cameras, Melusi falls short to similar counters. The usual explosives from Zofia, Ash, and Kali can eliminate her Banshees, and other heavy weaponry like Sledge's hammer. And while also susceptible to melee damage, you'll need to fight the pushback of her Banshee's waves to get up close.
We also see the return of existing defender weapons with Melusi, including the T5 SMG used by Lesion, and Frost's Super 90 shotgun. The RG15 pistol makes its return, previously used by Zofia and Ela, with a handy reflex sight included at all times.
Rainbow Six Siege House rework
Operation Steel Wave also continues Ubisoft's streak of extensive reworks, adapting existing Rainbow Six Siege locales with revised gameplay flow and visual palettes. With several well-received, reworked maps debuted throughout Year 4, the developer next set sights on House.
First showcased during the game's E3 2014 reveal, the map has emerged as one of the most iconic and beloved parts of the current roster. However, limited by its small footprint, among the notoriously broken maps, it's excluded from Ranked play.
Ubisoft approaches the new House as a "casual" rework, explains Rainbow Six product director, Roy Del Valle. "What we're doing is we're making it a little bit bigger," he states. "We're adding an extra set of stairs [...] we're very excited about it." It indicates that House will remain limited to the Quick Match playlist, likely excluded from Ranked and Unranked playlists.
The floorspace will significantly grow, further extending the rear of the complex with four new rooms, and now fully furnished for a fresh theme. That includes a new interior with an extra staircase, with significant changes to the workshop, master bedroom, and kitchen. As with past Rainbow Six Siege updates, access to the new map will be free to all players regardless of owning the Year 5 Pass, and widely available on launch day.
Rainbow Six Siege Operator and balancing patch notes
Ubisoft also introduces some new gameplay variables through Operation Steel Wave, shaking up moment-to-moment gameplay with minor additions and adjustments.
First up is the long-teased Proximity Alarm, added to select defender loadouts with this update. The secondary gadget allows Operators to place two audible alarms, sensing motion within a tight radius. The warning enables players to watch their backs, binding to doorways and surfaces, but quickly countered with a single bullet to the device.
Among the most substantial balancing changes comes Amaru, increasing her overall speed and fluidity. That includes barriers breaking as she enters the window, reducing the warning to nearby defenders, and lowering her recovery time, now drawing weapons faster after grappling. Amaru can also ascend hatches without breaking them beforehand, boosting the element of surprise when using the Peruvian attacker.
We also receive a sizeable list of changes to Operator secondaries and overall balancing, via the full changelog provided by Ubisoft.
CLASH
Clash's SMG will switch from having a red dot to using the reflex's green triangle.
ECHO
Removed the camera shake effect from Yokai's concussion effects.
Length of concussion effect is no longer affected by movement. Now has a fixed duration of 10s and the intensity of the vision disruption stays fixed throughout the effect.
Replaced the Deployable Shield with Impact Grenades.
FINKA
Increased base hp to 30 (from 5) for teammates revived by Finka's Nanoboost. DBNO Players will stand up with 50 hp (30 from own base hp + 20 from Finka boost).
KAID
Added LFP586 secondary to loadout.
KALI
Reduced LV Explosive Lance's fuse time to 1.5s (down from 2.5s).
Improved CSRX 300 recoil through reduced weapon climb after each shot.
Replaced P22 Mk5 with SPSMG9 in loadout.
NOMAD
Added PR892 secondary weapon to loadout.
ORYX
Reduced damage taken when dashing through walls to 5 (down from 10).
Bulletproof Camera replaced with new Proximity Alarm secondary gadget.
Added angled grip option to Oryx's MP5.
ELA, ZOFIA
Eliminated the mouse sensibility modifier from concussion effect of the Bosak sisters' gadgets.
YING
Removed a Candela to bring it down to 3 (from 4 Candelas). - Changed for PC on 04-30-2020.
Eyes On Target
Tom Clancy's Rainbow Six Siege
Addictive, challenging shooter action

Ubisoft's hit shooter is hotter than ever, touting tense tactical gameplay, and regular free updates. Entering 2020 with millions of players, Rainbow Six isn't slowing down.
Windows Central Newsletter
Get the best of Windows Central in your inbox, every day!
Matt Brown was formerly a Windows Central's Senior Editor, Xbox & PC, at Future. Following over seven years of professional consumer technology and gaming coverage, he's focused on the world of Microsoft's gaming efforts. You can follow him on Twitter @mattjbrown.