Rainbow Six Siege Shadow Legacy: Everything We Know
Rainbow Six Siege goes covert with its next seasonal update, cooking up an ambitious Splinter Cell crossover.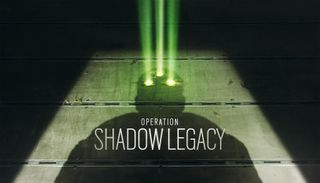 (Image credit: Ubisoft)
Ubisoft soon embarks on the third quarter of Year 5 for Tom Clancy's Rainbow Six Siege, ushering in a time of change for the hit tactical shooter. With over 60 million players and counting, philosophies have shifted, transitioning to one new Operator per season in favor of broader gameplay features. And for Rainbow Six Siege's next update, Shadow Legacy, the squad of counterterrorism elites joins forces with Splinter Cell for a new event.
Here's everything we know about the next season of Rainbow Six Siege, including new Operator Scout, and the Chalet map rework.
Breach and Clear
Tom Clancy's Rainbow Six Siege
Addictive, challenging shooter action

Ubisoft's hit shooter is hotter than ever, touting tense tactical gameplay, and regular free updates. Powering through 2020 with millions of players, Rainbow Six isn't slowing down.
Rainbow Six Siege Shadow Legacy release date
Ubisoft hasn't discussed when Shadow Legacy will hit Rainbow Six Siege, yet consistent scheduling provides an estimated window for the upcoming season. The developer has established a steady cadence with its tri-monthly refreshes, putting its next update on track for a mid-August tell-all, followed by September availability on live servers.
However, Ubisoft, like any modern studio, continues to overcome hurdles posed by current world events, and working from home. That brings evolving challenges when creating and testing content, previously pushing Ping 2.0 and Match Replay later into Year 5.
With Rainbow Six Siege reveals often occurring midway the month, an August 16 unveiling has been confirmed. That would indicate likely a September 8 release date on PlayStation 4, Xbox One, and PC live servers — or September 15 if Test Server (TS) trials extend an additional week, like Operation Steel Wave.
Rainbow Six Siege Splinter Cell crossover
Rainbow Six Siege Shadow Legacy marks a notable departure from Ubisoft's established seasonal structure, previously adhering to a strict template of two new Operators, coupled with a multiplayer map. First unveiled at the Six Invitational 2020 in February, future expansions house just one Operator, as focus shifts toward "core gameplay features." That includes systems slated for Year 5, including the revamped Ping system and Match Replay modes, while freeing resources for reworks like Tachanka.
Shadow Legacy marks our first season spotlighting a solo recruit, previously teased via the Year 5 content roadmap, and decorated with a mysterious "Classified" annotation. The Nighthaven emblem occupies the spot, referencing the game's covert private military organization, home to Kali, Wamai — and new Steel Wave hard breacher, Ace.
However, Rainbow Six Siege product director, Roy Del Valle states that direct Nighthaven tie no longer applies, speaking to Windows Central in February 2020.
"[The Nighthaven logo] shouldn't be there. We've been working on the narrative and looking at what we want to do," Del Valle stated. "And as of late, the last two weeks or something, we tweaked some things on the narrative that you'll discover, and you'll be pleased with, that does not necessarily strictly link to Nighthaven. But the arrival of Nighthaven is an event on Rainbow, and it will shape some of the stories that are happening behind the scenes."
The elimination of Nighthaven ties into the Splinter Cell-themed season, linking to the sister Tom Clancy stealth series. While the last Splinter Cell entry dropped back in 2013, protagonist Sam Fisher has made recent appearances in both Tom Clancy's Ghost Recon Wildlands, and Ghost Recon Breakpoint. For Rainbow Six Siege, leaked gameplay footage, data-mined references, and more suggest a similar crossover brewing.
Rainbow Six Siege Sam Fisher Operator Leak: Zero
Ubisoft remains tight on details surrounding its new Operator for Shadow Legacy, while already establishing a mysterious persona through its content roadmap. That leaves a majority of context riding exclusively on reputable leaks and data-mined references uncovered through game files. But thanks to its recent unveiling, we now know Sam Fisher is joining the ranks.
The team behind Rainbow Six Siege has struggled to contain leaks in recent years, and the upcoming Splinter Cell-themed season is no exception. Our most reputable comes via Rainbow Six leakster Kormora, with a proven track record in seasonal exposés throughout Year 4 and Year 5. The ResetEra user backs theories of "a crossover with a well known [Ubisoft] franchise," although unable to confirm if Fisher features. They also state his gadgetry deploys "some sort of drilled camera that sees through walls," alluding to a hybrid between Kali's underslung launcher and Valkyrie cameras.
The crossover is backed by references to future Operator counterterrorism units (CTUs) pulled via game files, including the Echelon agency at the center of the Splinter Cell program. One string, "Operator.Y5S3.Scout – ECH," was flagged by /u/Zer0Bytes on Reddit, suggesting the codename "Scout." This Operator has since been confirmed as "Zero," scheduled to arrive with the new season.
That leads to the weirdest of leaks, with over 15 minutes of gameplay footage surfacing online, via Gamer Felonies on YouTube. The shaky camera footage appears to showcase an internal Ubisoft build, including Year 5 Season 3 and Season 4 Operators. That includes confirmation of Echelon's "Zero" and an early glimpse of his loadout in action.
The footage is near-unwatchable, making it hard to pull discernible information, but those leaks only preluded a tsunami. A full internal developer build later leaked to the public, providing a wave of footage on Year 5 Season 3 and Year 5 Season 4 contents. We now know Zero will have four launchable drill cameras, each capable of shooting enemies with a 5-damage burst, with a green-tinted viewfinder. They're similar to Maestro's Evil Eyes, but dropping the bulletproof casing for a more flexible point-and-shoot design.
The Operator also seems to utilize the SC3000, a fictional assault rifle synonymous with Third Echelon, and new to the Rainbow Six arsenal. That's coupled with the optional MP7 primary and 5.7 USG handgun in the holster, returning from existing talent. Splinter Cell fans will also find various references to past titles, whether those hip-mounted night vision goggles or the iconic karambit over the standard-issue knife.
We may also know Zero's appearance, after one user uncovered an unidentified character model, via the recent Operation Steel Wave TS client on PC. That's the same character model seen in the leaked gameplay, albeit with lesser clarity.
While Ubisoft is yet to tease a collaboration with the Splinter Cell franchise, a steady stream of details leaves its existence incredibly likely. However, as with any unconfirmed content, we recommend taking such information lightly, as plans can and will change. We'll hopefully hear more later this summer, alongside the full reveal of Shadow Legacy.
For those with the upcoming Year 5 Pass or Uplay+ membership, Zero will be available at no additional cost with the launch of the latest season. He'll later open to the public using Renown or R6 Credits, seven days after release.
Rainbow Six Siege Skyscraper Map Rework
Rainbow Six Siege Shadow Legacy drops the Skyscraper rework, breathing new life into the towering Japanese locale. The map first made its arrival in late 2016 with Operation Red Crow, designed to push vertical gameplay with its multi-story complex. But that philosophy is also the root of several long-standing player frustrations, including countless exterior windows and balconies, and tight chokepoints across each floor.
As with past map reworks, Season 3 looks to inject a new visual palette throughout, coupled with minor floorplan tweaks. Rainbow Six Siege product director, Roy Del Valle, reflected on some changes in the works, speaking during the Year 5 reveal in February 2020. "We're going to tackle that chokepoint that is Drum Room," stated Del Valle. "We're also going to be tackling balconies. We're going to force the entrance into the building [a little bit more]."
But as expected, Skyscraper's return wouldn't be complete without an accompanying leak. Ubisoft's early vision for the new complex has surfaced, demonstrated by pre-release prototypes that reduce clutter, opening rooms, and widening corridors between sites. Chokepoints like the Drum Room have also been addressed while removing multiple external windows and bringing balconies in-house. While an unconfirmed leaked, it appears to be the near-final design.
Like all Rainbow Six updates, access to the new Skyscraper will be free to all players regardless of owning the Year 5 Pass, and widely available on launch day.
Rainbow Six Siege Shadow Legacy Battle Pass
Rainbow Six Siege's Splinter Cell-themed season also couples with a similarly-styled Battle Pass, continuing Ubisoft's pursuit of the tiered rewards system. The next iteration of the month-long progression path doubles down on the broader Season 3 theme. It's expected to include various green-on-black skins tying back to the next Operator's Echelon heritage.
Various cosmetics have surfaced from the currently untitled Year 5 Season 3 Battle Pass, many hooking into the usual Splinter Cell aesthetic. Headgears and uniforms, found via game files, indicate new looks across 45 tiers, including Jackal, Nokk, Lesion, and Vigil. Gamer Felonies posted several, guaranteed to please any fan of the stealth series.
While Ubisoft hasn't talked its next Battle Pass in detail, expect the usual deployment two weeks after the new season rollout. That suggests September 23 or September 30, dependent on current internal schedules.
Tachanka rework, Match Replay, and Ping 2.0? Maybe.
While the addition of a new Operator and map rework represents the staples of Year 5 Season 3, we also expect wider-reaching gameplay changes across the Rainbow Six sandbox. Ubisoft has openly discussed a variety of shakeups planned for Year 5, but with current world events mandating remote development, past schedules hold little weight.
The imminent Tachanka rework remains a hotly-anticipated project, equipping the long-sidelined Operator with a mobile LMG and incendiary grenade launcher for destruction on an unmatched scale. With a near-complete Tachanka Elite skin recently leaked online, his refresh could be closer than initially understood.
We also have more to come outside of the moment-to-moment action, including the new Match Replay and Ping 2.0 systems, previously delayed beyond their original Steel Wave target. Maps bans also remain in the pipeline, a new map-selection tool for the Ranked playlist, similar to the existing Operator pick-and-ban. But with the world less predictable than ever, who knows what will launch — and when.
Breach and Clear
Tom Clancy's Rainbow Six Siege
Addictive, challenging shooter action

Ubisoft's hit shooter is hotter than ever, touting tense tactical gameplay, and regular free updates. Powering through 2020 with millions of players, Rainbow Six isn't slowing down.
Get the Windows Central Newsletter
All the latest news, reviews, and guides for Windows and Xbox diehards.
Matt Brown was formerly a Windows Central's Senior Editor, Xbox & PC, at Future. Following over seven years of professional consumer technology and gaming coverage, he's focused on the world of Microsoft's gaming efforts. You can follow him on Twitter @mattjbrown.