Raspberry Pi Zero lets you get started with the platform for just $5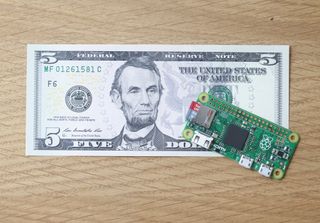 The latest addition to the Raspberry Pi family is here, and it costs just $5. Dubbed the Raspberry Pi Zero, the board is the smallest conceived by Raspberry, coming in at 65 x 30 x 5mm.
Here's what you get for putting down $5:
A Broadcom BCM2835 application processor
1GHz ARM11 core (40% faster than Raspberry Pi 1)
512MB of LPDDR2 SDRAM
A micro-SD card slot
A mini-HDMI socket for 1080p60 video output
Micro-USB sockets for data and power
An unpopulated 40-pin GPIO header
Identical pinout to Model A+/B+/2B
An unpopulated composite video header
Our smallest ever form factor, at 65mm x 30mm x 5mm
The Pi Zero runs Raspbian along with popular applications such as Scratch, Minecraft and Sonic Pi. However, as it does not run the same chip as the Pi 2, you won't be able to run Windows 10 IoT.
The board is already sold out at element14 and Adafruit, although you can pick it up from other retailers listed below. Raspberry has also mentioned that the Pi Zero will also be given away for free with the December issue of MagPi.
Source: Raspberry Pi; Via: Neowin
Windows Central Newsletter
Get the best of Windows Central in your inbox, every day!
Harish Jonnalagadda is a Senior Editor overseeing Asia for Android Central, Windows Central's sister site. When not reviewing phones, he's testing PC hardware, including video cards, motherboards, gaming accessories, and keyboards.
Does it support windows 10 iot?

No. That's with the Pi 2. Added a note about that in the post.

Dude, if you want Windows 10, snatch up that Lenovo Stick 300 for $69.

Where did you find it for 70$ ? It's 100 on amazon Posted via the Windows Central App for Android

It's $70 on https://www.windowscentral.com/e?link=https2F%2Fclick.linksynergy.co...

That's not targeted at the same use cases as a Raspberry Pi. It runs full version of Windows 10, which is a disadvantage for an embedded device project. It also doesn't have any of the IO pins that would be needed to build most embedded projects. Both are good products, but they are targeted for different solutions.

Fuck Lenovo. More like Chinese Lenono...you obviously are a noob when you recommend a Lenovo stick over the magic stick or an Intel one.

No W10T, no party...Let s wait, RPi2 with it is fabulous, hope it will be available here SOON (tm) :)

I've ordered one anyway - Although I'd like to be able to run W10 IoT, it doesn't actually allow you to do much at the moment that I can't see other ways or achieving the same thing. I didn't bother looking into this more, since it was a few quid, but I just plan to run ASP.NET 5 apps on it running on Linux. I'm only tinkering anyway - If this can run ASP.NET Core then it could host the server portion of a Windows 10 UWP app I've been messing about with in my spare time, once I port the API from Web API 2 to ASP.NET 5 at least

Can this model use USB Ethernet or WiFi adapters? Noticed it doesn't have Ethernet built in

Thats the thing Dan, W10IoT doesnt do more from an electronic perspective, it just allows you to use a full fledged (amazing) IDE in Visual Studio, an awesome langauge like C# and have a really nice debugging experience. Plus, you can use any library you were already using in other UWP apps. Zero porting. _thats_ the gold.

I definitely appreciate those advantages in my other Windows 10 UWP projects and I love Visual Studio / C# as they are how I make my living and been doing that for a long time now. Definitely cool to run up UWP apps on a phone and PC (And potentially other devices) with very little or no code changes - The slow but awesome convergence into true Universal apps has been great to see - I remember sharing code between Windows 8 and Windows Phone 8, and whilst it was very possible to get a LOT of code re-use, it's now much closer to ideal with UWP apps. With the Pi Zero we won't be able to debug against code running on the actual device (I don't think there's remote process debugging available from Linux/Mono yet, but I could be wrong as my development is mostly on Windows, to run on Windows) I agree the lack of debugging directly from code running on the device would be a pain if I was planning to do anything serious with this, but I was intending to still develop in Visual Studio and C# and then run on the Pi using ASP.NET Core or Mono. I'll need to develop the ASP.NET 5 API on Windows, and just deploy it to the Pi, so I'll miss the fully integrated experience I'm used to, but should be good enough for a bit of fun - You can see my initial ideas are really just running my code from a very small, cheap and low power usage device, rather than anything much cooler (For now) Thinking over the above though - Last time I checked, ASP.NET 5 / Core didn't run on ARM architecture and any community efforts to get it going weren't at a useable stage....So it's possible I can't do any of the above anyway haha. I'll almost definitely pick up a Pi2 some time down the line, but I can have a mess about with this for now I suppose, even if I don't run C# code

W10T allows a super easy access to I2C, onewire, gpio, uart.
All flavored with the power of C# (async, linq).
Many companies are ready to use w10t cause it dramatically lows down classic firmware development time = costs

Sounds very good - I really need to check out a Pi 2 soon. I've not got involved with anything electronics or Pi related so far, so those advantages weren't immediately obvious to me when it comes to what you can access on the electronics side from W10 IoT.
I think I'll pick up a Pi 2 as well - I just bought this since it was £4, and at that price you can't really go wrong as something to get introduced to it

All i care now is for an w10mobile update. My 1020 is not close to good enough....sadly!

I wonder when it will be available in India iv been wanting to try out raspberry pi , customs in India is pretty bad they charge 50% of the product from abroad even if its not available locally.

Wow, that's ridiculous! In Australia we don't pay ANY customs fees if the item is worth less than $1000

Lucky !! In Belgium we pay customs when an item is above €30 and comes from outside the EU. Posted via the Windows Central App for Android