Razer Blade Stealth 2017 review: The gaming Ultrabook finally reaches maturity
Still rocking the traditional laptop design, Razer's refreshed Blade Stealth for 2017 does just enough to prevent it from getting stale.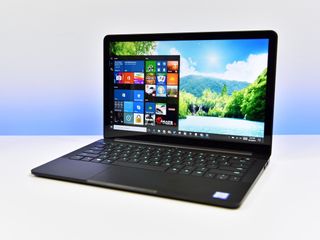 Announced in June Razer's revamped popular Blade Stealth laptop for 2017 is now available. Bringing thinner bezels, a larger display, and numerous other hardware tweaks the refreshed Blade Stealth is the Ultrabook that straddles the two worlds of gaming and productivity.
I spent the last week with the "classic" jet-black Blade Stealth and came away impressed. Here is what's to like (and what not to like) about Razer's most popular laptop to date.
About this review
Razer sent a loaner Blade Stealth for this write-up. The model considered features a 1TB SSD for storage, 13.3" QHD+ display, and the black color scheme. The total cost is $1,999. The only configuration variations for the new Blade Stealth is the storage amount (up to 1TB), the display sizes (12.5" at 4K or 13.3" at QHD+) and color (new gunmetal gray, or classic black).
Pricing starts at $1,349 for 512GB, 12.5" 4K display and goes up to $1,999 for the 13.3" QHD+ 1TB model.
What's new for 2017
For 2017, Razer is keeping the exterior and overall design of the Blade Stealth very familiar. However, once you open the lid, there are a few notable changes, which are all for the better. They include:
13.3-inch QHD (3200 x1800) IGZO display.
50 percent smaller bezels.
Optional gunmetal gray finish with white backlit keys.
Microsoft Precision touchpad.
Seventh-generation Kaby Lake Core i7-7500U processor.
Up to nine hours battery (improved).
16GB of RAM (up from 8GB).
Razer is still keeping the older 12.5" option around with a ridiculous 4K touch display. That model has either 512GB or 1TB of storage and otherwise all the other new hardware updates.
Premium gear
Razer Blade Stealth hardware
The Blade Stealth is a unique device in Razer's lineup because technically it's not an actual gaming PC – at least not without some help from the Raze Core (more on that below). With a standard dual-core Ultrabook processor and no discrete graphics card the Blade Stealth is on par with the Dell XPS 13, HP Spectre x360, Surface Laptop, and Lenovo X1 Carbon.
Nonetheless, Razer always uses premium parts and offers some high-end storage options that when combined with the solid all-metal unibody chassis warrants the more premium price tag.
Razer Blade Stealth specifications
Swipe to scroll horizontally
Category
Razer Blade Stealth 2017
OS
Windows 10 Home 64-bit
Material
CNC-machine aluminum single chassis design
Processor
Intel Core i7-7500U 2.7GHz / 3.5GHz (Base/Turbo)
Storage
256 GB, 512GB, or 1TB PCIe NVMe SSD
RAM
16GB LPDDR3-1866MHz (Fixed)
Display
13.3" IGZO Touch Screen
16:9 aspect ratio
3200 x 1800 QHD+
Graphics
Intel HD Graphics 620
Ports
1x Thunderbolt 3 (USB-C)
2x USB 3.0 port (SuperSpeed)
1x HDMI 2.0a
3.5mm headphone/microphone
Audio
Top-firing stereo speakers
Dolby Digital Plus Home Theater Edition
Wireless
Killer Wireless-AC 1535 (802.11a/b/g/n/ac + Bluetooth 4.1)
Keyboard
Razer Chroma anti-ghosting keyboard with individually backlit keys
Camera
720p
Battery
53.6 WHr
45W USB-C power adapter
Weight
2.93 lbs. / 1.33 kg
Dimensions
0.52 x 12.6 x 8.1 inches
13.1 x 321 x 206 mm
Price
$1,399 - $1,999
For a modern Ultrabook, those specifications are in line with most premium laptops these days with the one caveat of Intel HD 620 graphics instead of the slightly faster Intel Iris Plus graphics that many of Razer's competitors are offering.
The bump from the previous 8GB of RAM to standard 16GB and higher storage configurations (512GB and 1TB) have all resulted in a price bump too, or rather pushing the high-end up to $1,999 versus the original $1,600. Those changes, however, were done at the behest of customers who yearned for more RAM and higher SSD capacities.
Ultimate Ultrabook
Razer Blade Stealth design
Historically speaking, the Blade Stealth is one of the top laptops that Mac users often consider if switching to Windows. There's a reason why forum posts and article comments are littered with references to the "black Mac" as it has been affectionally called. Indeed, the all metal design and very flat, squared appearance does resemble Apple's MacBook and 13-inch MacBook Pro line.
With the ability to open the display with one hand, no creaks, and a solid build the Blade Stealth set the bar for premium ever since it was first introduced in January 2016. The Blade Stealth is also the most well-known of the Blade series and cheapest compared to the larger 14-inch and original Blade and even bigger 17-inch Blade Pro. Perhaps it's not surprising the Blade Stealth looks just like a mini-version of the Blade and Blade Pro either.
The exterior of the Blade Stealth is very minimalist with just a slight indentation on the lid and two fan vents on the bottom. On both sides is a bevy of modern connectivity options including two USB Type-A 3.0, one HDMI 2.0a (and update from 1.4b in the original), and one USB Type-C with full Thunderbolt 3 support.
The black model still has some Razer-green accent markings on the ports for some added flair along with a glowing green Razer snake logo on the lid. That glowing logo can thankfully be disabled through Razer's Synapse software.
The lower-right front of the Blade Stealth has a tiny white LED that softly fades in and out ("breathes") when charging.
New for this year is the gunmetal gray version of the Blade Stealth, a concession to customers who wished for a more professional, less flamboyant laptop. That version has a muted, non-glowing Razer logo on the lid, black ports with no green, and standard backlit keys versus the colorful RGB Chroma keyboard found on the black model.
The Blade Stealth is still exceptionally small and thin at just half an inch thick (13.1 mm) and weighs less than 3lbs (1.33 kg). While there are lighter laptops out there, the Blade Stealth feels solid with no flex or wasted space.
Unfortunately, the Blade Stealth – like the Blade and Blade Pro – is a fingerprint magnet. You'll need to wipe it down frequently if those markings bother you. Alternatively, you can opt for the gunmetal gray model, which is slightly better, or toss on a third-party laptop skin.
Overall, there's nothing extravagant, nerdy, or showy about the Razer Blade Stealth in either gray or black. The design can almost be described as generic or derivative of Apple's laptops, but that is also exactly why the Blade Stealth is so popular. It looks like it's for adults with a hint of cool.
Thinner bezels FTW
Razer Blade Stealth display
With all the hype around the Blade Stealth in 2016, I was dead-set on getting one. But then I saw it in person. While the overall design won me over the display did not. At just 12.5-inches the 4K super-glossy touchscreen was too small and too high resolution for my tastes. Moreover, the display bezels looked to be an inch thick and ridiculous.
Thankfully, that has all changed. By just inserting a larger 13.3-inch screen into the same panel Razer reduced those bezels by 50 percent. This shift is a win-win as users get a larger display that frankly looks normal now. While Dell, Huawei, and HP are fighting over the slimmest bezels, Razer is comfortable with just thin-ish ones.
That 13.3-inch 3200 x 1800 screen is also a touch-enabled Sharp IGZO – the same as found in the popular XPS 13 – and gets excellent color saturation and LED light distribution. Using a colorimeter, it hit 98 percent Adobe sRGB and 77 percent Adobe RGB making it very color accurate. The blacks are deep and avoid the typical gray hueing found in regular IPS screens.
It's also a very sharp monitor that balances color, contrast, and resolution nicely. I wouldn't mind a shift from the 16:9 aspect ratio to a more modern 3:2, but Razer is still about gaming at the core and gamers prefer the wider look.
Brightness is suitable for indoor use, but at just around 315 nits it won't be great outdoors. Even inside I could use the Blade Stealth at 100 percent brightness, which is strange.
While I don't often use touch displays on a regular Ultrabook, it is nice to have the feature available as is with the Blade Stealth.
Razer still offers the 12.5-inch 4K version of the Blade Stealth – also refreshed with a new CPU and more RAM. Razer sees that version for graphics pros and those who prefer a higher pixel-per-inch (PPI) count – 353 PPI versus 276 in the QHD+ model.
Interestingly, there is not a matte, non-touch option for the Blade Stealth (unlike the 14" Blade in the full HD model). I'm a bit surprised at the omission as it seems to be a good pairing with the gunmetal gray model, which targets workplace professionals.
Precision is here
Razer Blade Stealth keyboard and trackpad
Another reason why Razer wins so many awards is that it tends to have excellent keyboards (even if inconsistent across models).
With just 0.87mm of key travel, the Blade Stealth's keyboard is shallow compared to the preferred 1.2 to 1.5mm of travel found in other Ultrabooks. Regardless, the actuation, key response, and well-spaced chicklet island-style keys mostly make up for it. While there is an adjustment period, I had no issues typing on the Blade Stealth.
Image 1 of 2
Razer's famed RGB Chroma system is here with 16.8 million colors and individually backlit keys. Users can control the various Chroma light effects like ripple, wave, reactive, starlight, fire, breathing or just plain-old static. There is also the ability to configure each key with a distinct color, which helps makeup for the secondary function key emblems not being lit. While that function key lighting decision gives an immaculate look to the Blade Stealth (and Blade and Blade Pro), it's frustrating when in low-light to change the display brightness or volume using those dedicated keys.
At least Razer did swap out its original trackpad for a new one with Microsoft Precision drivers. The large trackpad is smooth with no dedicated right or left-click keys (unlike the Blade). Clicking is even, and a tad soft, but the overall feel is excellent, and it ranks up there with any other premium laptop with a Precision touchpad.
Audio done right
Razer Blade Stealth speakers
Razer is fond of putting its speakers on top flanking the keyboard where many companies opt for speakers on the laptop's underside. The Blade Stealth has two top-firing speakers that sound excellent especially with the including Dolby software. The speakers blend in with the chassis with small pin holes and a very symmetrical design.
The speakers are not exceptionally loud, and they can be played at 100 percent, but they also do not clip or distort either even when maxed out. I would describe the audio as very uniform whereas many laptops tip towards tinny there is just enough richness here to make put the Blade Stealth on the winning end. The only speakers that sound similar (or maybe slightly better) are the Surface Laptop, MateBook X, and MacBook Pro.
Nothing extraordinary
Blade Stealth benchmarks
Ironically, the performance of the Razer Blade Stealth falls mostly in line with other high-end laptops in its class.
Ultrabooks, by definition, utilize the U-series of Intel processors and Razer chose the i7-7500U – a seventh generation "Kaby Lake" one for the refreshed Blade Stealth. Traditional gaming laptops utilize quad-core processors – Intel HQ-series – which although powerful draw a massive 45W of power versus just the 15W chips for Ultrabooks. Those quad-core chips also have much higher thermal demands requiring more powerful fans.
While it does well the Blade Stealth is eclipsed by the Core i7 Surface Laptop for pure processor performance and proper gaming laptops like the 14-inch Blade due better in multi-core tests.
CPU
Geekbench 4.0 Benchmarks (Higher is better)
Swipe to scroll horizontally
| Device | CPU | Single core | Multi core |
| --- | --- | --- | --- |
| Razer Blade Stealth | i7-7500U | 4,211 | 8,333 |
| Lenovo Legion Y720 | i7-7700HQ | 4,697 | 14,810 |
| Razer Blade 2017 | i7-7700HQ | 4,277 | 13,597 |
| Dell XPS 15 | i7-7700HQ | 4,503 | 13,587 |
| Razer Blade Pro | i7-6700HQ | 3,660 | 12,325 |
| Surface Laptop | i7-7660U | 4,677 | 9,538 |
| Dell XPS 13 (9360) | i7-6560U | 4,120 | 7,829 |
| HP Spectre 13 | i7-7500U | 4,100 | 7,469 |
| Surface Book | i7-6600U | 3,948 | 7,415 |
The i7-7500U is an admirable dual-core CPU slightly edging out the Dell XPS 13 and HP Spectre 13, but losing to the high-end Surface Laptop, which has a faster processor. It's not surprising that quad-core laptops like the Dell XPS 15, Razer Blade, Razer Blade Pro, and Lenovo Legion Y720 all perform much better with their beefier hardware.
GPU
Geekbench 4.0 OpenCL (higher is better)
Swipe to scroll horizontally