Razer's concept laptop has three 17-inch 4K displays. Your laptop does not. Your laptop sucks.
Razer's 2017 design ethos: well, why not?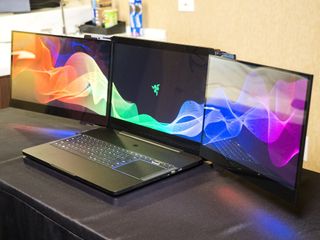 The Razer Blade Pro has a great 17.3-inch 4K display, but what if it had three 17.3-inch 4K displays? That's the idea behind Project Valerie, a bonkers concept design unveiled at CES 2017 from the mad scientists at Razer.
The base of Project Valerie is the current top-end Razer Blade Pro, for all intents and purposes. It has the same 6th-generation Intel Core i7 Skylake processor, the same high-powered NVIDIA GTX 1080 GPU, the same custom vapor chamber heat management system, and the same ultra-low-profile mechanical keyboard with Chroma RGB lighting that we fell in love with. All of this is wrapped in a black aluminum unibody chassis — it just happens to have three 17.3-inch 4K displays attached.
The two side displays slide behind the center one, which then folds down over the keyboard just like normal. The entire package measures in at 1.5 inches thick when closed (honestly, thinner than I expected) and weighs in at 12 pounds (nearly double the 6.8 pounds of the single-screen Razer Blade Pro).
Image 1 of 7
And as this is a Razer laptop, the entire thing's geared towards gaming. The trio of 4K displays are all IGZO panels with NVIDIA G-SYNC built in — the two side panels even have Chroma light strips on the underside. Combined with NVIDIA Surround they can generate up to a 180-degree view of your gaming environment, all without any fiddling on your part. Or you can load all of the tabs in your browser of choice. And should having the equivalent of a 46-inch 12K 48:9 überwide monitor not be enough for you, that Core i7 and GTX 1080 combine to make Project Valerie potent VR-capable rig.
Project Valerie is a showcase right now — Razer's mum on the possibility of putting the beast into production or how much it'd cost. They didn't even have a fully functioning device for us to check out, there were two: one a polished design prototype outfitted with the angled hinged displays and Chroma lighting, the other a rougher engineering prototype with a pair of sliding-on-rails-but-functional displays. And battery life? Likely measured in minutes, thanks to all those pixels and backlights. The single-screen Razer Blade Pro already has a 99Whr battery that's just under the FAA limits for what they'll allow to be brought on airplanes. Previous Razer concept designs have made it to production — 2012's Project Fiona became the 2013's Razer Edge gaming tablet (opens in new tab), for example.
All I know is that I want one. I want to take it to a coffee shop, set up on one of those little 2-chair tables, and open up its glorious 4-foot wingspan and start fragging in 12K while I sip my latte. It's the dream, people.
Derek Kessler is Special Projects Manager for Mobile Nations. He's been writing about tech since 2009, has far more phones than is considered humane, still carries a torch for Palm, and got a Tesla because it was the biggest gadget he could find. You can follow him on Twitter at @derekakessler.