Reach for the sky this Wallpaper Wednesday
Don't let your home screen fall into a rut — switch out your wallpaper!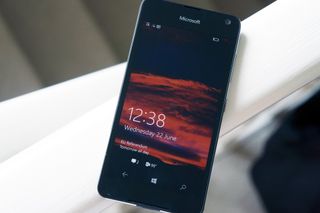 Wallpapers are important. They can give our phone a new feel, even if only for a little while. Some of us change wallpapers as often as we change shirts (sometimes to match), while some of us set one wallpaper and forget it, and that's a shame. A good wallpaper can be a pick-me-up, can remind us of better times (and upcoming times). They can show off what's important to us, be it a picture of the grandkids or an emblem of your favorite house in Game of Thrones. In an effort to brighten your screen, and maybe your day, we present an offering of wonderful wallpapers to grace your smartphone.
If you've got a wallpaper you use everywhere, share it in the comments below! We're always looking for something new. Now get your wallpaper picker ready and see what's in store this week.
Clouds Beyond Clouds II by FnKlinedinst
Who hasn't dreamed of soaring over the clouds? Of leaving the world and all its cares behind and seeing what the sky had to offer? Well, most of us wouldn't fly off for too long (phone batteries are still only lasting a few days at most), but when we look at this wallpaper, we can daydream about it for a moment before going back to our Twitter feeds.
Clouds Beyond Clouds II by FnKlinedinst
Lightning and Mammatus by Jannes Wessels
Thunderbolts and lightning, very very frightening
I understand that there are a lot of folks out there who do not like thunderstorms. They think they're too loud, too brash, and often too sudden if you live in an area like mine. I'm here to tell you these people are wrong, because thunderstorms are awesome. When you got booming thunder that just makes the whole room shake ever so slightly, and a nice deluge on a metal roof… Woo!!
Lightning and Mammatus by Jannes Wessels
Mammatus by Justin Terveen
Mammatus clouds may be my favorite kind of clouds. Sure, cirrus clouds are wispy like cotton candy, and cumulonimbus may harbor my lovely, lovely thunder, but mammatus are a fair sign that things are gonna get fun somewhere soon because they're often associated with severe thunderstorms. Besides, mammatus is fun to say and even funner to see. (Shut up, it is too a word.)
Sunset by chiakiasuka09
Sunset drags us away from cool blues and hot yellows to a much more romantic palette of reds, pinks, and purples. This far-flung sunset from the Phillipines screams out for a romantic walk with your special someone… or at the very least a nice long walk blasting 'Can You Feel The Love Tonight'.
Sunset by VHHTML
Who said the sky always had to be bright a cheery? This is a sunset that an AMOLED user can love, with deep, dark colors as the sun leaves the sky behind for another night on the other side of the planet.
Get the Windows Central Newsletter
All the latest news, reviews, and guides for Windows and Xbox diehards.
Ara Wagoner is a Writer at Windows Central. She's addicted to music and video subscriptions. When she's not writing help and how-to's, she's running around Walt Disney World and singing show tunes. If you see her without headphones, RUN. You can follow her on Twitter at @arawagco.