Read this: The inside story of how Microsoft came to buy Nokia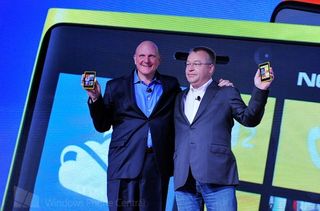 Monday night was supposed to be the end of a holiday here in the United States. Not the start of one of the biggest tech news of the year. It was just two days ago we learned of Nokia agreeing to be bought by Microsoft. Over the course of the evening and subsequent days we read, analyzed, and discussed the issue.
Over at AllThingsD.com we learn the inside story of how the Microsoft/Nokia deal came to be from Ina Fried.
We're not going to copy and paste the article, it's totally worth reading. But we'll highlight a few interesting parts of how the deal came.
It all started in January 2013 with a phone call from Microsoft CEO Steve Ballmer to Nokia Chairman Risto Siilasmaa
Both Nokia and Microsoft were frustrated with the single digit marketshare of Windows Phone, despite both companies pouring money into marketing
Four main meetings resulted in the deal
Steve Ballmer at one point tripped over a glass table during meetings, resulted in a gash on his forehead
Deal stalled over both sides not seeing eye-to-eye on how much Nokia was worth and the value of HERE services
It's an entertaining read and gives a behind the scenes look at how 8 months of talks lead to this point. Hit up the source below, read it, and come back to discuss.
Source: AllThingsD
Get the Windows Central Newsletter
All the latest news, reviews, and guides for Windows and Xbox diehards.