Readit app's dark theme gets even darker with latest update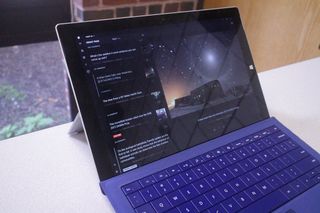 Readit, the popular third-party Reddit app for Windows 10 PC and Mobile, has been updated to version 5.7.0.0. Among other things, the app's dark theme is now even darker than before.
Here's what's new and fixed with this latest Readit update:
Darkened back up the dark theme a bit more, if you don't like it, please use the legacy dark theme. Unfortunately I will never find a balance that will make everyone happy. Darkened chrome color. Darkened unread post color a bit
Translations updated across app. (Settings landing page. Inbox, Profile) Other missing translations fixed Still not quite 100% strings translated such as certain setting names in individual settings pages. Some languages were not updated, if you notice missing strings with identifier names in your language you can contribute at poeditor.com to finish the translations and I will update them in app
App is now available in Russian, Turkish and Polish
Fixed graphical issue (when using small thumbnails) when pressing and holding on a post, you must now release your finger now for the context menu to appear though
Fixed open post/comments on other device not working sometimes with mobile UI on phones/tablets/desktops
Fixed return to top button being visible when viewing post content in some scenarios
The username and subreddit are now ordered the same in the post list as in swipeview for small thumbnail UI
Fixed overlapping bar on top of post viewer in profile
The status bar color on mobile now matches the chrome color
Fixed status bar in light theme
Download Readit from the Windows Store (opens in new tab)
Windows Central Newsletter
Get the best of Windows Central in in your inbox, every day!
A Darker theme would be great on the Windows central newsfeed section

It always get darker before dawn. But seriously, it would be amazing that Windows 10 included an option to change theme from dark to light according to daytime. Let's suggest this and upvote it on the feedback app!

Hey, can you guys stop linking through third-party sites, please?

it's fifty shades darker now (get it?)

Soon you will only see black rectangle

The headline seems quite sinister.

All my current devices have AMOLED displays. Love them, but I prefer the look of a nice dark grey. Pure black background, as well as a pure white, is too contrasty for me. For me, love the look of Baconit. Just my opinion though.

anything to continue reading in bed at night without disturbing spouse!
Windows Central Newsletter
Thank you for signing up to Windows Central. You will receive a verification email shortly.
There was a problem. Please refresh the page and try again.