Readit picks up massive update, still the best Reddit client on Windows Phone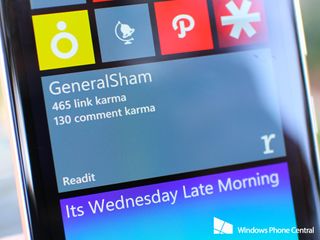 When it comes to browsing Reddit on Windows Phone we love using Readit. It's relatively new app, launching just a few months back. It blew us away with its design, feature set, and usability. Like all apps, it had a few shortcomings, namely performance issues, but those have since been addressed with updates. Speaking of updates, Readit for Windows Phone just picked one up. Let's check out what's new and different in this massive update for Readit.
The last update we covered for Readit was version 1.4.2.0. That update wasn't too bug and was most notable for improving a touch target in subreddits views. Today we're looking at a substantially bigger update. The changelog is massive, so we pulled the most interesting bits of what's new in version 1.5:
Tombstoning supported fixed/added - no more blank subreddit pages
Posts now support showing multiple tags (NSFW + Sticky, or .gif + sticky, etc.)
Sticky posts now show a green title with a [sticky] tag beneath
Friends subreddit will now be inserted, can't be unsubscribed - view friends posts here
Previous and next posts are now preloaded in swipe view depending on the direction of your swipe
You can now view gifs in albums
Gifs can now be paused by tapping them
You can now upload images/albums when replying to a post or comment - inserts link into comment
You can now save an entire album via the app bar when viewing an album (replaces the save image button)
Settings will no longer reset randomly
You can now hide NSWF content completely in settings - browsing. Only affects loading posts, blocks nsfw subreddits
Stickied posts are green, NSFW tags added and you can pause Gifs for a better view.. :)
Massive update right? This is just the changelog for general items. Tombstoning has been improved in Readit v.15, which means you won't see any more blank subreddits pages. You'll also be able to view the various tags that a post might have (.gif, NSFW, etc).
We're also really liking the changes made to media in Readit. Gifs can be paused by tapping them. That's thanks to Readit using gfycat to view the gifs. The ability to download entire albums is also welcomed, especially when you find a cool set of photos you want to keep.
To view the full (and absolutely massive) changelog for version 1.5, head over to Readit's subreddit. In the meantime, enjoy the features yourself by grabbing Readit in the Windows Phone Store.
Windows Central Newsletter
Get the best of Windows Central in in your inbox, every day!
Somehow this app is getting update without an internet connection. BTW great phone!!!

I still like it better. It just seems set up better. I like that my subreddits are in order from top saved subs to the last.

In Readit 1.5, subreddits may be sorted automatically: alphabetically or by the number of subscribers, and as usual - in a custom order defined by the user.

I loved Baconit, it it would always hang on animated .gifs. So I never got the punch lines. I had to switch.

This is the only complaint I have about Baconit - I assumed it was just a limitation of the platform. Does Readit not do this? When I was on iOS I couldn't find a reddit client that would let me just flip from story to story the way that baconit does (and it's the main reason I like baconit so much). If readit is setup this same way (so I don't have to keep going back to the list of article titles) and it also loads animated .gifs faster then I'll certainly give it a chance.

Same here. I try Readit every time there is an update, and I always end up back at Baconit.

Browsing some of the naughtier subreddits I see Sam?

The emphasis on NSFW checks out.

I cannot go back to baconit. There's just too many features missing.

I wish this worked like saved subreddits for baconit. That's all that's missing for me, then I would switch. I want the saved subreddits at the top of my list not just the subs I'm subscribed to.

What do you mean by that? You can rearrange the order of the subreddits if that's what you're getting at

Really? I need to look into doing that. Thank you.

There's a Subreddits page in the Menu. Tap and hold to move a sub, or just use a double arrow to send it to the top.

What is the app under the read it tile?

Love the app! But it still crashes 90% of the time when I try to resume after opening external links in IE or youtube. I mostly avoid clicking links in the comments. Probably only a problem on 512MB devices, but it's really annoying when I'm about to read deep down in the comment tree and have to find my last position again :|

It's solved in 1.5. That is "tombstoning" support, #1 in the list.

Like the minimalist UI of Baconit that jives with the whole Windows Phone feel. Still with baconit because it it loads faster and articles load better. But I do really enjoy the full functionality of Readit.

Articles should load the exact same if you turn off optimize for mobile. I can't compare speed if that's what you're talking about.

I want to like readit. I've tried it many times, but it just doesn't do it for me. I just really prefer everything about baconit more. There's one area I wish was better, which is gif support. But I like baconit so much more I just deal with it. Tap the article, tap the article name on top, open link, open link in IE. Its a few more seconds, but ill do it for baconit

I used to use baconit, but it hasn't gotten an update in forever and it's woefully lacking in features.
Readit is just far superior now.

Tried Readit but also still prefer Baconit. Just hoping it seems an update to fix issues with gifs not loading without having to toggle the resolution.

Still a cesspool for bottom dwellers

"you can pause Gifs for a better view.. :)" I see what you did there Sam.

WPCentral has said so much about this app that I think I am going to buy it now.
Windows Central Newsletter
Thank you for signing up to Windows Central. You will receive a verification email shortly.
There was a problem. Please refresh the page and try again.