Readit picks up massive update, still the best Reddit client on Windows Phone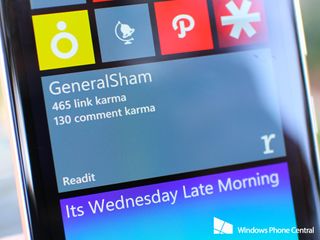 When it comes to browsing Reddit on Windows Phone we love using Readit. It's relatively new app, launching just a few months back. It blew us away with its design, feature set, and usability. Like all apps, it had a few shortcomings, namely performance issues, but those have since been addressed with updates. Speaking of updates, Readit for Windows Phone just picked one up. Let's check out what's new and different in this massive update for Readit.
The last update we covered for Readit was version 1.4.2.0. That update wasn't too bug and was most notable for improving a touch target in subreddits views. Today we're looking at a substantially bigger update. The changelog is massive, so we pulled the most interesting bits of what's new in version 1.5:
Tombstoning supported fixed/added - no more blank subreddit pages
Posts now support showing multiple tags (NSFW + Sticky, or .gif + sticky, etc.)
Sticky posts now show a green title with a [sticky] tag beneath
Friends subreddit will now be inserted, can't be unsubscribed - view friends posts here
Previous and next posts are now preloaded in swipe view depending on the direction of your swipe
You can now view gifs in albums
Gifs can now be paused by tapping them
You can now upload images/albums when replying to a post or comment - inserts link into comment
You can now save an entire album via the app bar when viewing an album (replaces the save image button)
Settings will no longer reset randomly
You can now hide NSWF content completely in settings - browsing. Only affects loading posts, blocks nsfw subreddits
Stickied posts are green, NSFW tags added and you can pause Gifs for a better view.. :)
Massive update right? This is just the changelog for general items. Tombstoning has been improved in Readit v.15, which means you won't see any more blank subreddits pages. You'll also be able to view the various tags that a post might have (.gif, NSFW, etc).
We're also really liking the changes made to media in Readit. Gifs can be paused by tapping them. That's thanks to Readit using gfycat to view the gifs. The ability to download entire albums is also welcomed, especially when you find a cool set of photos you want to keep.
To view the full (and absolutely massive) changelog for version 1.5, head over to Readit's subreddit. In the meantime, enjoy the features yourself by grabbing Readit in the Windows Phone Store.
Get the Windows Central Newsletter
All the latest news, reviews, and guides for Windows and Xbox diehards.