Real Cricket 15 comes across the line to play on Windows Phone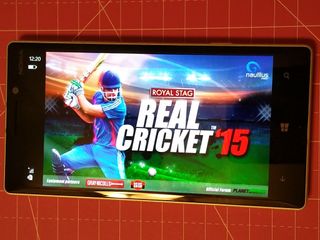 Cricket fans who are also Windows Phone owners might want to check out the recently released sim title Real Cricket 15 in the Windows Phone Store. Developed by Nautilus Mobile, the game claims to offer an accurate simulation of the game.
Here's a breakdown of its features:
REALISM PUSHED FURTHER - Choose from 16 nations and 8 master teams consisting of legends of the limited over game.
NEW INTUITIVE TOUCH CONTROLS - Simple and intuitive controls that compel you enjoy the game with ease.
WELL HEELED/ LOADED ART - Amazing and unique hand drawn graphics
ULTRA FLUID ANIMATIONS - Scintillating 2D Motion Captured animations
BE STRIKING WITH AUTHENTIC CRICKET EQUIPMENT - Authentic Cricket equipment provided by legendary manufacturers – Gray-Nicolls and SS Cricket.
CRICKET AT ITS PARAMOUNT - Full user control on team selection, batting and bowling order, 15 fields placements to choose from and much more
NUMEROUS GAME MODES - Real Cricket 2015 provides with Diverse modes, Exhibition, Tournaments such as T20 World Cup, Masters Cup and Knockout Cup. Polish your skills in the Nets.
THE MOST CAPTIVATING CRICKET EXPERIENCE ON MOBILE - Never seen before game modes, unique and striking art styles, An arsenal of 27 cricket shots, real ball physics.
It looks like this game is not compatible with 512MB devices at the moment. If you are a cricket fan, let us know what you think about Real Cricket 15 in the comments.
Via: WindowsPhoneApps.es
Download Real Cricket 15 from the Windows Phone Store (Free)
No 512 mb. Shit sucks :-/

On PC WX minimum is 1gb. 512mb is a stretch and will be the first to lose support. WXM is already on that path. "TIME MARCHES OH!!!", I mean technology.

That's progress. Less and less phones have 512mb, so there's less and less reason to code with it in mind.

Of course that's true. How many phones were released in 2015 with 512 as opposed to how many in 2014. There are less and less. It's just like hoe many PCs were released with 1GB of RAM, less than last year so there's less reason to make programs to run on only1GB of ram.

In case you haven't noticed more than 80% of Windows Phone is occupied by 512 MB devices.

Did I say the minority of phones have 512? No I said the number is falling. With less models even having that amount, and upgrade cycles on their way, that percentage will dwindle very quickly. Don't be obtuse just to try and argue something that has been true for years. As time passes, technology gets more advanced.

I don't think you have enough knowledge to speak any further. Windows Phone thrives off of low end devices with the exception of very few high end ones. There are few and few being made but there aren't more high end devices being made instead of low end devices. Brush up on your knowledge.

Apparently you're the one with a lack of knowledge. You're making completely irrelevant points against my argument. I will put it as simply as I possibly can. It does not matter how many 512 devices currently exist in the hands of consumers. There are far less devices with 512 being manufactured, so therefore, there will be less and less in the hands of consumers. I am NOT saying they don't exist, or that tomorrow the majority will be 1GB or more in peoples hands. I am saying the number is decreasing. As that number decreases, there becomes less reason to support the 512 devices.

You obviously can't read well. In regards to Microsoft's situation there are OBVIOUSLY more low end devices being made than high end ones. Windows Phone highest percentage of users come from low end devices. Droid produces significantly less low end devices and Apple is more of a mediocre high end device. Pay attention. Go to detention for your insubordination lol.

It's you that cannot read well. I never made reference to low or high end. I said more that have more ram than 512mb. And low and behold, Microsoft is producing less devices with under 1GB of ram. Which is exactly my original statement, there are less devices with 512mb of ram. I'm done with your simple brain now.

A 512mb device is a low end and a 1GB device is a high end device. Thus meaning you did make a reference. You're foolish. Again, Microsoft OBVIOUSLY makes more low end devices. Now I'm beginning to believe you're trolling me because you have yet to fully evaluate the conversation. Your words hold little to no weight.

And you've officially reached the point of full retard. Lets look at the Microsoft phones being manufactured, 435 1GB 535 1GB 640 1GB 640XL 1GB, nope no 512 devices. SO again I reiterate my statement, that less 512 devices are becomming available. I NEVER said the majority of devices that exist were 1GB or more, I said the amount is, and will be declining.

You obviously don't understand that none of those are true high end devices. Still low end in a sense being that they're still non flagship phones.

I never said they were, I simply said they are the devices being manufactured right now and none of them are 512mb devices. You're the one that made the claim that 1GB meant high end. Quit trying, I've proved you wrong multiple times and you haven't even begun to provide a valid counter point.

Hello everyone If I can install this game in my PC. Control can be changed with key board. suggestions.......

I know how it feels to see one's phone to be outdated but with technology one has to move on,not a single smartphone or even higher flagship phones are future -proof.

I have decided I am buying 840 !! XD

If I would not played it on android, I would have regrets that it doesn't support my 520 because real cricket is far from real cricket :P

Like u and ur comment, 512mb devices are old. The market is full of 1gb devices for ppl who can't afford top ones..

And Indians flood the comment section

Indian readers here aren't the only ones who watch cricket, Pakistani here ;)

Wish I was a cricket fan T_T.
My whole family is. And probably 99% of India, too. But what can I do if I just don't like this game, LOL!
I sometimes feel alienated...

Don't worry I am with you :p

Thanks, mate! At least there's someone :D

isnt it copy of baseball ?

There's a fair amount of difference. And for me , cricket is better.

Not really. Cricket is a whole lot different from baseball :P

I came here to see Indians commenting on this article... And I am not disappointed.

Wow. All the action cricket right at my finger tips. I can't handle it.

Maybe the title could have said 'flies over the fence' keeping more in line with cricketing parlance.

Awesome. Had been waiting for something like this :)

Is this game available on the other platforms as well?

I played this a lot on my mother's Android and the game is really great but it it isn't graphic intensive or anything at all, so I wonder why it doesn't support 512 MB Ram devices yet :-\ (I know graphics don't determine ram requirement but I can't think of any other reason of how this particular game would require so much ram)

This issue has been discussed multiple times before.. The OS takes a lot of memory for itself. It's a technical limitation of devices. So not much they can do.

Everything for 1gb devices now a days

That's it....i am dumping my Lumia 520

Even I'm thinking of upgrading to the 640XL. My 520 needs some rest now, It's almost 2 years old now.

Tell me this...who all are willing to buy a windows phone if u have chance to buy a new phone

Off to the forums with ye!

I. You buy a Lumia 640 now.

I am for one just cuz you choose the wrong device that's u not doing your research before you by it ain't the OS fault if you want a good phone that will play all the app and games get a 435,640,640xl the 435 is the cheapest and so on

If i wanted to buy now itself , i will choose Android for the specs Bcoz 640XL performed same as my 1320 in terms of speed and it lacks camera button. As cam quality is not my huge requirement , i look at phones which come after Windows 10 roll out , bcoz i made wrong investment on 1320 on April-25-2014... Let the Snapdragon 410 and greater be equipped for Mid range segment...

Speakfor yourself.The 1320 is one of the best investments I've ever made.I swear its better than all the android mid range devices I've used.

I am willing to buy a Windows Phone when I buy a new phone. In fact, it is really the only phone I am willing to pay for right now. Not that it's related to the article in any way whatsoever, but you asked, I answered.

Not me. Im going android.

Android will hang no matter what the specs(aftr 6-9 months of use) they r pathetic, ive seen galaxy s4s hang! (which has an octa core processor), ill get a windows phone, am happy with my 525!( dual core processor , never hanged)

Proud owner of a 1520, a 730 and a 520(sadly it died). Windows phone FTW. I can live without apps or whatever stuffs you see choosing android over windows. :)

I'll get my hands on any high end windows 10 device as soon as it's available for me.

I will go with basic phone with bw or color screen with FM radio and keypad no java or no os.I think Smartphone had made thinks complicated

not available for 512 MB device...hmmm looking at my Lumia 620....i need to upgrade......but this time flagship device.....

Listen to all the 512 yelling. Stop making the 512 devices already. I get it is a cheap option, but 90% of the people who buy them obviously dont know what they are getting into, and bring unjust bad criticism to the OS.

There's always the Microsoft Lumia 435 you can pick it up for about 50 bucks at WalMart and it has 1gb memory all the new Microsoft lumias that I know of have 1 GB

I just don't realise why do you have to blame the people who had bought 512 MB devices. Remember Lumia 630, the first Windows 8.1 phone? It was launched with 512 MB. What's the customer's fault if he bought a phone just 2 months after launch and within 8 months everyone says, "time to buy a new phone, losers, this is progress"? I'm sure Windows 10 mobile will support 512 MB devices as 630 was one of the first devices to get the technical preview version.

Don't you have the slightest idea that 512 MB just wont be enough?

Seems my 525 is a great investment

Cricbuzz needs an update too

Yup. It would be great if they use the wide live tile and display scores of ongoing matches and news headlines on it.

Man am I glad my 1020 is 64gb. Another game to my collection :)

Nope but a very lucky mistake/ great gesture from MS/Nokia. My device suddenly stopped working(something had melted inside) so I sent it for repairs. They informed that they had to change the system board as the damage was too extensive. When it returned I powered it on to see that they used a MB with the 64GB memory module. Happy days :)

You are one fine lucky guy!

Finally. But no half gig ram support. Shit man. We also haven't got Real Cricket 14.

Sad it doesn't support 512mb

How bout a baseball or football game that's just as good looking?

I hate cricket ever since the last IPL

Does anyone else experience login issues in this particular game

I am unable to register. Hence unable to play the game.

There was a login issue in initial version of Real Cricket 15 now the issue has been fixed. https://www.windowsphone.com/en-us/store/app/real-cricket-15/597528ae-f8...

For frist time I feel disappointment of my Lumia 620. I really want this game and now I don't have money to buy a new WP with 1GB Ram aleast now.

Same with my case having Lumia 620

same here too... and without this login it is not even entering

C'mon 512 mb support please

More like Crooked sport! ZING!! Jk.

Does this work without constant net connection?

I'm not being able to play s guest nor register, I'm always getting time out

When is espn crickinfo going to get updated? 2 yrs nd no update, on android its updated regularly

Can't even start the game. Whether you wish to sign in or sign up it has only one prompt, " Login failed operation has timed out". Any other option to bypass this isn't quite visible.... Too bad I wasted 46mb data...

:O don't u have wifi near? Next,time try to read comments or review :P

Bro, many of us facing the same problem

Dude wifi won't gonna help this

Yeah... The game is not even opening. Server side error probably.

Cricket fan here too ;) Nepali Cricket! :)

WHY MY LUMIA 930 DOESNT SUPPORT THIS GAME? PLEASE ANYONE TO HELP?

Y cant i get this on my lumia 920 running wp 8.1

Good to know finally one good cricket game

Is that really how the cricket bat, don't know the correct term, is held? With the leading arm's hand underneath the lagging arm? Just curious. Edit: Correction to above...I meant to say with the leading arm's hand above the lagging arm, as shown in the cover art. Leading arm being the arm facing the bowler.

Not clear what you mean by leading and lagging, but the batsman on the embedded picture is left handed.

Made edit above. Do right handed and left handed players stand in same spot and just swap the dominant hand to the higher bat position?

Yes indeed, a right handed batsman would hold his right hand to the bottom. And instead of leading and lagging hands , we call it top and bottom hands.

Why don't you just watch a few videos on YouTube to get it all clear :)

Plz help me i trying to download this game on my lumia 1320 running latest technical preview of wp10 shows game is not compatible .why ????

Yaa same issue here too not able to register nor sign up. So not able to play on 730

Not for 512mb :( really bad news...hope soon it will be available for 512mb as well

But no MLB15? App Gap? What App Gap? It's time for the media to "help" Microsoft - who is clearly in App Gap denial.

Bullshit not able to sign in since yesterday on my Lumia 730..also seems like they have unpublished the app from the store

can't signup in game please help me.. showing session time out

Installed on L735 and can't get past the registration. Either of them don't allow me to start (guest or account). Would like to try this game. Can you help me fix this problem please?

Same problem here..in my Lumia 730

Same here can't register in my Lumia 920 , please someone help

Lumia 640XL - Cannot get past the registration. It always says 'Time out'

It says session timed out

Uhh..not for 512MB devices?! Enough!! I am switching to android :(

Not able to play it on my Lumia 930. Can't create any login Id

Can't sign in in any of format

If ur unable to sign in just turn of ur data connection /wifi ...then choose play as guest its working for me

yeah, I can't handle it.
http://bit.ly/1QouTFH

Hei, couldn't find the game in the store

Aaaaaaaaand it is removed from the store.
Windows Central Newsletter
Thank you for signing up to Windows Central. You will receive a verification email shortly.
There was a problem. Please refresh the page and try again.