Real Soccer 2013 Review: Less soccer, more reaching for your wallet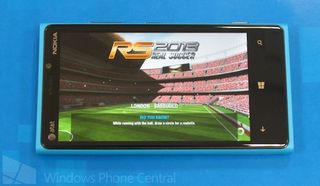 The first Real Soccer for Windows Phone was less than an exemplary game. Announced back in 2010 as a launch title, it didn't show up until well into 2012. The Real Soccer we eventually got falsely advertised the inclusion of two modes ('Enter the Legend' and 'Club Master') that weren't even in the game. And one of the Achievements ('Man of the Match') was tied to the absent Enter the Legend mode, making it impossible to unlock – by design! Gameloft's otherwise solid Windows Phone port of Let's Golf 2 also suffered from an impossible-by-design Achievement.
Yes, Gameloft and the Xbox Live certification team were awfully negligent in those days. We brought these issues up to Microsoft, but neither game was ever fixed and Real Soccer still has the same blatantly incorrect store description it launched with.
In 2013, Gameloft has made a huge turnaround in quality control, releasing the phenomenal Asphalt 7 and very good The Amazing Spider-Man for Windows Phone 8. Their third new release, Real Soccer 2013, also impresses at first glance. However, its Achievements are not without issue. This time, one of them costs real money to unlock - just one symptom of a troubled sports game.
Out with the old features, in with nothing new
If you look around the web, it's difficult to find any positive reviews of Real Soccer 2013 for other platforms. The 2013 version switched to a freemium model – not a bad thing in and of itself. But instead of designing a fun game in which players can opt to spend real money in order to skip ahead a little faster (like Asphalt 7 and Amazing Spider-Man), Gameloft instead created that tried to siphon player's wallets at every opportunity, with fun factor more of a byproduct than anything else.
A typical soccer game, whether on consoles or mobile will consist of at least two modes: single match and league play. Most would also offer multiplayer, but the Real Soccer series has always eschewed multiplayer for reasons unknown. Still, past installments at least provided those two bare minimum modes, and on iOS they offered nice extra modes like the aforementioned Enter the Legend and Club Master. The Windows Phone 7 game might have left those out, but it still had six modes to keep players busy.
Real Soccer 2013 trims those offerings down to just one mode: League Play. Players choose a team at the outset and can never change it again, embarking on an endless series of games against rival teams. Between games, players can acquire new players, hire new staff like doctors and masseuses, and upgrade the team's facilities. The absence of a way to play single games without consequences is suspect, but a really strong league mode still could have made 2013 a worthwhile game.
Freemium gone wrong
Frustratingly, 2013 isn't built around just playing as much as you want and maybe spending a little real money along the way to get some perks. Instead, it's more a 'pay to play' structure. See, each player on your team (all FIFPro licensed, BTW) has both health and injury stats. Full health isn't required to participate in a match, but it affects performance. When a player's health gets low, he is likely to get injured. To restore a player's health, you need to send him off to a masseur. If the player gets injured, send him off to the doctor.
Here's the problem: you don't get those players back right away. They take anywhere from a few hours to a whopping 20 hours to return, though upgrading your doctors and masseuses can reduce the wait. Still, this creates a dynamic in which all of your players eventually become unusable after about 5-9 games. Games last about 6 minutes, so we're talking about a soccer game that only allows you to play it for 30-60 minutes in one sitting. Then you're forced to either stop playing for the day or buy some premium currency with real money.
Getting back onto the field
Here are the costs for instantly restoring a single-player to readiness. See the image above for premium cash prices.
Spa (refill health) = 1 premium cash. Normal wait time for a level 3 Masseur with -10% time bonus takes about 5.5 hours
Injury = 5 premium cash. Normal wait time for level 4 Doctor with -15% time bonus takes about 20 hours
Training = 3 premium cash. Normal wait time for level 2 Trainer with -5% time bonus takes about 11.5 hours
Each facility can only treat a certain number of players at a time, so you'll likely have players waiting around for a spot to even become available. Upgrading a facility allows it to treat two additional players, so you'll want to put some of the non-premium money earned from winning games into upgrades.
On the field
With all the time you spend worrying about scrounging enough healthy players together to participate in a match, the match itself almost becomes an afterthought. But Real Soccer 2013 does pack a decent soccer simulation beneath its unwanted freemium trappings. Moving around the field with the virtual stick is fairly intuitive, and the buttons are clearly labeled with their functions, unlike the PES games. Learning some of the finer mechanics like how to tackle without conceding a penalty takes practice - something that's too hard to come by without a training or single game mode.
The graphics range from decent to impressive, depending on what's happening. Close-up shots (like when a player receives a penalty) use high detail player models to good effect, but during actual gameplay the models are fairly simplistic. Even then, it still looks worlds better than the first Real Soccer. The audio fares okay once you turn the crowd sound down a few notches. By default, it positively drowns out the stereotypical British announcer.
Achievements
It will cost 300 premium cash to get those silver and gold cards. $30!
Real Soccer 2013 doesn't seem to have any impossible Achievements like its predecessor, though there are some tough ones that nobody has unlocked just yet. Of those, 'Legendary Player' requires you to win every other Achievement, PLUS unlock the separate in-game Trophies… An awfully steep requirement, but it's even steeper than it sounds.
Two of the in-game Trophies needed for 'Legendary Player' involve getting a certain number of silver and gold player cards. But the game only gives away bronze player cards for free. The silver and gold ones cost real money. By my estimate, it will take $30 of actual currency to get the premium money needed to buy those silver and gold player cards. This is a game that you'd need to play for an hour a day for months just to unlock all the other Achievements, and we're supposed to spend an absurd amount of money on top of that to complete those two Trophies and get the last Achievement?
Overall Impression
I understand that the freemium and free-to-play payment models are still relatively new, or they're at least new to some companies. And there are bound to be growing pains as a company dips its toes into those waters. But Real Soccer 2013 is a perfect example of how not to monetize a game. Gameloft took a game design that worked in the past, selling for about three bucks a pop, and transformed it into a hideous cash vacuum.
Does the prospect of paying more than $30 in real money to play a stripped-down soccer game sound good to you? Had this been a seven dollar title that we could play for as long as we wanted, I could at least recommend it to big spenders. Instead, the copious waiting to restore players to health makes for a game that isn't worth devoting your time to, let alone actual money.
Real Soccer 2013 requires a Windows Phone 8 device with at least 1 GB of RAM. Store links: Real Soccer 2013 (US and Canada) Real Football 2013 (the rest of the world). File size: 809 MB (requires approximately 4 GB of space to install)
Get the Windows Central Newsletter
All the latest news, reviews, and guides for Windows and Xbox diehards.
Paul Acevedo is the Games Editor at Windows Central. A lifelong gamer, he has written about videogames for over 15 years and reviewed over 350 games for our site. Follow him on Twitter @PaulRAcevedo. Don't hate. Appreciate!