Real Soccer (and Real Football) now available for Xbox on Windows Phone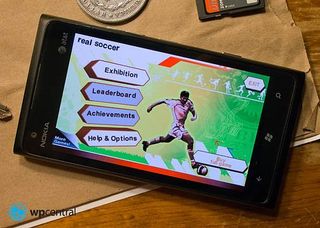 Gooooooooaaaaaal!
As promised, Gameloft's long-in-development soccer simulator, Real Soccer (also known as Real Football in Europe) has made it to the Windows Phone Store. It took some digging to find the North American download link, as the European version counts as a separate title and can't be downloaded from the US. But our friends Judbud and Zebrasqual came through!
Head past the break for our impressions and download links for both versions of the game.
Retro footie
As mentioned in our previous story, the Windows Phone version of Real Soccer is a port of Real Soccer 2010 for iOS. Like Asphalt 5, it was slated to launch at the end of 2010 or beginning of 2011 only to get stuck in development hell. Somehow the game pushed through and finally made it to release, though it's two iterations behind since other mobile platforms are on Real Soccer 2012 already.
The point of this history lesson: Real Soccer doesn't exactly impress from a technical standpoint. The players are blocky and angular, closely resembling what you'd see in a PSOne game from the nineties. Of course, the Windows Phone 7 hardware specs aren't exactly light years ahead of the PSOne's, but Konami's PES 2012 still looks markedly better.
Luckily Real Soccer scores much better in the sound department. Authentic crowd sounds and a vocal commentator help create a realistic atmosphere, and that's gotta count for something.
Learning the sport
I had hoped Real Soccer would have a more arcade-y feel than the simulation-oriented PES games. The first time most of us play a new game, we want to feel a sense of accomplishment and be given a chance to slowly ramp up to the more technical aspects of the gameplay.
Well, Real Soccer is definitely a bit easier than PES. In my short playtime, I had no trouble keeping the ball away from my opponents or blocking their shots when they did manage to get it. I couldn't score a goal to save my life, but I guess that's sort of expected from soccer games.
Lace up and head to the field
Real Soccer costs $2.99 and you can get it here if it's available in your region. If not, pick up the European version, Real Football here on the Windows Phone Store.
Thanks to Judbud and Zebrasqual for the tip!
Windows Central Newsletter
Get the best of Windows Central in in your inbox, every day!
Paul Acevedo is the Games Editor at Windows Central. A lifelong gamer, he has written about videogames for over 15 years and reviewed over 350 games for our site. Follow him on Twitter @PaulRAcevedo. Don't hate. Appreciate!
With wp8, I hope that games finally match and surpass those on iOS and Android.

Microsoft exclusive games. Current GPUs on WP7 are too weak to run games like Modern combat 2 and that Halo 3 clone from gameloft. Adreno 225 should be enough to run those games.

that halo clone game has been confirmed for wp8 and so has ashpalt 8 or whatever the newest one is. gameloft has stated they are backing wp8 with a ton of there titles sense the hardware now will let them.

The games that have been released to date are quite impressive. If you don't like what this platform has to offer, use a different one...

Geez, stevethenerd..you little pissants are boring as all hell. Just because someone doesn't share your blind view of the platform you get all whiny and throw a tantrum in your momma's basement.

How come it's not spelled "futbol" instead its "football"

Because football is the English spelling.

For asking this question, you have to go to the back of the line.

Because no one spells it like futbol.

Because it's a game in which the players use the 'foot' to kick the 'ball'

Played the demo a bit. I like it. I am usually bad at soccer games but at least on whatever difficulty the demo is I could dominate. Did you play on easy Paul? I scored 3 or 4 goals in each half them demo lets you play. Just run down the middle doing a few zigs and zags them shoot.

Played on the default difficulty of the demo. I think if I gave it more time, I could probably get my head around it. Unless a sports game is extremely casual (NBA Jam, NFL Blitz, Mario sports games) I won't really enjoy it, hence I'm not reviewing this one.

I'm with you, Paul. The only sports games that don't make me die of boredom are ones that are basically caricatures/parodies of the genre.

I thought you said it featured real names. Not that it matters, it's kinda awful. Calling it "Real" must be a bad joke, it doesn't even have a referee.

The official description specifically says it has real player names. You bought it and it doesn't?

Didn't buy, tried the demo, and Spain's National team has the most weird names like Torso; Yalpa, they're not even Spanish names.

Just shows how long this was in development,

the pinable icon is has filename RF2010.png

Oh dear. I was set to buy this but played the trial and um.. nah will pass. Way too slow, boring Pes is much better. Wasn't Nokia bringing EA on board with Fifa? Or is that likely to be a WP8 exclusive now?

Played the demo and wasn't impressed. PES on WP is much better in all categories. Hopefully FIFA13 comes to WP soon, I enjoyed on iOS back when I actually liked the iPhone, lol!

fifa was announced with the other 20 ea games so hopefully it hits wp7 not just wp8

Taking my comment out...sorry guys. Must have been the Morphine.

Crashes after 5 games in a league... It is close to unusable... Anybody have the same probs?

Saw a game this morning called Contre Jour on the marketplace. Downloaded the trial, but have seen zero coverage on it. Any news?

Contre Jour was last weeks title

Has anyone been able to find out how to be the "Man of the Match?" I think the Windows Phone port of Real Soccer 2010 for the iOS is missing a ton of game modes and features. One of which is the "Legend" mode (which is basically Be a Pro) that you can actually become Man of the MAtch with your individually controlled player, but that mode is not in the Windows Phone version. The achievement may be unobtainable.


Yep. Confined. unobtainable.
Windows Central Newsletter
Thank you for signing up to Windows Central. You will receive a verification email shortly.
There was a problem. Please refresh the page and try again.