Real Soccer finally coming to Xbox on Windows Phone this week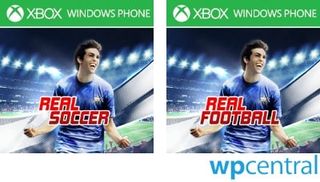 The July release of Gameloft's Asphalt 5 surprised us in more ways than one. First, a non-Mango Xbox Live game in mid-2012 is entirely unheard of. Second, before hearing otherwise from Microsoft, I'd have bet money that the game was quietly cancelled. Asphalt 5 was one of 50 Windows Phone 7 launch titles announced way back in 2010, so clearly the game endured a series of delays before managing to launch at last.
This week another of those 'launch titles' finally squeaks out of the gate: Real Soccer, also from Gameloft. Color me surprised again!
Which witch is which?
An interesting aspect of the original announcement is that Microsoft referred to the game as Real Soccer 2. You see, the Real Soccer series on iOS and Android always has a year in the title, not unlike our platform's own PES 2012. There never could have been a Real Soccer 2 because there is no Real Soccer 1. What happened? My money is on someone incorrectly copy-and-pasting the full title, cutting off the year at the end. Nobody's perfect! I do that all the t.
Okay, so the Real Soccer we're now getting actually excludes the year, likely in order to obscure the game's age. It's tough to say just which version was ported to Windows Phone, but based on the features it sounds like the 2010 version. We'll try to ignore the fact that Real Soccer 2012 has been available on iOS and Android for some time now. Maybe that's not a bad thing, as the free-to-play 2012 game didn't review so well.
What to expect
Real Soccer 2010 iOS
Let's hope all of Real Soccer's Xbox Live Achievements actually work, unlike Gameloft's last sports title, Let's Golf 2. In fairness, Asphalt 5 does not suffer from broken Achievements.
Real Soccer boasts 3D graphics and voice commentary, not to mention 245 teams with real player names (thanks to the FIFPro license), all of which should make for an authentic ball-kicking experience. It also packs 14 different stadiums, several of which begin with the letter M, such as Madrid, Machester, and Milan. Marvelous!
As for the controls, a virtual stick and two buttons, just like PES 2012. I just hope this one is easier to pick up and learn, since the Pro Evolution Soccer series is way too hardcore for this most casual of soccer fans.
Real Soccer sports a couple of unique modes that should appeal to true enthusiasts: Enter the Legend and Club Master. Enter the Legend allows players to follow a player's career from the very start, controlling only that player as he steps onto the field and sometimes warms the bench. Club Master gives players managerial control over the team between playing the matches themselves. You'll trade players, manage finances, and more.
Almost game time!
Real Soccer launches at $2.99 in the US, Japan, and Canada. The rest of the world (besides poor Brazil and Korea) gets the game as Real Football. The game is due out on Wednesday, but it might just launch on Tuesday. If it does, our readers will be the first to know!
Windows Central Newsletter
Get the best of Windows Central in in your inbox, every day!
Paul Acevedo is the Games Editor at Windows Central. A lifelong gamer, he has written about videogames for over 15 years and reviewed over 350 games for our site. Follow him on Twitter @PaulRAcevedo. Don't hate. Appreciate!
Thanks for the heads up (I'm still irritated when I read about WP Live games, since yesterday I finally beated Sally Spa Hard mode with all perfects with no Achievement... Damn glitchy games).
Gameloft copycats are unbelievable, even the art box looks like PES.

All this wp7 rumor crap! apps are coming apps are coming.. Bull!! Microsoft needs to advertise not wait in Nokia and HTC. Ok what else is coming, when? What about pinterest, instagram?

That has what to do with this article?

It's your own fault for using pinterest instead of reddit.

What you meant to say was baconit. Not reddit. ;) use that app.

They have a third party app out called pinspiration. Look it up. That's what I use.

This looks really fun, can't wait to try it out on my new lumia 920 (if it comes to Verizon)

I thought there was a leaked picture of Verizon 920.

Meh, might try it but I'm holding out for FIFA. I think PES is fairly easy to pick up and play, especially if you use the tilt controls - I never played soccer games much but I can manage the hardest difficulty on PES with tilt.

No thanks to shoddy ports from iphone that are years behind the current version. Just makes WP look like a dumping ground for other platforms crap. Almost 2013 and no real multiplayer on games like this is pathetic. Bunch of tossers at Redmond.

Microsoft doesn't make these games.

Please Gameloft, bring your games to Brazil!! Please!!

I always welcome devs and companies sharing there apps but if u give us something give us something good not your late model apps, when other platform are way ahead, look at asphalt 5 graphics and game play is way off in compare to the other OS when they are at V7 with asphalt.

Are they just dumping out all the WP7 games as-is before the release of WP8 and the presumably natively coded games that will come with that? Because that's what it feels like.

This looks shit, at least fifa is out this week.

I have the feeling the multiplayer everyone seeks will come with windows 8

WTF?? Soccer. Really. Windows phones need Madden or some type of manly football.

That joke hasn't been funny for a long time.

A 2-year old sports game just now coming out? That makes perfect sense.

Games won't pick up until WP8. It has native code and much better graphics chips.

Not a bad price for a decent looking soccer game! :-)

I'm done with WP. Gonna sell my HTC real soon. Not only we have to wait a long time to get new apps, they are already outdated when they come out. Come on, seriously? WP is dead.

We'll miss you and your astute observations.
Windows Central Newsletter
Thank you for signing up to Windows Central. You will receive a verification email shortly.
There was a problem. Please refresh the page and try again.