Realarm, a handy Windows Phone alarm management app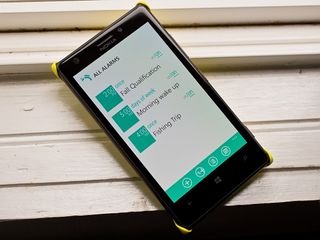 Realarm is a smooth looking, easy to use alarm management app for your Windows Phone. The app has support for voice commands, re-occurring alarms, alternating alarm sounds and Live Tile support.
Add a user-friendly interface to all of Realarm's features and the app becomes an attractive, dare I say alarming, alternative to the native Windows Phone alarm.
Simple layout, user-friendly interface
Your main page for Realarm will list all of your alarms with a handful of control buttons scattered across the bottom of the screen. These buttons include:
Adding an alarm: Here you can set the time, date, occurrence and alarm sound.
Setting a quick alarm: If you need a reminder in a few hours, the quick alarm is where you want to go. The easy clock interface will let you set an alarm, up to eleven hours, fifty-nine minutes in advance.
Viewing your alarm schedule in agenda form
Preview your alarms in calendar view
Along with the control buttons, up under the main page's three-dot menu you will find options to access the app's settings, access the Live Tile options, view voice commands, rate the app and view Realarm's About screen.
Settings for Realarm includes theme choices, appearance settings, round time to five minutes, choose the default alarm, set the start of the week, and disable quick alarms. Alarm sounds includes 37 options that can alternate between sounds or simply be a random selection. Unfortunately, you do not have access to your Windows Phone system sounds or any custom sounds you've installed.
Voice commands with Realarm allows you to use your Windows Phone voice command feature to create and set quick alarms and mute alarms. Live Tile support lists your pending alarms with either a transparent background or an image from the Realarm collection. If you choose an image, you can select a singular image or let the app rotate through the full (or partial) collection.
Overall Impression
Realarm is an appealing, feature rich Windows Phone alarm app. The user interface has a clean appearance and straightforward controls for setting your alarms.
I like the flexibility for setting re-occurring alarms. You can set an alarm for a one-time occurrence, set an alarm for a specific day of the week, set an alarm for weekends only and set an alarm days in advance. The Live Tile and voice command support helps the attractiveness of the app too.
What I would have liked to have seen is support for playing music files as your alarm. Realarm has a nice selection of alarm sounds but some of us prefer to awaken by the sound of music. Oh, and speaking of the alarm choices, the app also needs an annoying alarm sound; something that will shock your system into waking up.
All I all, Realarm is an appealing alternative to your native Windows Phone alarm. The app garners a 5 Star rating in the Windows Phone Store, which we believe isn't far from the mark.
Realarm - Windows Phone 8.x and 7.x devices - 9MB - Free - Store Link
Windows Central Newsletter
Get the best of Windows Central in in your inbox, every day!
George is the Reviews Editor at Windows Central, concentrating on Windows 10 PC and Mobile apps. He's been a supporter of the platform since the days of Windows CE and uses his current Windows 10 Mobile phone daily to keep up with life and enjoy a game during down time.
Cool than the default one

So glad this has both Cortana implementations and an hourly alarm it makes taking pills on time easier I set a reminder every 8 hours for the reminder of my pills

I agree on playing music files as alarm. "hey little kid, did you wake up late one day?" X-kid green day.

Does it run in background or need to be open all the time?

No, app use system alarms.

Application uses system alarms only, thus it does not need to run in background. You can safely close app after setting an alarm.

So it uses the notifications & ringer volume, instead of media & apps, like the stock app? So if I want to have my phone on vibrate, I don't get woken up? With that and XBox music, I kinda wish I hadn't gotten the WP8.1 update.

Yes it uses notification & ringer volume, just like native Alarms app.

The native alarms is independent of your volume. So even when your phone is on vibrate or silent, you still get audibly notified i.e. Alarm still plays the alarm tone that you've set.

Awesome app, thank you !!

Looks great.. the app uses the 3rd style of lock screen but sadly like the lock screen app this app also has no digits on circles....

I only would like a Radio Alarm app. What is The problem with WP?

"I like the flexibility for setting *recurring alarms."

I thought developers thought making alarm app was too mainstream before this one arrived. There is no good alarm app in Windows Phone Store.

The way to set an alarm looks really cool with the arcs. Thumbs up!

I already had it. Good app

Another alarm app that doesn't have increasing volume option...

Windows Phone currently does not allow developers to handle alarm volume. Quote from MSDN documentation: "When the alarm is launched, the sound is played quietly and then gradually increases in volume. There is no way to modify this behavior." http://msdn.microsoft.com/en-us/library/windows/apps/microsoft.phone.sch... :)

If it doesn't use Nokia's "Alarm 6", it won't wake me up...

Agree xD lol!! I always use that to wake up!

I use this one on my phone: http://www.zedge.net/ringtone/1375787/

Does this run background or we need to keep the app running in the foreground?

Application uses system alarms only, thus it does not need to run in background. You can safely close app after setting an alarm.

Thank you guys for reviewing my app! In terms of custom or system sounds: I have spent lot of time figuring out if its possible. Answer is NO, at the moment. Native Alarms app kinda "cheats" a bit - its Microsoft app so it has no limitations like developers have. Same situation with snooze time customization in WP8.1 - only native app can change it. For those considering if app does woth it to try out, this video might be helpful: Realarm demo

Viktor Sze, I actually want to thank each and every developer who comes to WP plateform. Welcome onboard. And your app looks awesome actually. Trying it now...
I appreciate your time and energy.
Thank You:-)

Thank you. I'm actually onboard for some time :) Fell in love with WP since October '12 :)

Viktor sze, if it can select default phone theme colour its great like if yellow selected all the things yellow

Just select System theme in app settings :)

I dont think its worth it. I cant but agree that the UI is beautiful, but does it really have something more than calendar or simple alarm to offer rather than being complicated with all those alarms?

How precise are the alarms? Do they suffer from the limitations that timer apps do?

As Realarm use system alarms only here is a statement from MSDN documentation: "Alarms are accurate only within a range of one minute. In other words, the notification can be launched up to one minute after it was scheduled."

I love the description of this app, but the lack of custom sounds is a deal breaker for me. With my re-occuring alarms, I create custom sounds with Ringtone Maker that will let me know what the alarm is without looking. For example, at 4 PM they start towing cars on the outbound lane on the street where I sometimes park near my bakery. When I hear The Cars "Here in my Car" I know I have to verify that I am not going to get towed, even if can't peak at my phone. I wonder if that limitation is due to limitations of the OS? If so, I wish MS would open that up to developers. If not, I urge the developer to add the ability to use custom sounds of our own creation.

I have to bring and get my kids from school. This is the first app to make alarms reoccur at the right times. I love it!

@Viktor Sze: Beautiful app, I'm going to use this over the native one ;) Are there any plans for a translation? (to Dutch preferably :p ) And something else, a feature I've never found in any alarm app, an option to make grouped alarms, for example one at 8.00 to wake up and one at 9.00 when I have to leave the house. When these alarms can be linked it's easier to move them to 7.30 & 9.30 for example.
That would be a killer feature for me ;)

Thank you. In terms of translation - definitely yes. Spanish, Portugues and Turkish translations are coming soon. If some Dutch offers his services to translate then also Dutch will come :) Regarding grouped alarms - sorry, I do not consider such option for now. Maybe later...

Thanks for the answer ;) I'm Dutch and I offer my service :D No problem, thanks anyway...

Thank you! Just email me at realarm@outlook.com

will it affect cortana? the error when i try to create an alarm +alarms stopped working for me (8.1.1)

1. How could it affect Cortana? 2. Please send me an email to realarm@outlook.com with error description. 3. Have you moved app to/from sd card? If so, then you need to disable and enable all alarms since alarms stored in system point to "old" sound location. :)

Best designed alarm app. Very beautiful too!

Yeah been using it a couple weeks and it really is quite excellent, much better than the default (other than the OS restricted tone limit). The Radial Dial from Windows 8 works surprisingly well, and looks great. Course, if Microsoft had any concept of consistency, they would have done that themselves.

This is the best alarm app, in my opinion. Already substituted the default one with this one.
I like a the possibility to set number of repetitions and minutes for all the repetitions, in just one step. The quick alarm is great too. Actually I pinned the quick alarm to start, and from there easily go the home page if I need to.
The way to set the time is super fast. It comes from Win 8 and it's faster to set that the default method, even if 5 minutes steps. Because alarms have a name, is it possibile to make the phone SPEAK the name of the alarm? (probably not if the app is closed, but well, I ask anyway..).
Windows Central Newsletter
Thank you for signing up to Windows Central. You will receive a verification email shortly.
There was a problem. Please refresh the page and try again.