Reddit pages plastered with pro-Trump content in attack which used compromised moderators
"An investigation is underway related to a series of vandalized communities"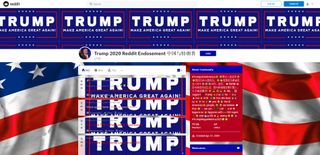 (Image credit: @UnderTheBreach)
What you need to know
A number of popular subreddits have been vandalized with Trump 2020 messaging.
Reddit says an investigation is underway "related to a series of vandalized communities."
It appears compromised moderators may be the source of the attacks.
Reddit is investigating a number of hacked subreddits that were vandalized with pro-Trump messaging.
As reported by The Verge:
A spokesperson from Reddit told The Verge that it was investigating "a series of vandalized communities." According to the statement, Reddit believes the source of the attacks "were compromised moderator accounts" and is "working to lock down those accounts and restore impacted communities."
As the report notes, the full scale of the attack is unclear, but a list on the Subreddit drama page lists more than 50 accounts including:
/r/49ers
/r/Avengers
/r/bostonceltics
/r/Dallas
/r/Disneyland
/r/EDM
/r/podcasts
/r/rupaulsdragrace
/r/space
According to the post, redtaboo has verified that "none of the accounts that were compromised had 2fa enabled at the time". In a Reddit moderator post the company said:
Reddit says it has since started messaging affected communities.
Windows Central Newsletter
Get the best of Windows Central in your inbox, every day!
Reddit admins did a great job of quickly getting this under control. Prepare for more corrupt activity over the next few months.

That's what they get for censoring conservatives.

When did Reddit censor conservatives? I know the answer is never, but I would like to at least hear how you got this idea in your head.

https://www.foxnews.com/tech/reddit-bans-thedonald-and-almost-2000-other... Sorry for a fox News link. Just type in "reddit ban" into your preferred search engine. They claimed "hate speech" but based on their revised terms of service and the list of subreddits they closed, it's nothing of the sort.

Who knew 2FA would help with Trump corruption? Set it up, people.

Typical crooked Republicans. Trumpsters are the scourge of society.

Calling half the country 'scourge' is a great way to have your opinions and ideas invalidated. Maybe realize that we all have to work together to get anything done and understand that both sides have valid arguments. If you listen to some of them, you may learn something.

Well the verge is a trumphating site, go figure....As a Swedish bystander i cant really understand how a (small but vocal part of the)nations people can hate the current president like democrats....most countries would love for a leader that was putting the nations interests first....

I wouldn't say republicans, I would say Trump and all his corrupt friends. Trump is a pure example of a pathological lying, disrespectful, dishonorable, cult leader! He is a horrible human being!!!

Just vote for the one you believe is a more decent human being. Trump aka lyingdonald, donthecon, crookeddonald is not a good person....Just look at all his lies and failed crooked businesses.