Reddit Pix - kill time with this simple media browser for Reddit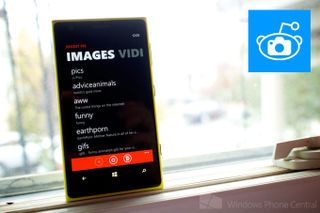 Looking for an app to pass time? Check out Reddit Pix for Windows Phone 8. It's a simple media browser for Reddit. Use it to quickly browse images and videos. Reddit Pix is not a replacement for Reddit clients like Readit, and Baconit. There's no commenting or voting.
Head past the break to watch our video walkthrough.
There are three sections to the Reddit Pix: Images, Videos, and My Subs. Images and Videos have pre-selected subreddits. Just click on one of them to browse through. Moving from one image or video to another is just a swipe to the right or left.
For videos, you have the option to use Windows Phone's default video player, or another app called MetroTube. The default player is fine, but it's nice to have another option.
If you feel like commenting or voting, there's an option to open the image or video in Internet Explorer or Baconit. You can change the default action in the app settings.
Under My Subs, you can add your own favorite subreddits. We have added /r/windowsphone since we're always checking what the redditors there are up to. It's definitely better to add subreddits that are aimed for images or video. We think the developer did a great job selecting the subreddits for the app.
Stephen Ceresia, the developer of Reddit Pix, says he is still trying to figure out how to do Animated GIF right. In this first version, you tap the GIF to start the animation. It loops and does not stop even if you tap again. Press the back button to exit.
If you like what you see, there's a share option. It can send the link for the images or videos to Facebook, Twitter, email, or SMS.
Overall, we think it's a nice app to pass the time. It's still version 1.0, so make sure to send feedback within the app for any suggestions. Reddit Pix is a free download with ads at the Windows Phone Store. The ads are not intrusive, but you can remove them completely with an in-app purchase for 99 cents. Check it out and let us know what you think in the comments!
Get the Windows Central Newsletter
All the latest news, reviews, and guides for Windows and Xbox diehards.
Lets be honest, none of us are going to search for kittens First thing we will type in the search is NSFW

Again, should we be talking about this?

Reddit is a cesspool for bottom dwellers

Or for people who use their brain all day and need some trash to veg out on during the bus ride home. Btw this app is pretty decent.