Relax: Windows 10 downloads did not, in fact, break the Internet this week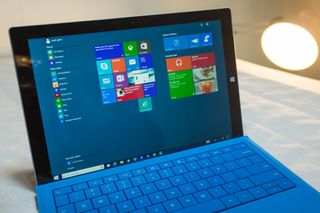 There may have been a lot of people who downloaded the files needed to upgrade their older Windows 7 or 8.1 PCs to Windows 10 this week. However, it turns out that earlier fears that the amount of bandwidth needed for all those downloads could break the Internet may not have been justified.
Dan Rayburn on the Streaming Media Blog claimed that Microsoft had "reserved up to 40Tb/s per second of capacity from all of the third-party CDNs combined" for the Windows 10 upgrade launch, adding that the July 29 launch date itself would "easily be the largest day/week of traffic ever on the Internet." However, Dan Deeth, who works for ISP networking hardware company Sandvine, posted a new preliminary look at the amount of traffic generated by Windows Update in North America for the past few days, along with the share of traffic from that source.
Deeth writes:
Deeth added that the share of traffic from Windows Update was between 6-8% on Tuesday, but it only accounted for only 3-4% of traffic on Wednesday. So what happened? Deeth says:
Deeth also points out that Apple doesn't do this kind of controlled release when it launches a new version of iOS. In 2013, the release of iOS 7 accounted for a whopping 15% share of Internet traffic on its launch date.
Source: Internet Phenomena Blog
Get the Windows Central Newsletter
All the latest news, reviews, and guides for Windows and Xbox diehards.