Relax: Windows 10 downloads did not, in fact, break the Internet this week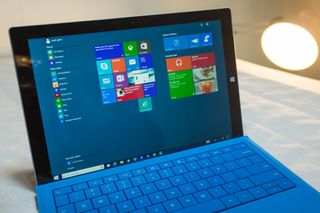 There may have been a lot of people who downloaded the files needed to upgrade their older Windows 7 or 8.1 PCs to Windows 10 this week. However, it turns out that earlier fears that the amount of bandwidth needed for all those downloads could break the Internet may not have been justified.
Dan Rayburn on the Streaming Media Blog claimed that Microsoft had "reserved up to 40Tb/s per second of capacity from all of the third-party CDNs combined" for the Windows 10 upgrade launch, adding that the July 29 launch date itself would "easily be the largest day/week of traffic ever on the Internet." However, Dan Deeth, who works for ISP networking hardware company Sandvine, posted a new preliminary look at the amount of traffic generated by Windows Update in North America for the past few days, along with the share of traffic from that source.
Deeth writes:
Deeth added that the share of traffic from Windows Update was between 6-8% on Tuesday, but it only accounted for only 3-4% of traffic on Wednesday. So what happened? Deeth says:
Deeth also points out that Apple doesn't do this kind of controlled release when it launches a new version of iOS. In 2013, the release of iOS 7 accounted for a whopping 15% share of Internet traffic on its launch date.
Source: Internet Phenomena Blog
Windows Central Newsletter
Get the best of Windows Central in in your inbox, every day!
Lies I'm an Insider and it's day 30 and I still don't have it and none of the tricks work even though I have the WindowsBT folder. Posted via the Windows Central App for Android

Just download the iso from the Microsoft website and upgrade from within the OS. Is it that hard? Posted via the Windows Central App.

They said it makes a clean install and wipes your OS and I have no hard drive to back up and I can't get one because I'm in high school and I'm not working and old enough to work Posted via the Windows Central App for Android

I upgraded my Windows 7 with that ISO, and it kept everything, if you want to make a back up of files and media, split the HDD up into 2 partitions and put them on the second one. After the upgrade you still should have everything, it does not a clean install. Posted via the Windows Central App.

Kk that's great thx. I just wish the updater was reliable. Posted via the Windows Central App for Android

Me too, i think i was waiting for a whole week if i did nothing. Posted via the Windows Central App.

It all depends on the amount of megabytes, gigabytes or terabytes you want to backup. Have you considered using an old smartphone that could act as a USB memory stick? I know that Nokia Lumia phones generally can act as USB memory storage devices if you plug them into a Windows computer and open up an Explorer window (the Explorer file manager, not a web browser). Lumia devices can carry everything from a few gigabytes up to 25 GB or so (a 32 GB device will not offer 32 GB of free storage since it needs an operating system to store there, too). If we are talking about terabytes of data, then it obviously won't work.

No, it doesn't wipe your OS and do a clean install. The truth about the ISO file is that it is just like using a Windows 10 installation DVD. You will get the choice to "upgrade" your existing installation and keep all files and settings in tact, or to do a clean install. Your choice. I did the upgrade and kept all my files and settings in tact by using the ISO myself, so I can assure you this is true. Hope that is helpful for you, and others who may be needing to bypass waiting for the update.

Ok thanks. Posted via the Windows Central App for Android

So I don't have to install from a bootable media to do a clean install?

no, you can do that, but you can also just download the iso and mount it, or plug your usb device in while windows is running and install from there, it will be the exact same experience as the reservation app

Why doesn't anyone ever talk about doing it this way? Seems like a simpler way to do a clean install than changing the BIOS/UEFI, creating a bootable USB, etc.

Sounds like a personal problem

And plus I use SSDs now and they get expensive. Posted via the Windows Central App for Android

I already have my copy even in a restricted as hell enterprise network.

If you manage to get Windows update download a 2.7Gb file, that's the boot.wim file. In the Windows BT folder, during one of your updates, you''ll notice how the files and folder resemble those typical of a Windows install DVD - don't re-do the Windows update just yet but instead copy all those files plus the 2.7Gb file in a different folder or partition. After you've renamed the large file to boot.wim, that's the time setup works. But then I have no clues as to where you are and how you currently are with the download. Hope things go well for you.

Ok thx. Posted via the Windows Central App for Android

I will try this b4 the ISO because I want the updater experience but explorer crashes whenever I launch wuauclt or the control panel Windows Update section so that's strange. Posted via the Windows Central App for Android

If you are in the 10240 you already have plenty of the update. MSFT released just 3 or 4 more KB after that nad this is what change from the version we received as th1.

I was having issues as well to kick it off. I then saw someone post to go to the C:/windows/softwaredistribution/download and just delete everything. I did that rane the wuauclt.exe/updatenow from the command prompt as an admin and it kicked it off and started everything and finished. Now I have W10. System is working good now. I forgot to mention this was a Win7 machine.

That command prompt worked for me without even deleting the existing files.

Ok but I get concerned when deleting things. Posted via the Windows Central App for Android

We insiders got the rtm release already on the 17th dude. ( build 10240 ) ... Start thinking when you sign a user licence agreement dude

Windows update might give it to you.

If you had build 10240 you may not notice anything, actually. My system was updated without me having to acknowledge anything. Even the 1GB day one patch, was already applied by the time I checked.

Buddy, if you have 10240, you already have windows 10 final build. Just hit update. It was done on 25th July. So, technically, all insiders on build 10240 had Windows 10 well ahead of schedule.

If Microsoft ever breaks the internet, they probably have the power and resources to fix it again.

The fixes they'll be needing to roll out for various errors might break the internet though. My main gripe is that W10 is much slower to boot than W8.1.

Only until you've used it for a while. Windows 8.1 was like that when it was "first installed" on a machine for me as well. It took the OS getting to know what I use and how I use it before it sped up. For me, after using the computer extensively fo 24 hours and doing several reboots during that time, I'm getting much faster boot times with Windows 10 than with 8.1, and 8.1 was pretty fast.

It's been rebooted and shut down a few times it is still noticeably slower to login for me. Other people have experienced similar. Unfortunately with such a wide range of devices experiences are going to vary.

I have the same experience with you. However, I suggest that you give it some time ( a couple of days) and it will get significantly faster. You just installed a new OS, that's how it works.

I've also rebooted several times after upgrading and then finally doing the reset button install, I chose to clear my drive and man its been very veryyy slow to start since then. A clean install is the way to go but as with Windows 8, so many backgrounds tasks are firing up (especially after a restart, shutting off and on is much smoother) I went to disk defrag and guess how much my disk was fragmented? 20% !! that's a lot lol anyway point being that give it some days of usage

For me, W10 also took a bit longer than 8.1 in the beginning but not it's also faster than 8.1 and the login is incredibly quick. It's simply amazing!

Indexing is a thing on any OS. Slow at first, faster when done.

Interesting. My first impression - and I mean literally just one so far - it seemed a bit faster. We'll see how it compares in the next week or so.

Delete the Windows.old folder using the disk clean up app. More the space consumed, more time the OS requires to get everything up and running.

Unfortunately, I can't get it installed on my laptop and desktop. (Desky 7/Lappy 8.1) I tried that trick where I move the files from the download folder in Windows, and the command prompt command, but still...Nothing. I'm not messing with the clock, but on August 1st, I'll try the regular way again, with Windows Updates.

Download the ISO. You don't even have to put it on a DVD or USB drive. It is very fast and simple.

Insiders got the final bit several days ago. The spike on 28th is actually the preload of the first wave.

My windows 10 app is gone

https://www.thurrott.com/windows/windows-10/4949/windows-10-tip-upgrade-...
Read the article, follow the steps, and voila.

There​ is zero reason to wait for windows update. It didn't appear for me, I downloaded from MS, ran setup, went through the upgrade process, job done, all my files and installed software was maintained right down to the desktop theme and the position of the shortcuts I had on the 2 monitors I have.

I'm sure MS is using some kind of BITS setup for this. In a corporate environment you can manage Windows updates and push out to all clients from a WSUS server which uses BITS without taking down your entire network. Microsoft has matured this process over the years where it is very efficient unlike Apple who has no clue. We've had to change our Mac update process because their updates would consume too much bandwidth and affect other services like email.

Staggering the rollout was the right way to do it. My automatic upgrade failed so I manually ran the upgrade tool. Smooth, so far.

Agreed. I would have liked to see the manual upgrade being a bit easier (i.e. press a button) so those who wanted it fast still could get it quickly, but in general the staggering was a great idea and a lot of people really won't mind waiting.

Who are you guys kidding... Most of you wanted MS to break the internet for bragging rights to other platforms... Like "there was so much demand, we broke the internet"

somehow a major ISP went down that same 29th night in some parts of the city, coincidence? maybe

Akamai, the largest CDN showed about 36% above normal traffic.

They did break the internet at my work yesterday...

They should add MS download servers to the list and see what the traffic was, I downloaded a total of 3 times on my 2 devices and failed each time, resulting in having to download the media creation tool to upgrade each one which on my dell venue failed an additional 2 times of complete download before making a USB drive to upgrade and download a 3rd time. Total downloads for dell venue 4, total for my desktop 3. And im just one of thousands with the same problem. Win update method needs some major work..

I will wait for another day because it said it would take 12 hours to finish the download. Does anyone if I could do a clean install on my vista laptop?

Windows Vista does not get the Windows 10 upgrade, however, you can install the Windows 10 insider preview to it for free.

While this is a good way of doing it (releasing it in waves), breaking the inter,et would have been better for marketing (and I believe that this is the reason why apple releases updates for everyone at once) since it makes the people feel like there is a huge demand and everyone wants the new iOS version.

This confirms there was a lot of hype. I thought there would have been more downloads for IOS than windows. MS got part of the equation right with making it free, but not the part about making it easy to update. Yes, for some it was easy but not as simple as updating IOS.
Windows Central Newsletter
Thank you for signing up to Windows Central. You will receive a verification email shortly.
There was a problem. Please refresh the page and try again.