Relive your childhood with the Sega Mega Drive Classics Hub on Steam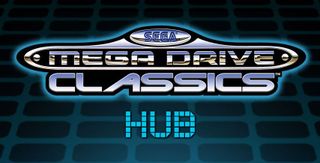 Sega has launched the Mega Drive Classics Hub on Steam. The hub is a 3D environment designed to mimic the bedroom of a '90s gamer, with a Mega Drive (Genesis) connected to a CRT TV, shelf full of games for the console, as well as Sega posters on the (virtual) walls and dynamic time-of-day conditions.
If you own any of the Mega Drive games on Steam, you will be able to access the hub for free. Here's a list of all the games that you can pick up:
Golden Axe
Altered Beast
Comix Zone
Ecco the Dolphin
Gain Ground
Shinobi III: Return of the Ninja Master
Vectorman
Crack Down
Space Harrier II
Ecco Jr.
Alex Kidd in the Enchanted Castle
Bonanza Bros.
Super Thunder Blade
Kid Chameleon
Ristar
Galaxy Force II
Columns
Eternal Champions
Fatal Labyrinth
Bio-Hazard Battle
Columns III
Sword of Vermilion
Virtua Fighter 2
Ecco: The Tides of Time
Alien Storm
Decap Attack
Flicky
ESWAT: City Under Siege
Golden Axe II
Landstalker: The Treasures of King Nole
Shadow Dancer
Shining Force
Wonder Boy III: Monster Lair
Streets of Rage 2
Alien Soldier
Light Crusader
Gunstar Heroes
Streets of Rage
Shining Force II
Shining in the Darkness
Beyond Oasis
Dynamite Headdy
Golden Axe III
Phantasy Star II
Phantasy Star III: Generations of Doom
Phantasy Star IV: The End of the Millennium
Dr. Robotnik's Mean Bean Machine
Sonic the Hedgehog
Sonic the Hedgehog 2
Sonic 3 and Knuckles
Sonic 3D Blast
Sonic Spinball
Toejam and Earl
Toejam and Earl in Panic on Funkotron
Streets of Rage 3
Revenge of the Shinobi
Vectorman 2
Wonder Boy in Monster World
If you're not seeing the Mega Drive Classics Hub just yet, we suggest waiting a while. The update is just starting to roll out.
Didn't even realise all these Sega classics were on steam. Was the Hub designed and developed by Steam themselves or Sega? Would be great for it to come to Xbox / Windows Store maybe with a bundle of all games and cross buy for XB1 and PC. Obviously if the Hub was created by steam that part couldn't come over

Definitely from Sega. Other notable features of this hub is that it also claims to contain graphics enhancement filters, better keyboard/controller support, local co-op for games that originally had co-op, save states and surprisingly mod support via steam workshop. As far as I know, this is the only official emulator that supports mods. Kudos to Sega.

As long as its not like pbfx2 or ea's 360 hasbro app where all the achievements are pooled together(as how its reflected on your gamertag)

Goodbye life. Hello childhood.

not showing up for me. unfortunately

The Mega Drive was my first console and I can honestly say I haven't had as much fun gaming on any console since. Good times.

No question it was a great system for it's day.... 2nd gen systems over the NES and Master system....

This is brilliant, was hoping for Desert Strike and Jungle Strike but hopefully they might be added later.

Is it VR compatible? It would be fun to immerse yourself back in time

Neat....but, I'll just pop out my Sega Genisis to play these games back, that I actually own the orignal carts on. A simple S-Video to HDMI adapter, no problem on my 4K TV :) Sega Genisis was the US version of the Mega Drive BTW Or there is a 3rd party program for Windows Media Center, Put all my ROMS in a app in Media Center, use my remote, select the game, and pop out a 360 controller to play them all (you can use the orignal controllers with some plugins)

It has all my old favorites except for NBA Jam, Joe Montana's Sports Talk Football, Mario Lemieux's Ice Hockey, and John Madden Football '92

Now if only Sega could do something like this for the Dreamcast. To me, that is the best console ever made.

Oh God
Sonic, Streets of Rage, Golden Axe, these are my childhood guys. But unfortunately, now no time for all that
Windows Central Newsletter
Get the best of Windows Central in in your inbox, every day!
Thank you for signing up to Windows Central. You will receive a verification email shortly.
There was a problem. Please refresh the page and try again.