Remember to have Windows 10 Technical Preview updated before the next build hits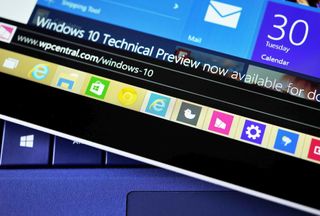 Microsoft's Windows Program Manager Gabriel Aul took to Twitter today, to not only reveal some numbers on the Insider program, but also to remind those running the Windows 10 Tech Preview that they require a certain update before moving forward. Update KB3025380 (linked below) is strongly advised to be installed before Microsoft rolls out the next build of the preview.
According to the Microsoft website, KB3025380 addresses the following:
Microsoft plans to roll out the next release of the preview sometime next week, so get this update installed and prepare yourself for more goodies to be fired to your PC.
Source: Microsoft (opens in new tab) (KB3025380), Twitter (Gabriel Aul)
Get the Windows Central Newsletter
All the latest news, reviews, and guides for Windows and Xbox diehards.
Rich Edmonds was formerly a Senior Editor of PC hardware at Windows Central, covering everything related to PC components and NAS. He's been involved in technology for more than a decade and knows a thing or two about the magic inside a PC chassis. You can follow him on Twitter at @RichEdmonds.
C blues? Am I doing this right?

cant download it from my old version if windows 10 (before the notification update) what should i do?

Huddle in the corner, pull your hair out and cry. /s

That's what I've been doing. I feel like my computer is practically useless. Last update did little or nothing to fix the crippling bugs

Go to the other corner and repeat.

Uninstall OneDrive, restart and you are ready to go. I had to remove everything to do with Onedrive on my W10 TP to get it like it was before. I think they screwed up OneDrive and never were able to fix it. That's one reason I want next Preview Build not because of Cortana of course.

I'll try that if this update doesn't resolved my issues

What about windows 10 for phone ?
I am hoping windows 10 for phone will have native mkv support.

it should because MKV support is now at the OS level and should carry across to whatever device is running Windows 10

Is 512 RAM will get windows 10 update?

Earlier it was confirmed all devices will be getting windows 10 but now on a blog microsoft is saying not all Lumia phones will be getting the update since there are heavy advances (not visible yet ) in platform :/

Chris Weber might have meant that there could be specific advances likely to be made in future builds that would not be enabled on all handsets. Its actually not different from the current scenario. Take the example of Miracast. The Miracast APIs were introduced in WP8.1 Did all Lumias get upgraded to 8.1? Yes. (saving those on Big Red). Did all Lumias get Miracast? No. This, despite the SD Pro on the 92x series fully supporting Miracast. There's nothing to be anxious about to be honest. The Core OS will be sent out to every single phone. Period.

Do you really expect "heavy" advances to go to low end 512 RAM devices? Come on. Core OS will go everywhere. Things that are fancy and need more RAM won't. It ain't rocket science.

They've said that all current Windows Phones will get Windows 10. I like hearing that my 2 year old Lumia 920 isn't being left behind.

Yes. Every single modern windows 8.1 phone will receive windows 10.

Yes ALL WP will get it. But I hope you understand 512 RAM isn't enough to run many features and resources intensive tasks.

I'm on windows 7, can I get windows 10 technical preview now?

You could have gotten it in September. You'll have to install it on a separate hard drive, whether it be physical or virtual. Or you can put it on your existing one, but of course you would lose everything if you don't back up first.

He can install it on his current hard drive without losing everything. He just needs to setup another partition on the hard drive and install Windows 10 on it. This allows him to dual-boot to either Windows 7 or 10. For those interested, it is quite simple (note: you do need to have the free space on your primary disk to do this). Right-click the start button and open Disk Management. Find your primary drive (usually listed as Disk 0, C:, etc.) and right-click. Select "Shrink Volume." Enter the amount of space you want for your Windows 10 install. Once completed you should see in Disk Management a separate partition on the drive. It will be titled "Unallocated" or something like that. Right-click on the "Unallocated" segment and create a new Simple Volume. Go through the steps. When given the option to rename the Volume Label you can leave as default or change it to "Windows 10 Drive" or something similar. (Note: this isn't necessary, but it will help later) Insert your Windows 10 disk (or run from the ISO) and go through setup. Go through the steps presented (language selection, time, etc.), click "Install Now," accept the license agreement, and select Custom Install. Do not select Upgrade! Select the newly created partition (you should see your label "Windows 10"). Follow the rest of the steps and you finish the install. After it is installed, and upon a fresh boot, you will be presented with a screen that allows you to choose the OS to boot into. At this point you can set certain defaults such as which OS to boot into, how long the screen remains until the PC selects the default for you, etc. Hope that helps.

The current November build (9879) was pulled by the team. I'm guessing they didn't want any confusion for new Insiders.

When you are asking such a thing, you must not install a Beta OS....

Yes, they are releasing a new version next week. If your Win7 machine is able to run Win8, then I'd guess it should run 10. Probably not a good idea to install it on your everyday computer though.

It is safe to install this on my main PC?

I did. No critical crashes have occurred

It's relatively safe, but there is no guarantee that it will work right all the time. It is very probable you'll run into glitches and bugs; you should only do it if you're fairly good at solving problems with your PC.

Strongly advise against it. Still has many bugs and not fully stable.

If you have to ask. Then don't do it. This is a beta software and will have bugs.

I would. I took my main drive out and installed a spare so I could run W10 without having to lose my current configuration in case something went screwy. So far, it's been rock solid and it's looking like I won't have to go back to my other drive. I'm using it on a Dell Inspiron 11 convertable.

It's likely that you'll be okay with the consumer preview. MS knows that more people will try it's end-user features and are less forgiving towards bugs. It should be quite stable. However I wouldn't recommend it for your main. If it's like the Windows 8 preview than there wont be any upgrade paths to final version Win 10.

If your main PC is capable of running a VM such as Hyper-V, VM Ware or Virtual Box then use that instead. Then if anything bad happens nothing can happen to your main PC operating system. If you can't run a VM then ask yourself, can I live with my main PC crapping out and needing a complete reformat? Do you backup your files?

VHDs are your best friends. Virtual hard drives, native performance. Don't like the OS, just delete the VHD and the boot loader entry. But as always, read and re-read to make sure you aren't doing anything which will make you repent.

Unfortunately, with the last build update at least, a VHD install didn't work to update. You'd need to reinstall with an ISO.

My windows 10 preview is my daily driver, though I installed in on dual boot with Windows 8.1. But I am using the Windiws 10 Technical Preview everyday. I never had issues with it.

Is anyone running this as their main OS on their surface pro 1 or 2? Is it worth it to upgrade yet or should just hold for the final release? I really like the way my start screen is set up and how the charms bar works. im conflicted if I ever want to upgrade to 10

I can vouch for SP3, not sure about the first two though.

Its still not ready for your primary computer / work computer. There are certain issues still (I cant remote login to my work now after the preview). Hance be safe, be prudent. Install on a non-primary comuter if you can. also the final polished version is still a few months away.

Thanks. I hope they add the same functionality of the charms bar somewhere in the action center. I like all the added features of windows 10 but just wish we wouldn't loose so much that I liked from windows 8.

If you like adventures, go for it. But Windows technical preview (currently) works best on desktop mode. Things may change after continuum goes live.

Yeah, we are looking forward to windows phone 10. So just bring it on!!!

What will be the next build number??

The build number that Joe was using was version 9924, but that one had features that won't be in the next build. So anywhere between 9879 and 9924.

anything higher than 9901. 9901 had Cortana in an early, half-baked state.

GabeAul said the build will be 992X.

WinBeta says new builds have crossed the 10000 mark.

The next build will be released in ISO too, right? And if I'm currently with W8.1 in my tablet and decide to install the next build directly, will I have issues with it?

Yes. Gabe Aul has confirmed ISO and ESD releases for all builds. Even then, it isn't too tough to make an ISO from an ESD.

I'm not sure what format it will be in, but ISO seems likely. I'm also not sure if this next build is for ARM based tablets like the Surface 2, but you shouldn't have any issues installing 10. Do a clean install and not an upgrade just to be safe.

I will just start fresh. Just in case.

I'm more interested in the preview on our phones tbh can happily wait for the full version of 10 on my laptop

Reverse that, and you've got what's actually gonna happen. It isn't THAT far from being on my 521...

I'm in the same boat. I'm excited for the unified experience across devices, but I can wait on the PC version. I will be all over the phone preview when it hits.

When it available for phones???

Next month the ​preview for 10 anyway

Any way to know how legacy programs will work on 10? Without actually trying it. And how hard is it to roll back if it buggers everything up?

Take a system image before you install it if you want to be able to roll back to 8.1

how stable is Windows 10vnowadays?

I wait windows 10 preview on my Lumia 620...

Ok, people if you have to ask if installing this preview of windows 10 is safe. Then don't do it. It os beta for a reason. It is not polished it is not complete. Some software will not work such as Norton antivirus. So don't install it and complain that it does not work. Or it crashes. You will be flamed for that.

I almost put Microsoft is fault for this. They're running around advertisng Windows 10 as if it's at Release Candidate. The Microsoft Lumia Facebook page uploaded an image of Windows 10 running on Lumia's with a captian of "The #Lumia you love gets even bettter with Windows 10!". They're advertsing and pushing Windows 10 as if it's available now. Now we have "average" joes installing beta software with no clue of what they're doing.

Doesn't mean people shouldn't still use common sense and think it through first

They are very clear that this isn't final software. If someone is duped its because they didn't take the time to read or they are not very smart.

I want windows phone 10.1 they're taking ages!!!

I wanted to register y.day for the insider but it said coming soon :/

You can still sign up, and it won't take long now for the build to be up, which will probably happen by Monday, maybe Tuesday.

I entered the windows insider site after i put my email it says coming soon :/

And I have to wait a bit more to get the update.

Is there upgrade path to the final version? then I will use the preview as my main OS ..

I think they have said this is what they want to happen, but they haven't guaranteed it - Apple managed it with Yosemite, which I ran in beta on my old Retina Macbook Pro without any issues. Hopefully they can allow an update right to the final version.

I apologize if I missed this elsewhere, but I take it that "future builds of Technical Preview" are distinct from the Consumer Preview? So if I have the TP installed, then I need to do a fresh install of the CP?

probably not, as far as i know you'll be able to upgrade even to the final version when it comes, so i think this means the consumer preview as well

Is it going to be worth putting this on my Surface pro 3? I tried the first version which was great, but not ready for touch. I didn't like the one drive lack of placeholders either. Dies any one know if you can duel boot on an sp3?

It looks like this build will be suitable for touch - I held off installing it on my SP3 due to the lack of touch friendliness, but this next build will have continuum allowing you to switch between "Tablet" mode etc.
They didn't mention if OneDrive placeholders will be back in this build as far as I know, just that it will be back at some point.

I didn't realise this one will have continuum. That will probably make a big difference. I will probably install it and see what happens. Can always roll back if there are any major issues and I think I can live without the placeholders. Thanks Dan

I am on 9841 build but any new updates are not available under build ... What to do now ???

Annoyingly I tried upgrading to Windows 10, my pc failed and rolled back to 8.1

I had it installed but my audio driver kept crashing. Can't wait to install the new build once it's released though.

I'll go for a clean and fresh install with the iso.

Bullshit. I'll get the ISO and make a clean install. Why the fuck would I use the update function on beta software? Release Windows is already bad enough in that regard. No need to get screwy settings from my prior build.

Just hope there Is an ISO file....

Will the new build come as an ISO or windows update

Same way as always, through Windows Update

I m a new insider. Would I be able to get technical preview for windows 10

How I can back 8.1 if 10 not good?

Awesome but I'm sick with 9841 and it won't update. Sucks to be me.

Here's my story of Windows 10 on my Surface Pro 3.... I installed it on my SP3 and it would crash the entire device and force a auto reset after about 30 seconds after startup, the screen would freeze, then flash black,then work for a second, then repeat till the system crashes.... It worked fine in Safemode, so I'm assuming its something to do with a driver I have installed? Possibly my video card driver or similar? Either way hopefully the new ISO file works without crashing... I want to test things and don't mind a few bugs, but constant crashing? No thanks lol

It installed on my sp3 without issue. It could be the video card but I have the flagship and it recognized the drivers fine. I can't imagine a lower end models drivers(I'd you have a different model) not being accounted for if the big dog was. I could be wrong. It happens.

ISO of new build of WTP will available or not ?? If it'll then please notify me to take that down ...

Anyone running preview who have been able to install security software like Norton Internet Security, Kaspersky Internet Security or other? Tried when first preview was available but without luck.

Ehhh ever since I installed the preview I haven't been able to change my update settings anyway. It says some ' your system administrator controls some settings' mumbo jumbo. It auto updates and reboots at will.

KB3025380 was installed on 11-01 automatically

Sadly the last time I quad booted I got pagefile errors on both 8.1 & 9