Reminder: Watch Santa's flight with help from Edge, Bing, Cortana and NORAD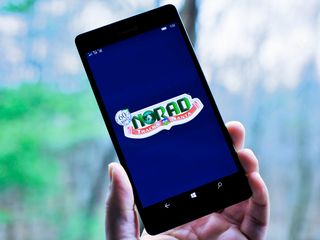 Now that it's Christmas Eve, it's time once again to track Santa Claus has he flys his route all over the world. Once again, Microsoft has teamed with NORAD to track Santa with the help of Bing, Cortana, and the Edge browser.
Cortana will give you a location for Santa when you ask where he is. This works not only on PCs and Windows Phone, but also through the Cortana app on Android and iOS devices. Microsoft Edge users who head over to the NORAD Tracks Santa site will also be able to play around with an exclusive digital coloring book.
You can also head to the Windows 10 Maps app to track Santa's journey on your PC or laptop. Windows Phone 8 and Windows 10 Mobile users can download the NORAD Track Santa app to get a live tracker on the go.
Download the NORAD Tracks Santa App from the Windows Store (opens in new tab)
Windows Central Newsletter
Get the best of Windows Central in in your inbox, every day!
Santa Claus is coming to town...

Nope. It's a fictional character.

Santa Claus is coming, to town!

Single bell single bell
Single all the way
(My crush said will be good friends)
And
Friendzoned all the way.. ):

If only Edge on mobile was as good a PC

The app does not appear in the Windows Phone store when I search for "norad tracks Santa". Have to use a direct link. /SMH

The app is not in the store like it was last year. You'll have to use the .org site.

Also link does not work in the app. Not very good integration, considering you could do it ages ago. Wc app going backwards or are just getting complacent

App doesn't work. Closes after trying to start it every time.

Asking Cortana about Santa's location on my phone just brings up a list of websites.

I was able to search the app in the store on my 950. Just typed in "Santa"

My kids love this app. We use it every year

L1520 w/W10 gets message that it cannot install phone is missing features. Bummer.

The map just reads "Loading...", but the counters work. Whatever, uninstalling.

Ditto! The "Gifts Delivered" count keeps incrementing but the main screen continually says Loading... :-\

It works on Windows Maps.

All good fun, Merry Christmas Ms and Norad it whiled away Christmas eve at work checking on Santa's progress. Merry Christmas to all.

On the Maps app in Windows Mobile 10, there's a "Where's Santa" link in the Search items, which find him and provides a link to the NORAD app. Unfortunately, according to the Store, it needs a gyroscope for some reason that apparently my 640 doesn't have.

Honestly, i dont know why we have to track Santa. Can somebody explain it to me? I did some research, and that didn't give me the answer i wanted, Just how it started at first. The question is WHY???

It worked on my 640. I had it on my phone from last year.
Windows Central Newsletter
Thank you for signing up to Windows Central. You will receive a verification email shortly.
There was a problem. Please refresh the page and try again.