Review: Aquapac Form Fit Weather Proof Case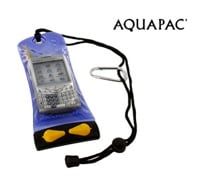 I do a lot of fishing, trips to the beach, camping, and work outside. I have yet to drop my phone in a lake, but I have had it fall in a puddle of water before. My boss' boss has actually lost two Blackberry phones over the side of his boat (the second time was actually not his fault). I know "that will never to happen me" is easy to think, and you are right until it does.
Editor's note: Say hello to our newest writer, HobbesIsReal. HobbesIsReal has been a super contributor to the forums and is an all-around WM guru - check out his WM FAQ!
Read on for the Full Review!
...Just do a search here at WMexperts' sister-site forums at TreoCentral with the key words "fell water" (without quotes) and see for yourself how many times this happens. I do enough activities outdoors that I know for me it is more a matter of when rather than if it will happen. So I decided to get the Aquapac Form Fit weather proof case for my PPC-6800 (aka Mogul / Titan / XV6800 / Telus P4000). This is the first time I have ever tried anything like this and I was very pleasantly surprised, in spite of starting out being extremely skeptical when I first saw it in person.
FIRST IMPRESSION / PHYSICAL BUILD
When I first looked at the package it says in big yellow letters across the top "100% waterproof". On the back it says it will also float if you happen to drop your phone in the water. When I finally opened the package and looked at the case, I honestly thought there is no way this will be water proof and that it will take a lot of successful testing to earn my trust.
It is clear plastic on the front with a foam material on the back. Both seemed very pliable and durable, but would still needed to be treated with respect to not puncture them. The top has a hole to secure the included neckcord and carabineer. On the bottom it has an opening with a black plastic clamp attached to the front and back of the case. The front half of the clamp has two levers with a neck that pokes out the back. When you close the two sides of the clamp together, the neck of the levers goes through the back half of the clamp. Then when you turn the clamps to point to each other, like in the picture below, it draws the two halves of the clamp closed securely.
Aquapac International Limited offers a Manufacturer's 3-year warranty, stating that the cases, if used in accordance with the instructions, will be free from defects in workmanship and materials for three years from the date of purchase. 442216f05efd1862feb820445c082b2a
WATERPROOF TESTING
The first test I did was to close the clamps with nothing in the case but with as much air as I could trap in it. I then applied a fair amount of pressure to see if I could push the air out. After squeezing as hard as I dared, I was forced to conceded that I would not be able to push any out unless my goal was to intentionally try to ruin the case.
The directions included in the box directs you to do a "bubble test." Fill up your sink, close the case, and with the case under water softly squeeze the case to see if you see a steady stream of bubbles. I did this and I did not see any bubbles. On to the next test...
I then took the whole family down to the YMCA to test it out in their pool. Before I put one of my own cell phone in the case, I put in a roll of colored construction paper in the case and closed it up. I did this because construction paper changes colors when wet, making it obvious if the case leaked. The case is rated up to 15 feet depth in the water, but the pool here was only 6 feet deep. I went down to the bottom of the pool several times and squeezed the case again each time while touching the bottom of the pool. I don't know about you, but I don't plan on swimming with my cell phone, let alone more than 6 six feet underwater while squeezing the case. When I finally examined the case and the construction paper inside, the contents were completely dry.
Okay, now was the moment of truth. I used one of my old cell phones, a Sanyo SCP-4900. And threw it in the water...and yes it floated. I put it underwater, and it again remained completed waterproof.
At the end of the 1 1/2 hours I spent in the pool, I had to admit that this case fulfilled each of its promises with being 100% waterproof.
Weather / Water proof:
USABILITY OF THE PHONE IN THE CASE
Okay, it is one thing for a case to protect a phone from the elements, but if you are unable to use your phone while in the case and have to remove it to take a call, then it loses much of its usefulness. They say that sound waves will go right through the plastic to ensure that you can use your phone while in enclosed in the case without any problems... again I was very skeptical. After making at least 5 phone calls that lasted several minutes each, and while sounding only slightly muffled, the sound quality was far better than I would have originally thought possible while talking through such thick plastic. I was again surprised that this case has lived up to this claim as well.
I was able to use the touch screen without any issues... though you have to remember to keep the stylus with you before you seal the phone in the case.
If you have a phone that is approximately the size of the PPC-6800 or the Treo 700wx, then you will want the Aquapac Form Fit case. But if your phone is any wider than that, then I would personally recommend that you go a step bigger with this Aquapac Handheld Case. They also have the Aquapac Waterproof PRO Sports Case geared for the runner or bicyclist.
Usability in case:
SUMMARY
After fully expecting to report several issues, concerns, and undelivered promises on the Aquapac Form Fit weather proof case, I am amazed to say that it delivered on everything it promised. I cannot find any cons to this case and now I am a converted skeptic. My only suggestion is to have some sort of attachment for a stylus. If you have not guessed already, I would personally recommend this case to anyone who may have even a chance of exposure to the elements with their phone, be it sand, rain, water, etc...
TECHNICAL SPECIFICATIONS
Specifications:
Guaranteed 100% waterproof to 5 meters (15 feet)
Dust and sand-proof
The airtight seal means your PDA will float safely if dropped in water
Suitable for the Smartphone and other smartphones, MP3 players, smaller cameras etc.
What you get:
Weather / Water proof case
Neckcord
Carabineer
Documentation sheet
Swipe to scroll horizontally
Ratings (out of 5)Physical Build: 5Weather / Water proof: 5Phone Usability: 5Overall:
5 stars out of 5
ProsDelivers as promisedIt is waterproofEasy and effective to use while sealed in the case.Sound quality of calls is better than I anticipated.ConsOnly slightly muffled sound quality.Would be nice to have an external stylusOn "slider" devices, can't slide out keyboard
Get the Windows Central Newsletter
All the latest news, reviews, and guides for Windows and Xbox diehards.