Review: BodyGuardz Armor for Lumia 1020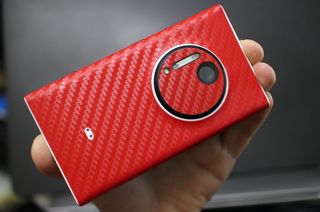 I've never been a huge fan of stick-on skins for devices. I've got nothing against them, but I never found much use for them. The ones I had were, usually, the transparent ones that offered minimal protection and ended up turning brown after a couple of weeks of fraternizing with dirt and pocket lint.
The BodyGuardz Armor for the Lumia 1020 brings a little more to the table though. It is a cross between a protective film and decorative skin.
The BodyGuardz skin itself is incredibly easy to apply. You just peel it from the backing, line the holes up with the buttons and ports on the phone and stick it on. If you get clumsy and put it on crooked, you can just peel it off and try again.
The main sheet, which covers the back and sides of the Lumia 1020, gives the body some added flare, especially if the color of the skin is different than the phone. In my case, I used a red skin on a white phone. That gave my Lumia 1020 a little pop, albeit a bit candy cane-ish.
I don't know whether or not it adds much protection to the phone, but it makes it feel better to hold. Since the armor is so thin, it simply changes the texture of the phone without adding weight. It is so thin, in fact, that it will not interfere with wireless charging if you attach a Qi backplate.
My favorite part of the BodyGuardz Armor system isn't even included in its description, the screen protector. From the idiot-proof application to the everyday use, it is by far the best screen protector I have used. The kit comes with an alcohol-based gel that you apply to the sticky side of the screen cover. This helps eliminate the dreaded air pockets that often occur with such a product. Smear on the gel, stick to the phone and wait up to 30 minutes for it all to dry. That's it.
What I love about this screen protector is how your fingers glide across it. Movement is smoother than any screen protector I have used and even better than the bare Lumia 1020 screen itself.
I'm on the fence on whether I recommend this product or not. If you are looking for protection for your smartphone, you can get a good case for the same price or less. But if you want to add some pizazz to the otherwise bland Lumia 1020, this is a good way to do it.
Heck, if you are looking for a top-notch screen protector, it might be worth buying the BodyGuardz Armor just for that.
You can find it in the Windows Phone Central store for $17.95, which is $2.00 off the regular price.
Windows Central Newsletter
Get the best of Windows Central in your inbox, every day!
My phone is a minion - black with a yellow Nokia Qi wireless charging case :)

I have the reverse! Yellow phone with black charging plate.

The reason I use a case is so that the screen is raised off of whatever surface when placed face down. I'd love to try one of these skins though.

Have this on my 925, the back can be a bit slick at times, but is pretty decent. The included screen protector was cut too long and ended up catching lint in my pocket from where it overhung. I asked for a replacement, but they made me buy another...which was cut too long as well. Good product, but beware the included screen protector.

Ugh. Carbon fibre look plastic makes even the coolest thing look naff.

Carbon fibre is plastic...

The problem is even though it is thin, it will caused the phone won't fit into the camera casing that bundle with 1020, which is kinda useful sometimes so I've tear it off and leave the camera part only and the rest of the phone remains naked...

Wonder if they make this for the 1520? Most of the cases for this phone are too bulky.

It's okay wish it covered it fully though,I have black on my yellow 1020

The screen protector that comes with it is amazing. I've always hated screen protectors until I used this one. It's like it's not there

Nothing beats an otterbox

Yes.... At least on the screen it does

I know right ? Thats so amazing

Does it possible to use Camera Grip with this product?

Did you guys even read the article?

It doesn't say anything specifically about the camera grip. One can't assume that every case would behave the same as the one mentioned. I've personally had cases that fit too tightly for a skin.

Had one of these for 920 was fantastic still waiting for the 930 version

I used a clear full body skin. It comes with a screen protector and a back and side protector that is easy to apply with water. It cost me 4 bucks on eBay with free shipping. The brand is Xtreme guard or guardz. They have them for all types of phones that are customized with holes for all the sensors and cameras and speakers so you don't have to worry about that

Thnx for the hint on the screen protector. It's really important if you are to use that it actually don't interfere with the screen and your touch.

For that reason, I rarely even use screen protectors. I may start getting these for my future phones.

So the camera grip won't go on with this on because they make a green I was looking at.

I would like to know this as well. If my camera grip works from this, I'm all in. White carbon.

OTC, I don't really like using case, it destroyed the design and thinness of the phone. I'm using a leather feel skin from slickwraps which is kind a cool.

Look up the imak cowboy, good quality very thin case.

Love my yellow speck case on my black 1020. The speck case has a rubber edge on the front side that raises the screen off a surface when you lay the phone face down. Awesome.

I wish that this was an actual case because it looks good but it just doesn't look like it offers any real protection against drops.