Quick Review – Leather case for the Nokia Lumia 1020 with lens protector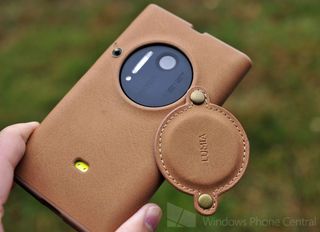 Although Nokia themselves have not released that "premium leather case" for the Lumia 1020, a third party company evidently has. We reported on it last week, revealing that the site Gadget2Us was selling various versions of the case, including brown "leather". We use quotes because it's not real leather, but rather a cloth layer that simulates the look and feel. Hey, what did you want for less than $10?
Luckily, Nokia's Simran Singh Sethi was kind enough to send us one to take a look at. How is it? Head past the break for quick video and some photos.
Overall, the case is not bad. The flesh-toned brown is a little off putting, but you can order it in an assortment of colors, include white, red or green. The flip cover for the 41 MP camera is of course the main selling point here and it's done quite well. It has some fake stitching and 'Lumia' written across. It's a neat little addition that adds some class to the case (and our Lumia 1020).
We're not sure if we'll keep using this brown one, but we are awaiting a white colored version, which we may consider. Overall, it's not a pricey investment and if you were looking for something unique, this would be it.
Head to Gadget2Us to look at their assortment in case you're interested.
Daniel Rubino is the Executive Editor of Windows Central, head reviewer, podcast co-host, and analyst. He has been covering Microsoft here since 2007, back when this site was called WMExperts (and later Windows Phone Central). His interests include Windows, Microsoft Surface, laptops, next-gen computing, and arguing with people on the internet.
Why the opening at the "pins" for the charging cover...❔❔

Because the designers and manufacturers are idiots, I guess.

What's the point of leaving a hole for the charging contacts the back?

I love how this question is asked every time we do a review for a case... LET IT BE.

It doesn't make sense though...

Read it.... contacts "in" the back.

Hi Daniel, has this been answered in the past? I compulsively check WPCentral, but I have never notice this issue raised and it is very odd. Can you explain? If it was made by a company that has no idea what the parts are for...but this is by Nokia right?

This is not made by Nokia. Again though I am not sure why they would leave them exposed. Maybe it is a safety hazard to cover them?


Ok, out of respect for Daniel, I glanced through previous reviews of cases and the conversation is indeed brought up, here was an answer he previously gave:
"Daniel Rubino says: They do that on all cases. I imagine the thought is "ya never know". Not sure why everyone thinks it's a big deal." EDIT: Also, I read the review so fast i missed the clearly stated fact that this was made by a 3rd party. Daniel forgive me. Existential crisis averted.

Its a good question. The people that make the cases are on autopilot and don't think. Cases are less than ideal to a phones looks, but their advantage is not having to expose things like SD doors, sim doors and miscellaneous other points. I blame AT&T for not having wireless charging included in the first place.

I dont understand why someone , like this company, cant make on with wireless charging coil built in.

Tolerances and fit would need to be very tight to align properly and have enough pressure on the contacts for a good connection. Many people have had issues with the high quality Nokia one... I can't imagine how these generics could do it very well. The answer is simple of course... it needs to be built in. Too bad AT&T is actively campaigning against it now.

I'm actively campaigning against AT&T

Well they have on their new flagship. It's also the perfect example why they might not want to. AT&T example not supporting the standard used. Resulting in Nokia needing to do more changes for the variant. Changing a quite big of a hardware that will be standard everywhere else. Why Samsung doesn't example do built in wireless charging.

Probably because, author have no idea what are these dots for and it's safer to leave them uncovered. :D

These cases are made quickly and without thorough investigation into how the phone works sometimes, they assume the wireless charging area needs to be exposed, we know it doesn't....they don't. The end.

Well I'm glad we are having uneducated ignorant people filling the gap in manufacturing.

So you can quickly test your battery voltage with a multimeter.

I was gonna ask the same.

God I hate ATT and their crusade against QI. So pretty much you have the choice of a nice, fitted case like this, OR wireless charging with a hideous hard plastic case? Thanks ATT, and thanks Nokia for bending over and taking it, and then giving that rubbish model to the whole world. I love my Lumia 920 with FITTED case and QI wireless. Hopefully Microsoft chuck QI back in next years models...

Nokia and Microsoft will make whatever ATT asks them to so that likely means removed features from other carrier and world versions. They don't have the take it or leave it power that Apple has.

well no such problem with 1520 here in Europe. As long as US has the operator controlled market, it will always stay as it with operators actually having a say in what kind of and what phones can be sold in a one country.

Actually, if you add wireless charging to the 1020, the price would indeed go up, and the price of on-contract would be higher than $299 (maybe $399?), and then you have the volcanoe of a camera that wouldn't let it set down on a charging plate all the way, the charging cover helps with that issue by making it *mostly* smooth on the back so it can get a better connection. Just my observations. :D

God that is one ugly case

Nah, it's actually pretty nice. I like it.

I think it is neither ugly nor nice. It just is.

I really liked the yellow one with the blue rubber... but then they showed it sporting a PINK "lens cap". Um, no thanks lol The "orange leather" looking one looks alright

AAAAAND the "orange leather" is sold out. Whack.

I saw this case on eBay a couple of days ago but then thought about the number of times I take pictures, I will have to remove the camera cover part of it altogether. Pressing against the back with that cover button is surely going to leave a mark on the phone, eventually.

I just wish Nokia would release theirs. Why announce it and never release it. If you are gonna make vaporware, leak it to the rumor mill.

I think it was a fan-made rendered image, Nokia probably wished they'd came up with it

Hmmm...you may be right. All the tech sites said it was official, but it looks like they all sourced PureView Club, which said Nokia was releasing it. I can't find anything from Nokia. http://pureviewclub.com/2013/15270

Nice case. Reminds me of Steampunk stylings

Wait, so there is going to be a white version?

Nevermind, found the white one. Ordered it for my sister. http://blackberry-cn.com/product/nokia-lumia-1020-leather-protector-white-2/

Hi, wondering if you liked the product you received from Gadgets2us (the one you bought for your sister). Do you think the benefit of the lens cover is the big thing, or do you think it also protects phone from drops? Can''t tell online how sturdy I think it is. Thanks!

This look awesome, unfortunately I don't have Lumia 1020, just only 920 :(

I love this case just as I love the 1020, but unfortunately I own the 920

I just think its too lump the thicknes of the shell is already covering the bulb of the camera. On top of it there comes the extra layer making it lump. I think there only one conveniant way too protect the camera that is the conventional sleeve. And for where im working with the camera i use the camera grip. The sleeve protect the touchscreen also and when u get it out i fully enjoy the beauty of a naked lumia 1020 :)

The white one with golden buttons is truly agly the buttons should be black.

"And i want to paint it black"

off putting?? well I think it's perfect! I can use it on my work-time and take it off elsewere. Imagine the look on people's faces when that yellow monster comes out :p

How come there are hardly any bang on marching colours for the entire range apart from the official Nokia charging shells? Surely Nokia could provide the colour codes they use online?

White with leather cap will be mine in 10 days :D

Would love to buy wireless flip-case if available. Any suggestion?
Windows Central Newsletter
Get the best of Windows Central in in your inbox, every day!
Thank you for signing up to Windows Central. You will receive a verification email shortly.
There was a problem. Please refresh the page and try again.