Review - Logitech T650 Rechargeable Touchpad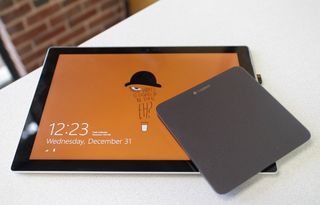 Windows 8.1 has made us rethink the way we interact with our computers. The traditional type and click keyboard/mouse setup has been augmented with touch screens and gestures, sometimes to the point that mice are being left out of the equation all together in favor of touchpads.
However, built-in touchpads on laptops and keyboards can be uncomfortable to work with on a full-time basis. But for some, a full-size one can be more efficient and ergonomic. For those of you who favor the glide of a pad over the grip of a mouse, we offer up the Logitech T650 Rechargeable Touchpad for your consideration.
Design
The Logitech T650 Rechargeable Touchpad is simplistic design at its finest. It is a semi-glossy black slab measuring 5.9 by 5.7 inches, with a slight incline to support the hand. It is solid, feeling more like a fixture than a device and giving you a solid foundation for you to navigate on.
The smooth glass surface of the touchpad offers just about the perfect combination of glide and friction and the rubber feet on the bottom keep it firmly in place so there isn't any fumbling as you slide, swipe, and click around.
And there are no batteries to mess to change. The T650 has a built-in battery that is charged via MicroUSB.
Setup
Like many of Logitech's other keyboards and pointing devices, the T650 uses their Unifying technology. Just plug in the included USB dongle and turn on the touchpad. The Unifying dongle and software can be used to connect up to six different Logitech devices.
You will also be prompted to download and install Logitech's SetPoint software, which allows you to tweak scrolling, clicking and swiping functions, among other things.
Using it
In full disclosure, I am usually a mouse guy and not a heavy trackpad user. That being said I really love this device.
The texture and size of the touchpad make navigating around the screen fluid. Even highlighting text by clicking and dragging was pretty easy because of its size.
Clicking can be done either by pushing down on the pad like a mouse button or by tapping it, like on most trackpads. Right-clicking is done the same way, but with two fingers. Middle-clicks are done with three fingers.
The gesture controls on the Logitech T650 are many. There is four-way scrolling, forward\back controls, and pinch-to-zoom.
Swiping can be used for the Charms bar, Apps bar, Start screen, switching between applications and more. If you want to do it, chances are, you can with this touchpad It is fully customizable using the SetPoint software.
For instance, I repeatedly found myself switching between apps accidentally, so I turned off that gesture control.
Conclusion
Logitech has put together a fantastic touchpad. The T650 is everything you could want and more. It is comfortable to use and packed with functionality. With a rechargeable battery that lasts up to one month (according to the product description), this is an excellent device for home or travel. And its slim profile makes it perfect to slip inside your bag.
If there is anything that people may dislike about the Logitech T650 touchpad, it will be that it lacks Bluetooth support. That is a legitimate gripe for anyone who owns a tablet without a USB port. But that is really the only strike the T650 has against it.
If Bluetooth isn't a deal-breaker for you, then I cannot recommend the Logitech T650 Touchpad enough. And at $31.99 on Amazon (opens in new tab), it's a steal.
Do you know of a cool must-have accessory for the Surface Pro 3? Let us know in comments and we'll see about reviewing it!
Windows Central Newsletter
Get the best of Windows Central in in your inbox, every day!
How will this work on something RT based like the Surface 2?

Works like a mouse. It's just touch.

Except all the gestures still work, so not just 'like a mouse'.

I was referring to plug and go.

Indeed, plug and go and STILL SUPPORTS THE GESTURES. My point stands.

Haha. Mine too. You just added some more descriptive information.

Over the last week I've added this to my Amazon cart several time then removed it. I was going to buy it for my desktop PC. I think I might just buy it. At £35 you can't really go wrong can you. That'll make two mice and a track pad on my desk... too much?

Haha I have two mice and a this pad! Had it over a year now. Works well enough. The battery is decent. I tend to use it more when I'm more relaxed in my chair for my PC. Makes things easier then.

this thing is way too expensive in Malaysia.

Digging the Clockwork Orange wallpaper.

I bought this several years ago and returned it to the store after a few days. I found the performance to be erratic at best. The cursor did not always respond to my motions, and it did not scroll left and right, or up and down well. Went back to a mouse (Logitech Anywhere MX to use on a glass desk) and haven't looked back since.

You either had a faulty one or USB3 interference from a poorly shielded PC. In reality it is exceptionally smooth and responsive. Your post is rather misleading.

Strange, I had the same experience with their keyboard touchpad combination. Tried different USB ports with the same results. I have ordered another one from Amazon today. We will see what happens.

OK, so you have a general issue with their input devices and this may not point at a problem that is not with their input devices how?

Try using an extension cable for the dongle. If that works, you have poorly shielded USB3 ports. This is a problem for all 2.4GHz devices.

As an update, I have been using this for about a week now, and am getting used to it. I have one problem. When I try to do a screen capture using the OneNote feature, the touchpad does not always allow me to drag the cross hairs across my target in order to perform the capture. Frequently, the cursor moves but does not highlight the target, or it starts the process halfway through. I also have Snagit and do not have the same problem with that program. If anyone knows how to remedy the OneNote problem, I would appreciate a posting. Having said this, I still keep a mouse handy for photo editing in Photoshop Elements, as I doubt that the touchpad will give me the precision that I need in the editing process. For ordinary work, it does seem to fill the bill.

That is too bad. I actually had the opposite experience. There were times that I found it almost too responsive.

Do you have a shitty PC running windows?


I like that you can use a single (unified) usb receiver for all Logitech input devices, so that your not clogging up all your usb slots. I wish this is something Microsoft would introduce on their input devices. I know many would prefer not to use a usb receiver at all but Bluetooth devices seem to have the worst experience.

So can you scroll documents etc? Or are the gestures only what that screenshot shows?

Yes, you can scroll within apps.

This device makes Win8 on non-touch screen devices. Unfortunately Win8.1 keeps using the legacy non-touch context menus and other such legacy UI elements on the start screen etc. even though Windows detects that you are using a touch capable system according to system info. When MS sort out the bugs and restrict legacy UI elements to non-touch systems ONLY, it'll be invaluable again. It is still great, but I recommend Win8 with this device until 8.1 is made properly touch compatible.

Disagree. I've been using the T650 with Windows 8 and now 8.1 since virtually day one. I see no issues using it on a 8.1 device. Unless I am totally missing your point the context menus you mention are merely cosmetic not a functional problem.

The small, legacy context menus offer a much smaller area to tap with broad stroke touch devices like this. They are fine with old style mice, but much less appropriate for touch devices which is why they are supposed to switch to Metro on touch systems. Unfortunately this mechanism is broken on 8.1 and cannot be manually forced in the registry. Though it does work with the pad as I acknowledge, it does not work as well with it as Win8 original does due to this bug. Still worth using a T650. Better experience on a fully touch compatible OS like the original Win8 though.

Thanks for the mini review Seth. I have had eyes on this touch pad for a while now. I have an external touchpad for my Mac mini and found I used it more than my mouse. Since I'm using my Windows 8.1 box more these days, I'm hoping the functionality of this is comparable to what I'm used to. Looks like it just might be.

I have one on my 8.1 desktop but I rarely use it. It's very responsive and nice. But a lot of times I forget it's there and use my mouse instead.

I've had one for a year or two now. I hardly use it. I find it very difficult to do a right click, and that's a deal breaker for me. There's a small area that executes a right click and it isn't marked or textured differently. Otherwise it's nice, though it could stand to be a little bigger for using gestures if you have large hands.

Tapping with two fingers brings up right click, I don't even have to "Click" or hit a specific corner. Works anywhere on the pad, man.

Does it work with the win 10 trackpad gestures? The dell I'm running it on was far before mulitouch trackpads.

I've had this since the launch of Windows 8 (Logitech dropped it in October 2012 with the W8 launch) and loved it! Only thing that upset me a bit was when I realized there's a Mac equivalent of this that uses Bluetooth instead of the unifying receiver. I ran to it immediately when I saw it on clearance. Surpringly, it works fine in Windows 8. Just pair it through the Bluetooth config and you're off.
Beware that Setpoint DOES NOT let you customize the gestures on the Mac Bluetooth version. For that, I went back to the Windows version. I highly recommend both. Setpoint really unlocks the power to these devices, so get familiar with it.

Really wish manufacturers would provide more offerings that use Bluetooth. Is there something about Bluetooth specs that makes this problematic?

I just picked up a T650 for my Surface Pro 3 that I got for Christmas. It is an amazing trackpad and my only complaint is the lack of Bluetooth. However, my plan is to get a docking station for the surface and the dongle will not bug me much then. I think that the T650 is far supior to a mouse. I have used the Magic Trackpad for my Mac for years and I am happy to be able to use an equal solution on Windows.

Really depends what you're used to. I personally hate touch pads, never got used to them. Mouse is the only way to go for me. It's a personal preference.

You are correct, but then again, not all touch pads are equal. If the only touchpads that you have tried have been on Windows laptops then you probably have not tried a really good one. This Logitech one, like the Apple ones, honestly provides an experience that is much more like a mouse than you would expect.

That wallpaper looks good! Link please?

I was expecting more from this review as a regular Microsoft Touch Mouse user on window 8.1. I would like to know how does dragging icons across a large screen work? Can any of those items in the setpoint screen shot be assigned to any of the other gestures? How is intercompatiblity between desktop and "windows 8" apps? e.g. can you switch between desktop items and win 8 items? How does the 'back' gesture work? Can you scroll with one finger like the touch mouse, hate scrolling with two fingers? Can you list all gestures and all possibly actions in a table?

Great review article Seth...so much so that after reading your article I went to Amazon, had it shipped to Bangkok and just installed it. Setup was pretty straight-forward (as always with Logitech) and I'm now making use of the T650 as it does its first charge. Having been a mouse man for decades, this takes remarkably little time to convert to. I was using the T630 ultrathin mouse for both my Lenovo AIO and my Surface Pro 3. Now that the trackpad is up and running, the t630 now becomes a dedicated SP3 peripheral (which it is outstanding at BTW). Also, since I use a Logitech K800 keyboad (the BEST), I connected to the AIO just using the existing USB dongle....cool!
Windows Central Newsletter
Thank you for signing up to Windows Central. You will receive a verification email shortly.
There was a problem. Please refresh the page and try again.