Review – Microsoft Wedge Touch Mouse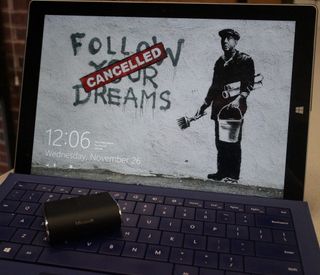 Often times it can be difficult for laptop and tablet users to adjust from working with their home setup to doing work on the road. Moving from a full-size external keyboard and mouse to the device's smaller keyboard and touchpad or a travel-size mouse can be uncomfortable.
As someone who works this way fairly often, I feel it is important to point out when I come across something that helps create a consistent computing experience whether I am at home using my Surface Pro 3 on its dock or working remotely at a coffee shop.
Microsoft's Wedge Touch Mouse is just such a device, though you wouldn't necessarily think so based on its design.
Half the mouse, all the comfort
The Wedge Touch mouse is an interesting creature. It looks like someone cut off the front half of a traditional wireless mouse and rounded off the back of it. The result is a small electronic wedge that you hold between your thumb and pinky and/or ring finger, using your other two fingers for clicking and scrolling.
When I first laid eyes on the Wedge mouse, I thought that there was no way it would be comfortable to use. And though it took a little bit of getting used to, I was wrong. Not having the palm rest actually makes movement feel more natural because you don't need to raise your wrist off the surface you are working on. You can also move it around quite a bit using just your fingers if you want, allowing you to get a lot of range in a small amount of space.
One concern I had about this design was that the lack of palm support may lead to fatigue or hand pain. After several hours of use, I can report that that has not been the case. I could just as easily use this mouse as my primary at home, as well as for traveling.
Form and functionality
It's often said that big things come in small packages. This certainly rings true for the Wedge. In addition to the typical right and left buttons, the Wedge has gesture recognition for scrolling up/down and left/right. There is also a "flick" function for fast scrolling in any direction.
Using the Microsoft Mouse and Keyboard Center, which you should install when connecting the mouse for the first time, you can tweak these settings. You can adjust the scrolling speed, inverse the scrolling direction and turn off any of the gesture controls.
The tracking on this mouse is fantastic. It uses Microsoft's BlueTrack Technology, which tracks on just about any surface. I tried it on directly on my glass desk and it worked almost flawlessly.
And to top it all off, the mouse is Bluetooth-enabled, so there is no USB dongle to keep track of. You just turn it on and you are ready to roll. Even better, the Wedge works across platforms, be it Windows, Mac, or many Android tablets.
I found it a perfect complement to my Surface Pro 3
Easy setup
Getting up and running with the Wedge Touch Mouse is a breeze. There is a single AA battery to insert, then once powered on, the Wedge immediately starts up in pairing mode. Navigate to your Bluetooth settings and add it as a device.
I also recommend installing the Microsoft Mouse and Keyboard Center, as noted above, so you can take full advantage of its features.
In conclusion
Microsoft's Wedge Touch Mouse is fantastic. It is compact enough to easily tote around, yet comfortable enough to use as your main mouse. If it had forward/back buttons, I would say it was perfect. But, that is just a matter of preference.
The Wedge retails for $70. I think that is pricey for just about any mouse unless it is a high-end gaming device. Thankfully, I found it on Amazon for about $37.00 (opens in new tab). As far as I am concerned, it was money very well spent.
Do you have any accessories that you love and would recommend? Let us know in the comments below.
Windows Central Newsletter
Get the best of Windows Central in in your inbox, every day!
Wish that beast is cheap in turkey. It is $120 due to taxes

Someone could always buy for you and mail to you as a gift :) $60 would probably cover that.

Wow! I only paid $25 Australian.

Where did you get it from?

Why not use the German and UK Amazon/Ebay sites and have the sellers post the stuff to Turkey?

My sister has one of these for her Pro 3 she loves it. It does feel very nice.

I have been using the wedge mouse for the last year. Yep, it's great! And no dongle!

Battery life is an issue, as is right-clicking accuracy, but other than that, nice.

I bought one intialy for the SP1 when using the desktiop. I use it less now I have a SP3. i agree with the comment about the battery life. I have had to replace the battery a number of times, as it inadvertently gets turned on when it is in my briefcase.

I have used both. I returned my Arc Mouse in favor of this one. The scrolling is much better, and I prefer how this one feels in-hand.

I'm torn between the two, was this one that much better than the Arc? Thanks

My girlfriend got the Wedge and I got the Arc one year ago. We both agree that scrolling on the Arc is a lot easier. The surface is easier to use because it doesn't require any gestures and your middle finger finds the strip where to scroll.

does the scrolling on the arc support right/left scroll?

I've been using it since launch (almost two years). Love it to bits!

Arc touch surface edition mouse seems to be a better option.

Agreed. I love that device.

I have the Arc Touch as well. I like the thinness of it while stored in the pouch of my Surface Pro 3's soft case. It also turns off while in the flat position.

I like the regular arc mouse with real buttons. We have one and it is quite nice.

Agreed. I had the wedge mouse but switched to arc touch. Wedge it's just too small, scrolling is awkward.

I'm about to buy a Logitech Mouse since I'm rocking a G430 7.1 Dolby Surround Sound

I had purchased this when I first got my original Surface. Great build quality and, if you can deal with it's small form factor, a great little mouse for regular usage. However be warned, if you are planning on using it for any sort of gaming where you need to hold down one mouse key while hitting the other (ala aiming down sights in a fps then firing) it does NOT work. Unless more recent models have changed, it seems both left and right clicking use the same physical switch.

Yep, like most touch mice (including the Microsoft Touch Mouse for desktops and the Apple mouse) left/right detection is done via touch. This allows the click action to be sturdier, but does sacrifice bring able to click two at once. Both at once just sounds awkward even for a game -- can it not be remapped?

No middle click either! Just scroll :|

I want to like this mouse but tried it and can't get used to it. Also tried the Arc Touch and it just doesn't feel like enough there to move like I'm used to use.
I wound up settling for a Arc Comfort Mouse. Love this thing. Have actually switched 4 others to this mouse after they used mine and wanted one too.

Does the wedge mouse have haptic feedback when scrolling like the arc touch mouse?

It does not have the haptic feedback.

I have been using this mouse for months. I use it with my 8 inch Toshiba tablet. I love this thing.

Which is better in your opinion? Arc touch mouse or the wedge? In terms of comfort?

I prefer this one over the Arc in just about every way.

Ok! :) Thanks for the superb review. I own the arc currently. Need a new mouse for my laptop. Will buy this! :)

Same here. The arc is much easier to use when it comes to scrolling and it has a middle click. And you don't have to lift the left finger if you want to right click. My GF got the Wedge one year ago, whereas I got the Arc with BT and she agrees she would buy the Arc instead.

Amazing mouse, I think better than the Arc, smaller and almost as thinner but is a matter of preferences I think... It's super comfortable.

Amazon UK are flogging these for £19.99 right now. I have one and quite like it but the scrolling is pretty poor in my opinion. Otherwise I'd recommend it.

I've never understood why so many laptops are made without a trackpoint like the ones found on Thinkpads. Having that makes a mouse unnecessary. I've often don't even think about which hand I use. Left or right makes almost no difference. TrackPoints are the best accessory for a laptop. But this thing does seem like a good option if you don't have TrackPoint.

I like that idea, Microsoft should make a type cover with one of those.

And they should make a much less sh***ty type cover... I haven't tried the newest edition but the old ones were useless...

They did. I had the type cover on my SP1 and the trackpad made me want to fly into a hulk-like rage pretty much every time I used it. The cover on my SP3 is so much better now. The placement of the trackpad is better, the response is more accurate, and the left and right buttons work so much better. Plus, it's backlit. Thumbs up.

I dont know .. I found the trackpoint pretty difficult to use accurately. I resorted back to the good old trackpad. Maybe i dont know how to use it properly.

You should just give it a week or two. My first laptop only had a TrackPoint so that was pretty simple for me. I've never had a better mouse tool on the go. When not gaming...
And I don't envy those fancy gestures that Macs and other devices have. To me they are a result of how poor a trackpad is as a mouse, and they are no more than a shortcut to wrist pains and other mouse issues.

I love the track point (or "NIPPLE" as we like to call it here). One thing I was really scared of losing moving to the surface line. I still miss it. You can track the pointer around and never take your fingers off home row. I would do anything for a type cover with track point. But with the touch screen, track pad, and my wedge mouse, it almost makes up for it. Almost. Still would love to have the nipple back.
The wedge mouse though, is surprisingly really good.

Isn't there a place where we could ask for a TrackPoint in the next edition :)

I have a Thinkpad and never use my trackpoint. I'd rather use touchscreen or even the touchpad. It's like using a Joystick for mouse, feels totally un-natural.

Always found this mouse interesting but never tried it. Right now I'm using Arc touch mouse (non-surface edition) and the sculpt comfort Bluetooth mouse when I need the USB port

I owned the wedge mouse but never got too comfortable with it. I changed to a Logitech Ultrathin Touch Mouse T630. I love the ultrathin.

I had been toying with the idea of buying this for months now. Earlier today, I managed to pick up a 'refurb' (no packaging but new product) Wedge from Ebay UK for £9 + £3 postage. I have yet to receive it, but reckon it'll be the perfect compliment to my Asus T100 (which has a great little keyboard, but an atrocious touchpad!). Being bluetooth, I can also use it with my tablet without using up my valuable USB 3 port on a wifi receiver etc. Cheers for the review though - makes me even more certain that I went for the right product! Also, for those of you in the UK, Amazon had a lightening deal a couple of hours ago for the Wedge (brand new for £19.99). The lightening deals seem to come around every 36 hours for the same products....so if you want to buy it cheap, keep an eye on the Amazon lightening deal listings. It sold out in about 30 minutes today....so clearly there are lots of people that think it is a cracking bit of tech.

I need that wallpaper on Desktop or on Lockscreen Please??? :-)

Seth probably has the original Banksy on his garage wall.

I wanted a small mobile mouse for my SP3... I considered the Wedge but decided to go with the Logitech Bluetooth T630/T631 mouse. I am loving it and would highly recommend it!
No dongle (Bluetooth), full touch surface (with several fingers programmable gesture), scrolling, win 8 gestures (charms, app swap etc), zoom gesture, etc... Also fast and fully rechargeable over USB (1 min charge = 1 hrs use), great autonomy (few weeks). Tiny mouse and very comfortable to use (to the point I am now also using this mouse for my desktop)....
Available in black or white (I have the "mac" one which is exactly the same as the black "PC" one but in white...).

Love my Logitech anywhere MX. I need a middle mouse button for Maya.

Nice review, Seth. I was wondering what the advantages of having a mouse with the SP might be. I found that once I started using the touch screen I immediately got used to not having a mouse. Is it just personal preference or have you noticed any mouse advantages? Thanks.

Thanks for the kind words. It really depends how I am using my Surface, but typically, I use it in laptop mode while I write, etc. I tend to switch between a lot of browser tabs, highlight text, copy/paste...all things that, for me, require more precision than my fingers. I also have a dock for my Surface, so I do use it in desktop mode as well. The mouse just makes it all easier for me. Though I do agree that the Surface is very touch-friendly.

Love the mouse... I have had that that the wedge mouse since they were released. Love em! They are my daily drivers... I also love the arc touch mouse!! I have the original with the USB dongle... If I did not have the wedge mouse, I would buy the Bluetooth arc touch mouse...

Bit too expensive, and it has no multi-touch support which makes it impossible for middle burton bindings. Wish they cared not to compromise

I personally didn't like it. It had issues connecting with the Surface Pro. I now use the Logitech Ultrathin T630. It is incredible in my opinion.

Ditto... The Logitech T630/T631 is absolutely great... I love it (see my previous comment above in this thread)

I have one, I like it. But I much prefer the Arc Mouse. Better for travel and much more comfortable, in my opinion.

I fully agree. My gf has the Wedge mouse whereas I got the Arc Mouse with Bluetooth. She would immediately switch, now after 1 year of usage. She has problems with scrolling very often - it is much more comfortable with the Arc.

After 1 year of use, it stopped working correctly and Microsoft got it discontinued from its replacement inventory. I had to get used to the lack of the middle button and lots of issue with the touch scrolling and bluetooth connection (worst with Windows 10 each time I install a new preview build), I won't recommend it although I love its design and portability.

Crap. Exchanged for a Logitech within a week. Connectivity issues with several laptops :(

I had one of the first models they came out with in this wedge form. Tried it for a week before returning it. It was ok at best. My main issues were the surface would not register it for a few seconds every few hours. Also my biggest issue was no middle button. I do heavy 3d modeling on my surface and a middle mouse button is a key thing that makes workflows go fast. But if you just browse the web, this thing i'm sure works great.

Had both, the Logitech rocks... The wedge sucked

Worst purchase I've ever made. Key reson? No goddamn middle click. Makes a heap of programs I use actually un-usable, as well as being a PITA when even internet browsing if you want to open links in a new tab. Learnt my lesson that touch scroll sucks if it removes middle click alltogether, and to be very careful purchasing mobile mice in the future.

I seem to be addicted to small mice. I have tried most if not all of the current bluetooth crop. This was the first one. I picked it up with my Surface. I found the unit a bit on the small side for me. I also found that it would tend to turn on in by bag too easily. When the ARC bluetooth version came out I switched to it and for me it fit my hand better. The way it folds flat to turn it off is also nice. Then I wanted a mouse for my Dell tablet, but didn't want to carry 2 devices. I found the Logitech T630 and it is my favorite by far. It pairs to 2 devices, has a great power switch that doesn't accidentally turn on and the big one for me is that it is rechargeable via micro USB. It too supports the gestures including a couple that the MS ones didn't.

It took the fourth photo before I understood the wedge name.

Anyone else have issuest with the battery maintaining contact? Sometimes I have to give it a good shake to get started...

I have used the BT version of the Sculpt touch mouse ever since my original Surface RT and love it. I do use the Wedge Keyboard though.

never knew about this, looks cute..

I absolutely LOVE my Wedge Mouse, as it is very responsive and easy to use. No problems, whatsoever.

Where can I get that lock screen wallpaper?

Unfortunately I'm used to having 13 buttons... Mobile mice just don't cut it for me any more :(

The wedge mouse - and keyboard - are both truly excellent products that I would recommend to anyone. That said, I more than agree with those who suggest that a better solution than having a separate mouse is to have keyboard with a TrackPoint. Especially for those of us who prefer a TrackPoint to those pesky touchpads that send the cursor all over the place when accidentally touched and are in any case far less direct. I have jsut received the solution that I have been waiting for in the form of a Lenovo BlueTooth keyboard with Trackpoint. Therefore, much as I love, and will continue to use, the MS Wedge keyboard and mouse to carry about, the wedge keyboard cover providing a stand, for desk use with a tablet I will be using: http://support.lenovo.com/us/en/documents/pd026744 The version that I have from PC World Business is part number 0B47187 which has a UK keyboard. Not remotely cheap but seriously good. Included is a rechargeable lithium battery. Generally speaking, I am utterly defeated as to why more devices do not use a TrackPoint.

This mouse kept mixing up left and right clicks all the time, could never get it to register a right click. Ended up upgrading to an arc mouse for my SP3 and never looked back!

Will not pair with my Gateway laptop running Windows 10. Does not see the mouse. Using an external Bluetooth USB dongle since the PC has no native Bluetooth support. Tried on my 1 1/2 year old ASUS laptop - no better luck. Device Manager showed the mouse. Uninstalled it, restarting PC and will try again.

My wedge mouse was working fine on my new acer laptop then I loaded windows 10...and it is now a door stop. WTF? I cannot find any solutions online. Help!

I got mine thru a rewards program from my credit card and points were about to expire. I loved the design as a Surface companion. But it was not until I really needed a mouse that I realized the lack of middle click. You know, it's so OBVIOUS that a mouse has to have a middle button nowadays that one doesn't even think about that when purchasing. Now I'm looking for a way to work around this. The mouse has a lovely design in every aspect. Except of this major flaw.

I bought the Wedge Touch Mouse for my SP1. I liked it a lot. Then I bought the Arc Touch Mouse when it came out. I tried using it for two months, convincing myself that having to cradle that giant thing under my hand wasn't so bad. Also, pretty sure I was getting carpal tunnel from using it. Now it sits in the basement in its stylish box, collecting dust. Still using the Wedge that I bought years ago and loving it. You can rest your palm on the mousepad and guide it with your fingers. I find it to be very precise and very comfortable to use. I love you, Wedge Touch Mouse.

This is an interesting mouse. It takes a bit to get dialed in, but then yields many of the functions of a tablet-for those of us who don't have a touch screen. You can swipe left, swipe right, and flick your way heavenward and adjust everything. That's where the dialing in the mouse comes in. Read the manual. And like some athletic 5'2" blonde haired blue-eyed beauty who garners attention wherever she goes,you can't take your eyes off of her. She's got great lines, a spring to her step, and she begs to be used. She has good balance, steers easily, and looks good just sitting there. All that, and no guilt, no shame, and no calories. What can be wrong with that? Like our adventurous blonde, if you don't take her home. you'll always wonder.
Windows Central Newsletter
Thank you for signing up to Windows Central. You will receive a verification email shortly.
There was a problem. Please refresh the page and try again.