Review: Nite Ize Cargo Clip Case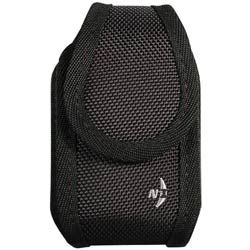 If you have any experience with Nite Ize, no doubt you've seen their rugged, blue collar cases. Although they've dabbled in more traditional leather pouches and such, a Nite Ize case is typically characterized by tough rip-stop nylon and a belt clip that is practically indestructible. The Nite Ize Cargo Clip case is another addition to their line of rugged cases.
Click through for the full review.
Design
If you're looking for a sleek and professional looking case, this is not the case for you. This is definitely a form follows function situation. The fact that the case is offered in Black, Blue and Mossy Oak (Camo) should be some indication that the whole idea is to be a tough case for a tough lifestyle. In addition to the industrial grade materials, the velcro closure and plastic belt clip are about as sturdy as possible without making them impossible to use. I personally don't like the extra storage inside the main compartment, as having a pen or similar instrument rubbing up against my phone all the time doesn't sound like the best idea.
Storage Capacity
Nite Ize's Cargo Clip Case features another indispensable feature that distinguishes Nite Ize from other manufacturers, and that is the "Cargo" capacity. The Cargo Clip Case features the main pouch for your phone, inside of which is a thin elastic pocket to hold ID or other cards as well as a pen holster. The back of the case (between the main compartment and the industrial grade belt clip that is the signature of a Nite Ize case) features another pocket that is perfect for a knife or multi-tool. Lastly, an elastic band runs up the back to the top of the case and can be used to attach a small Bluetooth headset.
Conclusion
There's no doubt in my mind that if you need a rugged case that Nite Ize is one of the few manufacturers that can meet your needs. Of the rugged cases that Nite Ize offers, the Cargo Clip Case is one of the more slim cases that are offered. If you're looking for a case that is going to hold up to your lifestyle without forcing you to carry something that is going to make you walk sideways for the rest of your life, give the Nite Ize Cargo Clip Case a look. $12.95 is the going rate for a case that would make any blue chipper happy.
Swipe to scroll horizontally
| | |
| --- | --- |
| Ratings (out of 5)Design: 5Storage Capacity: 3Overall: 4.5/5 | ProsExtremely durableInexpensiveConsNot exactly a fashion statement |
George is the Reviews Editor at Windows Central, concentrating on Windows 10 PC and Mobile apps. He's been a supporter of the platform since the days of Windows CE and uses his current Windows 10 Mobile phone daily to keep up with life and enjoy a game during down time.
I have this case for my Blackberry, I also have two OtterBox's for a Treo 680 and an HP Ipaq 211, and this case holds together much much better. The proof you say, I have had two 1921 Treo 680 cases break and two Hp Defender cases break. However, it does not offer the same type of protection as does these OtterBox's and I have yet to break the 1900 series case from OtterBox I hardly use because of its humongous size. That being said, I have had mine Nite case for quite some time; can't remember exactly when I bought it since I spend so much of my disposable income on all things mobile, but I can say I have been extremely happy with the quality, performance, and diversity of this case.

Yes,great.I love the article, I have the same belief with you,so let me introduce the area to you.Now vivienne westwood Jewellery become more and more popular within all kind of people. Juicy couture is a kind of juicy jewelry . It won a good reputation. Vivienne westwood often held its regular discount activities,such as vivienne westwood Jewellery ,juicy jewelry and fashion vivienne westwood jewellery earrings so on.In these activities vivienne westwood sale got great success. juicy couture consists of four main aspects, vivienne westwood necklace and vivienne westwood bracelet,vivienne westwood earrings ,vivienne westwood rings,vivienne westwood pins,vivienne westwood keyrings,vivienne westwood sale,vivienne westwood online ,vivienne westwood uk.
vivienne westwood series are worthwhile than other juicy charms coutures. They have a lot of vivienne westwood jewellery,for example vivienne westwood necklaces, vivienne westwood earrings, vivienne westwood bracelet , vivienne westwood rings ,vivienne westwood earrings and vivienne westwood sale. Vivienne jewellery is a new jewellery brand,it include all vivienne westwood keyrings ,such as vivienne westwood online , vivienne westwood necklaces, vivienne westwood jewellery ,vivienne westwood and vivienne westwood pins and vivienne westwood sale and vivienne westwood uk so

With a little velcro to help secure, these are the best cases I have ever bought. I have comeplete trust in these (I have 2). My phones never fall out & if you get the other you can add other items that you can also carry with it. 5 Stars.

one day i went shopping outside ?and in an links of london store?I found some kinds of links of london i love most?they are: Links of london charms online Links of london charms online Links of london charms online Links of london charms online Links of london charms online Links of london charms online Links of london charms online Links of london charms online Links of london charms online Links of london charms online Links of london charms stores Links of london charms stores Links of london charms stores Links of london charms stores Links of london charms stores Links of london charms stores Links of london charms stores Links of london charms stores Links of london charms stores Links of london charms stores

For those looking for a case to hold their Tilt 2 / Touch Pro 2 w/Extended Battery, this case will handle it. I use a block of pine to pre-stretch cases for my extended battery devices, but I didn't need to do that with this case. It's a little bulky because of its rugged design but my thick Tilt 2 slides in without any effort and there is not struggle to get the phone out of the case to answer a call. The leather version of this case is a tad tighter, and looks a bit more elegant, but can be stretched to hold the extended battery with a little effort.
Windows Central Newsletter
Thank you for signing up to Windows Central. You will receive a verification email shortly.
There was a problem. Please refresh the page and try again.