Review: Plantronics Voyager 815 Bluetooth Headset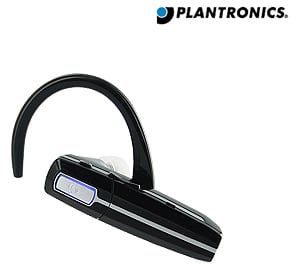 How many times have you found yourself holding your hand to the side of your head pushing your Bluetooth headset into your ear trying to hear what the other person is saying because where you are is too noisy? With so many of my headsets in the past, even riding in the car on the freeway with the radio off is enough noise to make it difficult to hear with my Bluetooth headset. Well if you can relate to this more than you care to admit, then you might be interested to know that there is an answer. I have been using the The Plantronics Voyager 815 Bluetooth Headset for a month now and I have certainly found it easy to use in noisy enviroments... along with some other unexpected hidden surprises.
Physical design / Build Quality
The Plantronics Voyager 815 is simplistic in design, but do not let that fool you with its quality of features, comfort, or sound. The most obvious feature I noticed when first taking it out of the box is that the actual earpiece that fits in your ear is designed to be like an earbud. It blocks out all other sound due to the earplug style earbud. It also is snug enough, that for many, the over the ear loop might not be necessary as it will stay snugly in your ear. For me, just for the piece of mind, I have attached the ear loop. You even get a selection of 3 different sizes of earbuds and two sizes to choose from if you decide to use the ear loop. The result is a very customized comfortable fit.
The casual user probably wouldn't even notice at first that the Plantronics Voyager 815 slides open to extend the microphone boom closer to your mouth. This also acts as a switch for answering the phone when extending it while the phone is ringing, and hanging up a call by closing the slider during a call. I have come to really like this feature as I never have to fumble to find a button to push to answer and end a call. Once extended, the boom seemed to have more wiggle than I would have imagined. In spite of this giving me a less than optimistic first impression of the quality of build, after a month of heavy use, I have found this to not be a concern at all.
Pairing
Pairing a Bluetooth device to a WM phone can be an unwelcome and frustrating adventure. This was not true with the Plantronics Voyager 815. The first time you turn it on, it immediately goes into pairing mode. I just set my phone to find another device and that was it. I was able to use it within 30 seconds of turning it on for the first time. This is what they call Plantronics QuickPair technology, and it worked flawlessly.
The directions do show you how to manually turn on the pairing mode, in case you want to use it with another device as well. In fact, you can have two phones hooked up to the Plantronics Voyager 815 at the same time. You can then take calls from both phones using the one headset with their multipoint technology.
Sound Quality
No matter how comfortable a BT headset is, if it does not sound good, it is useless. This device uses Plantronics AudioIQ® technology that Plantronics claims will give digitally enhanced sound quality for both ends of the conversation. I have found that there is something to this claim. In my opinion it is step above the average BT headset with sound quality on both sides of the call. Even in the wind, the other side could hear me good enough to carry on the conversation without ever once saying "What was that?".
The earbud design does a great job in blocking out other noise around you, so I found myself rarely raising my hand to my ear to push my headset closer to my ear so I could hear the other person talking. If you find yourself in a lot of noisy environments, i.e. loud car, restaurants, loud work place, etc., then this will be a huge benefit. If you are normally in quiet environments, i.e. home, quiet office, etc., then this may not be your top feature as you may feel like you have an earplug in all the time. For me... I travel a lot and find myself in noisy airports, retail locations, in lots of rental cars that often times have a lot of road noise, etc., so I personally greatly welcome my new found ability to hear a lot easier in noisy environments.
Swipe to scroll horizontally
| | |
| --- | --- |
| Ratings (4 out of 5)Overall: 4 stars out of 5 | ProsComfortableBlocks out noise to make it easy to hearGood sound on other sideWorks good in windVery easy to pairExtendable microphone boom acts as call answer and hang up slider.ConsWhen extended the boom feels a little looseCould feel like it is blocking out too much sound if used continuously in quiet environments |
Just the Facts
Easy pairing with Plantronics QuickPair technology
Digitally enhanced sound quality on both sides of a call with Plantronics AudioIQ® technology
Switch seamlessly between two Bluetooth devices with multipoint technology
Sliding boom for enhanced voice quality
Sliding boom conveniently answers and ends calls
Innovative ear bud seals out external noise
Microphone mute for multi-tasking and conference calls
Wearable, compact, lightweight design
Up to 7 hours talk time and 180 hours standby from a single charge
Comfortable and lightweight at only 11 grams
Get the Windows Central Newsletter
All the latest news, reviews, and guides for Windows and Xbox diehards.