Review: QoreFunctions PushEffect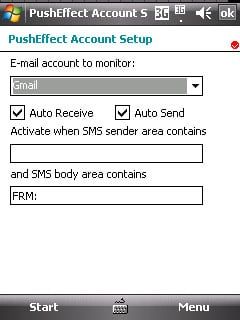 Push email is one of those things that could be considered the Holy Grail of mobile communications. For those of us that connect to a Microsoft Exchange Server on a daily basis, we've been experiencing this phenomenon for a while now. The problem is that Windows Mobile doesn't support push email standards like IMAP Idle, which are supported by Google's Gmail and other free email providers. Workarounds have been detailed on this site in the past to receive notifications from Gmail in particular. Everything from third party mail apps to simply forwarding a text message to your phone have been suggested.
PushEffect by QoreFunctions is a utility that enables push email on your Windows Mobile device. It uses existing technologies and a small application that runs in the background to accomplish this task. There are some caveats to getting this working with your email provider of choice. I've got the full rundown for you after the break.
Technology
The way that PushEffect works is that it listens to your SMS queue looking for messages that match the parameters configured for a particular mailbox. Once it sees one of these messages, it activates the send/receive function in Outlook and performs a standard sync.
Implementation
So those caveats that I mentioned. First of all, you need to be able to forward text messages from your email to your phone. Many email providers support this natively, but this would be where you would run into the biggest issue. Most cellular carriers provide an email address that forwards to your phone as a text message. For ATT, the email address is [your 10 digit phone number]@txt.att.net. Once your mail provider is configured to forward these messages to your phone, PushEffect must be configured to know what to look for in the incoming texts. By default, the only thing that it looks for is an @ in the SMS sender area. On ATT, I configured the sender area to be blank; while the SMS body area contained "FRM:". Your configuration may be different depending on your provider.
Conclusion
The benefits of PushEffect are obvious, but the issues might not be as clear. The biggest issue that would kill this method for you is if your email provider just doesn't support forwarding messages. Many free email providers do provide this functionality, but I would look in the FAQ's or other documentation to see if forwarding is supported. Also, this method could cause problems for those who use email in excess, but don't pay for a text messaging plan. To be clear, this method will send you a text message for every email that you receive. These text messages will be invisible to you, as PushEffect intercepts any that match the criteria you define.
PushEffect is available in both Windows Mobile Professional and Standard flavors from the WMExperts store for $19.95. That price seems a little steep for the limited amount of functionality that it provides, but it is a one time fee instead of a monthly subscription required by many of the hosted Exchange solutions out there.
Ratings (out of 5)

Technology: 4Implementation: 4

Overall: 4/5

Pros

Uses existing, standard technologiesMuch more cost effective than subscription based services

Cons

Requires flexibility from email providerRequires text messagingSetup can be difficult
George is the Reviews Editor at Windows Central, concentrating on Windows 10 PC and Mobile apps. He's been a supporter of the platform since the days of Windows CE and uses his current Windows 10 Mobile phone daily to keep up with life and enjoy a game during down time.
I don't see the point in this, why not just forward your emails to a hotmail account and set up windows live on your phone? That's a free way of getting push mail to your phone.

There could be a lot of reasons. Some might not want to create another account if they're not already using hotmail. Some might dislike hotmail. There could be issues with the volume of mail that you already receive on your Hotmail account. This way, when you hit reply, it's coming directly from your Gmail account.

I've been using the beta of Grudensoft's Email Scheduler for some time now with pretty good success. I originally started using it so that I could have better automated email checking based on a schedule, but a recent update also included IMAP Idle support for Gmail and other kinds of email accounts. And it's FREE. http://gudensoft.com/?p=236

Does anyone have real experience with this? Does it save battery life, as SMS is lower power, and you only do a send/receive when something is in the mailbox? Does the app clean up those old SMS? It seems to be this would be a notification nightmare.

The battery life would depend on how often you receive a message. If you only get one every couple of hours, and you sync every 5 minutes then this would probably give you some more battery life. However, every time you get a message, you would get the SMS AND it would perform a send and receive. The SMS messages you receive are transparent (you don't see them) as PushEffect intercepts them and they do not end up in your mailbox.

I've been using PushEffect for a while... No noticeable hit on battery life. They instruct you to turn off automatic send/receive. When you receive a text message with the special text, it triggers a manual send/receive. The notifying SMS is deleted. A gripe I have with the company is that they took 5 days to send me my activation code after I paid for it. I've read similar complaints by others.

I have been using Push Effect on my various Qs (starting with the original Q, then Q9C and now A4500/Napoleon) since its original release, a couple of years ago. It has proven to be a very reliable vehicle to receive push-like email from my non exchange accounts. In addition to my exchange account, I have 1 pop account and 2 gmail accounts. PushEffect is very light on system resources with no noticeable impact on performance or battery life. It is (or at least was) a superior solution (for me) when compared to FlexMail ... small footprint, and it just works. That said, I am intrigued Grudensoft's Email Scheduler. John

I've been using Seven Beta for over a year with gmail. Pretty good client but my battery takes a considerably hit. With PushEffect, there is no noticeable impact like others said. I'm getting mails on time and so far so good. On my Q9 I used to do a similar sequence as PushEffect. I'd forward emails to SMS (needed to conserve as much battery as possible on it!) and manually send/receive if the mail was important. I heard of PushEffect back then but never gave it a look. It's a shame because it's pretty much what I was doing but automatically!

One more contender - Nuevasync now appears to support IMAP email (Gmail and a few others for now) in addition to calendar and contacts ... functionally, a kind of light version of Exchange
http://nuevasync.blogspot.com/2009/07/push-e-mail-is-here.html

For anyone that might stumble across this old post, I didn't get any replies from them until 23 days after making payment. I had opened a PayPal dispute that was only a few days from getting closed when I finally received the activation code. They claimed they had a server down, which is possible, but I don't understand why that would keep them from replying to their Gmail email too.?.? Finally, 23 days after payment, the activation code has been received. The product works as advertised. Customer care, not so much.

The biggest issue that would kill this method for you is if your email provider just doesn
Windows Central Newsletter
Get the best of Windows Central in in your inbox, every day!
Thank you for signing up to Windows Central. You will receive a verification email shortly.
There was a problem. Please refresh the page and try again.