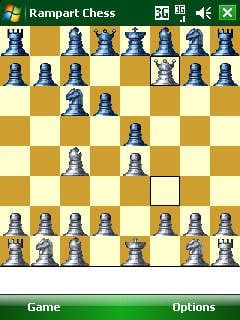 Different board games make the transition from table top to computer/handheld with varying levels of success. Chess, partially because of its structured nature and partially because it is a classic geek game, handles the transition extremely well.
The sheer number of chess programs that are available for Windows Mobile devices is staggering. Rampart Chess ($12.95 from the WMExperts Store) is one entry into the field that is built by Rampart Games.
When I
Windows Central Newsletter
Get the best of Windows Central in your inbox, every day!
Meh.
I'm still using the free Valentin Iliescue chess program. Same one I got for my old h3950 way back during the PPC2002 days. Works fine on my Touch Pro.
Still free.

Tiffany jewelry has been an incontrovertible perfect gift idea. Here we have hundreds of cheap and discounted tiffany silver jewelry,including tiffany rings, tiffany bangles,tiffany bracelets, pendants,tiffany necklaces(tiffany necklace), charms, tiffany earrings,tiffany cuff links(tiffany cufflinks),and tiffany money clips,tiffany key rings for your choice. All our jewelry is 925 tiffany sterling silver guaranteed.

Personally I think chess is finally starting to become slightly outdated. ok the hardcore players will deny it but there are so many other board games out there now that really are very well designed and after 100s of plays are still not boring. Plus of course they can be played digitally (or at least many of them can), bring on the Eurogame!