Review: Seidio Super Slim Hard Case for Mogul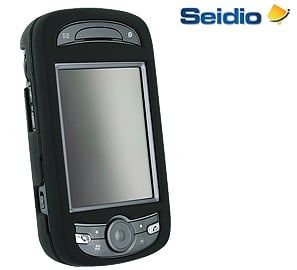 If you are one to carry your phone in your pocket or purse vs on your belt, then you will probably be very interested in Seidio's Super Slim Case for PPC 6800 to help protect it from being dropped, scratched, or dented. I have used hard molded cases similiar in design and function in the past with a varity of phones with various results. I am happy to say the Seidio's attention to detail and their excellent thought out design has proven to be a very sound purchase.
PHYSICAL BUILD
This is a two piece hard plastic case that is only 1 mm thick. It is deceptively strong. The only way I could see breaking this is if that was your intention. It will twist and bend a fair distance and then just spring back to proper shape.
The outward side has a rubberized texture that is nice to hold and to look at. This also prevents fingerprints smudging up the case. The extra added benefit of the rubberized texture is that it helps the phone from sliding on smooth surfaces or while in the car.
I can easily give it 5 out of 5 stars for its physical build.
Physical Build :
DESIGN
One piece snaps onto the face of the phone while the other snaps over the bottom half of the phone. There are little ledges that will snap around the break in the phone where the keyboard slides. I was at first a little doubtful about how well these little ledges would hold on, but that was short lived. Once on, the case is not going to fall off by itself. In fact, considering how easy it is to snap on, I was surprised at how hard it was to remove again. I really had to work at it for a few minutes to take the case back off.
When on, the case is molded to perfection for the PPC-6800. I have access to every single button and the keyboard.
I also have access to my Micro SD slot, reset button, and mini USB port on the bottom. So unless you want to change your battery, there is no reason to take this case off once it is on.
Design :
EVERY DAY USE
Being only 1 mm thick, I have found it very easy to push the buttons while also adding a little extra protection from accidentally pushing other buttons in the process (something I find myself sometimes doing with the Voice Prompt button without this case on). This case gives the phone a nice feeling texture without offering any hindrance in the daily use of my phone.
I have been waiting to find a Seidio accessory for my PPC 6800 that I do not like, and after reviewing their Seidio's Super Slim Case for PPC 6800, it looks like I am going to have to keep on waiting.
Every Day Use :
Swipe to scroll horizontally
| | |
| --- | --- |
| Ratings (5 out of 5)Physical Build: 5Design: 5Daily Real World Use: 5Overall: | ProsStrong plasticNice rubberized texturePerfectly molded for the PPC 6800When snapped on, it is secureAccess to every button, the keyboard, reset, Micro SD Slot, and Micro USB port when on.ConsCannot remove or replace the battery when installedCan be challenging to remove (which probably is not a con for a snap-on molded case) |
Windows Central Newsletter
Get the best of Windows Central in your inbox, every day!