Review: Star Sports app is a great app to watch live sports action on your phone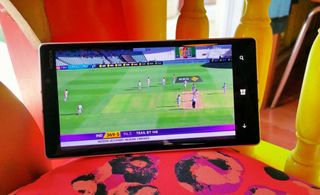 A few months ago, the official Star Sports app was launched for Windows Phone devices. Along with the television network, Star Sports is also an online destination that brings live sports action on Web and mobile for Indian viewers.
The Star Sports app allows you to enjoy all the action from your favorite sports on your Windows Phone device. The app allows you to follow the match the way you want – you can get instant score updates, watch the critical match moments though short video clips and special shows, or watch the entire game live. Yes, the ICC World Cup 2015 live action can be watched free as well!
Experience
The app offers an advanced data integrated player, live scores, commentary, match schedules, highlights, and perspectives of the leading analysts from around the world. You can also catch full replays, video on demand for match clips, and video highlights for batsmen and bowler innings.
The first version of the app had several sections cleverly embed the mobile website. It was done in a neat manner, and the user experience was intuitive and worked well. The recent refresh around the World Cup brought a new UI to the app that is pretty good and highlights the live action and special features.
Subscription
To watch the matches live, you need to subscribe one or more packages available as an in-app purchase. The recent India – Australia Test series pass for example was for ₹110 ($1.76) while an all season football pass is now available for ₹360. While the live streaming of matches for most tournaments requires subscription, all other content, including video on demand are free.
Once you buy a subscription, you get simultaneous access to the live streaming on two devices. In case you want to access it from a third device, all you'll need to do is to log out from any of the other logged in devices. If you have paid for the Universal Pass on the starsports.com, you are entitled to access live action from the mobile app as well.
Of course, several of the tournaments and sports have regional restrictions due to broadcasting rights. For example, the Hockey India League 2015 is available across the world while the English Premier League is only available in the Indian sub-continent.
Quality
The Star Sports app offers HD quality video stream although even if you have a lower bandwidth, the app uses adaptive streaming to display the best available quality that your Internet connection can support. On most occasions, the streaming worked fine for me even when the Wi-Fi was crawling, or 3G wasn't at its best.
The videos only work on 3G and Wi-Fi, which is a fair limitation. Users on 2G network can hear the audio commentary and that worked fine when I was on an EDGE network.
If you are a sports fan and follow cricket, football, tennis, formula one, kabaddi, badminton, or hockey, the Star Sports app is a must have on your phone. Give it a whirl, and let us know how you like it.
awesome now wp needs the hotstar app too.

ICC app is not in the windows store.

No US?! Blasphemy! Microsoft is always out to get us Americans! First no Denim, now no live Sports! :extreme sarcasm:

MS don`t care about users in US, "LOL"!

Was about to get the App when I realized no support for the USA. Can't win em all I guess. Anybody have any ideas how to watch WORLD CUP CRICKET here in the STATES without paying a arm or leg?

Just change your region to a place that it supports til the world cup is there.

Anybody tried to download it from US by changing the region to India? if this works, some sort of VPN subscription + this app could be a good option to watch cricket world cup live in the US

Yep. I switched and downloaded it. World Cup 2015 is available ont he app in almost the whole world except NA and UK. These two might work with a proxy.

Il take few years for that

Not downloading...the app is not available for your device.

Really worth the money needed to subscribe..

No, need, you can watch match without subscription, I watched recently India Pakistan match

No subscription needed for Cricket World cup

Probably just for Asia/Pacific region/country, not possible for download in Europe. Question is, is it possible subscribe from Europe?

You may change your region to download it.

That is not an issue. Again, is it possible sign in from subscription from Europe?

I think..no need to sign in fir subscription..

Is this REAL multiscreen platform or like Flash Sport app from Windows Phone store?

That's what actually STAR stand for in star sports. Satellite Television (in) Asia Region - STAR

So sad, Star means star - "a celestial body of hot gases that radiates energy derived from thermonuclear reactions in the interior"

For world cup live streaming is free not need of subscription!!

Rating - 2.8
Not very good.

That was before..now they have an update right??

How to download? For which region?

I use flash sports for live streaming.

Yeah it's awesome! :) The developer is kind too :D he gave me a Free Code thanks for him :)))

How about a real good cricket game ?

Today only ICC have released the ICC cricket world cup game for IOS and android but we are unlucky

that sucks. dont worry. dont play such games if youre a good gamer.

Good app overall with few problems. Video quality switches from bad to good very frequently even on 5mbps connection. By default It plays delayed feed for me even though I am logged in and subscribed,I always end up going to live button and clicking on watch button next to score to get live feed!! Its a strange bug.

ho abhishek what about the hotstar app any chances for it to come to wp??

Change region to india
Then download app
Then again change region to us

I like how the picture on the right says Barcelona and Real Madrid are playing but its actually Bayern and Real Madrid lol

Not even bayern :p
An EPL team.

The article says that Hockey India League is available worldwide, and English Premier league only in the subcontinent. I think there's an error.

Just pay once for Flash Sports and you have free sports games even PPV Boxing ahahaha

This app is garbage, you're better off with global TV...should have known from the fake pic of Garrett Bale in a Spurs jersey with EPL emblems but the pic says Real Madrid vs Barcelona! LOL

Why it is not compatible on 512MB RAM cell phones and why it is not supportive in Pakistan please someone reply....

No free 5 minute delayed streaming though!

This application is not available for Denim

It says not available for my device!!

Not available in india or on my lumia 520
Windows Central Newsletter
Get the best of Windows Central in in your inbox, every day!
Thank you for signing up to Windows Central. You will receive a verification email shortly.
There was a problem. Please refresh the page and try again.