Watch live sports action with the official Starsports.com app for Windows Phone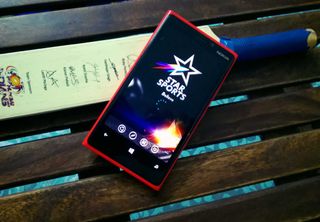 Starsports.com is an online destination that brings live sports action on Web and mobile for Indian viewers. After being available for iOS and Android since the launch almost a year ago, the app has finally landed on the Windows Phone Store.
The starsports.com app allows you to enjoy all the action from your favorite sports on your Windows Phone device. The app allows you to follow the match the way you want – you can get instant score updates, watch the important match moments though short video clips, or watch the entire match for free with a five minute delay.
The app offers world's most advanced data integrated player, live scores, commentary, highlights, and perspectives of the leading analysts from around the world. While the app is developed natively, a lot of sections cleverly embed the mobile website. It's done in a neat manner, and most users won't notice, and the user experience is intuitive and works well.
To watch the match live with no ads, you need to subscribe one or more packages available as an in-app purchase. Interestingly, the videos only work on 3G and Wi-Fi. Users on 2G network may only hear audio when they try to access video content. While it looks like a limitation, it makes sense since a user on slow connection can hear the audio clearly, rather than struggling with choppy video.
If you are a sports fan and follow cricket, football, tennis, formula one, kabaddi, badminton, or hockey, the starsports.com app is a must have on your phone. Give it a whirl, and let us know how you like it. Keep in mind the free starsports.com app is only available for Windows Phone 8.1 devices.
Thanks Hameed, for the tip!
Windows Central Newsletter
Get the best of Windows Central in in your inbox, every day!
MSN sports does the job ...but great news...

Live streaming of videos is not there in MSN sports!

Its live streaming app, different category. I was waiting for it since a long. Finally its here.

Shows the time as AM instead of PM...

Wow unbelievable wp getting love from indian developers.Still no flipping board only scrolling board.

lol, Dude its just a matter of time before Flipboard "Flips". It's already "Flipping" on Windows 8 & 8.1

Hi there,
The developer for the app Flipboard has responded to the review you posted on 10/4/2014. Nice looking app. But once again WP8 gets another short handed app. Where is the flip? Should just call the app scrollboard instead of flipboard. By Orane Thanks for your review. Not including the flip was an intentional change. We develop specifically for each platform and you may see different design choices depending on what we think make the best use of the specific platform.
By Flipboard

So true while along the way giving rise to beliefs that WP has crappy apps compared to their OS brothers!!

Get sports app for one time fee. Stream/record any sport, any game. Good for football

Will check how good this app when it comes to Cricket..

Cortana support with this app for latest scores please!!!!

Just to let you know - CricketScores is another app which is integrated with Cortana. Give it a try, it works!

Can you share the link for that app. Couldnt find it in the store. Since Cortana is not showing cricket scores it would be nice if any app itergrates cortana in it.

Won't let me subscribe...

On time for the inaugural Indian Super League.. Awesome!

Can I watch any match around the world with this app?

No volleyball?????? Seriously?

You should try sofascore livescore. Great app.

Released at right time so that can watch all Indian cricket matches live. Thanks star sports

Flash sports is good for watching live sports

Was waiting for star sports app, they have the rights for all the major sports and leagues in India.

Great news , now I don't know what app I'm missing in windows phone store

Finally it arrives on windows phone...

The app is of potato quality.

It's great for french fries.

Finally! Now, I can watch live cricket on my phone.

At last star sports is back in windows phone .now I can live stream every sports

They have increased the subscription fee and that's ridiculous

They should improve the UI of the app. Subscribe now page only has 2 options also its content is sticking to the right.

Will this stream NFL or NHL?

NFL is with another operator.. Not sure about NHL. Be aware that it is geo restricted.

Lumia 720 cyan update, it says not supported for your device.any answers why?

Not available in my region?
Edit: Calgary Canada

Star sports is an Indian sports channel with rights to all major sports and leagues, so maybe region restricted app.

Not available for my device?? :/
+520 India

Did you change region to US? Change it back in that case..

this app is NOT showing in my lumia 720 store .............any suggestion ...

Too late but good to see it. Waiting for a long time

Says not available on my device..!!
Lumia 625

Now saying not available on the app store. Glad I downloaded when I did however still not able to subscribe.

I downloaded it few mins back using the QR code.


Is it not available outside of India?

Star sports.com is not available in my lumia620

Abhishek still using the 920! Hahah grow up.

Am on win 8.1 with 1520 but don't get the option to download.

I am waiting for this app

Yus finally its dere
I owe season subscription of $33 -all leagues
Thank you so much starsports.com
After a long wait we finally have the app - big news for my fellow indian wp mates
Keep calm kana keep calm :P

I am using L720 DP update 1 and this app is showing as not available for my device. Can anyone tell that is this app is device specific in terms of configurations??

I'm also using the L920 DP update 1 and I also get a message saying its not available for my device. Is it only India region specific?

I am using this application in iPhone 6 and its working really nice. Thanks a lot for the application Star Sports. We love you www.sportsmaza.net Thanks www.goo.gl/2rDc43

i am using moto g and is working fine for me...also like khelwood.comfor latest sports news updates

get live sports news wwe bolly hollywood latest news at#khelwood

watch live cricket news at http://khelwood.com

Nice looking app. But once again WP8 gets another short handed app. Where is the flip? Should just call the app scrollboard instead of flipboard. ipl live streaming

Hello friends! Watch sports online for free http://livesports.one/ .
Windows Central Newsletter
Thank you for signing up to Windows Central. You will receive a verification email shortly.
There was a problem. Please refresh the page and try again.